Endurance events come in all shapes and sizes.  One of the best things about the endurance lifestyle is there are so many goals to choose from.  Don't like swimming, you have cycling events, time trial races and ultra running events.  As a coach, it is always fun to coach an event that is new to you.  With COVID-19 on the front lines this year, so many race seasons have been altered in some fashion.   So this race was a win/win for both the athlete and the coach.  First, it actually happened and second it was the first time for both of us.  Travis had never run 100 miles and I had never coached an athlete at that distance.  Full disclosure I told him this ahead of time and I am not sure who was more nervous at the start.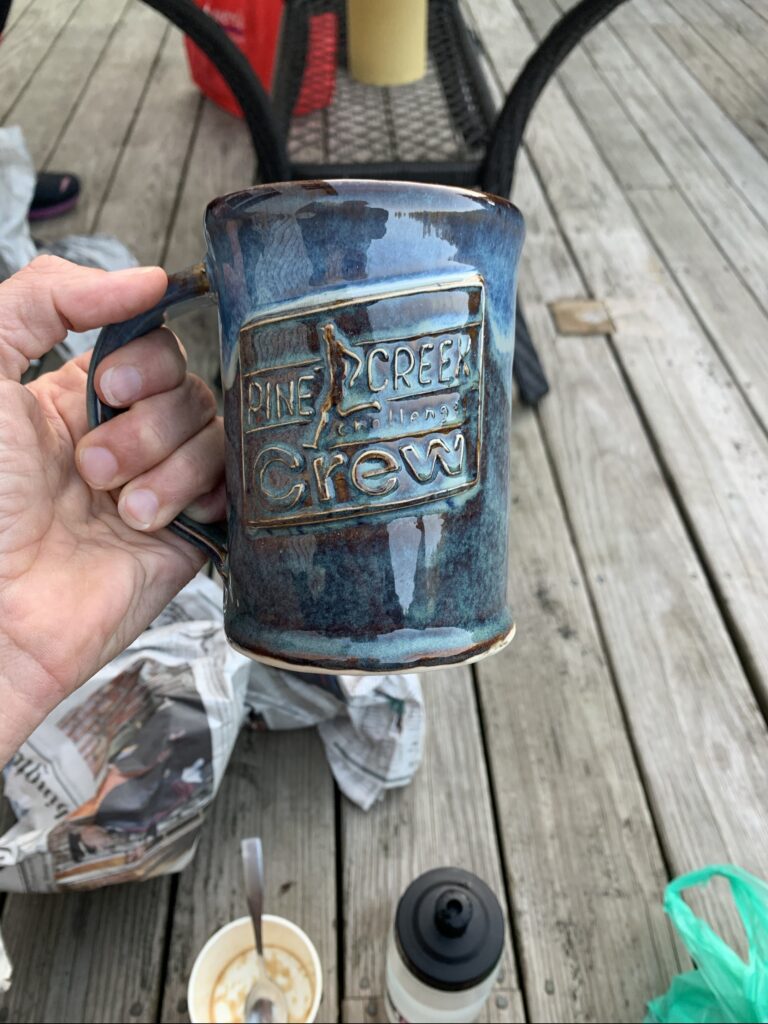 Initially, with the craziness of triathlon season in the mix, I was not sure I was going to be able to crew this race.  As luck would have it, it did not get cancelled, while everything else did.  So we were off to the Pine Creek 100 for the weekend.  We also had an entire Sonic Endurance crew to help get this job done this weekend.  It was awesome to see this group work together to get one person to their goal.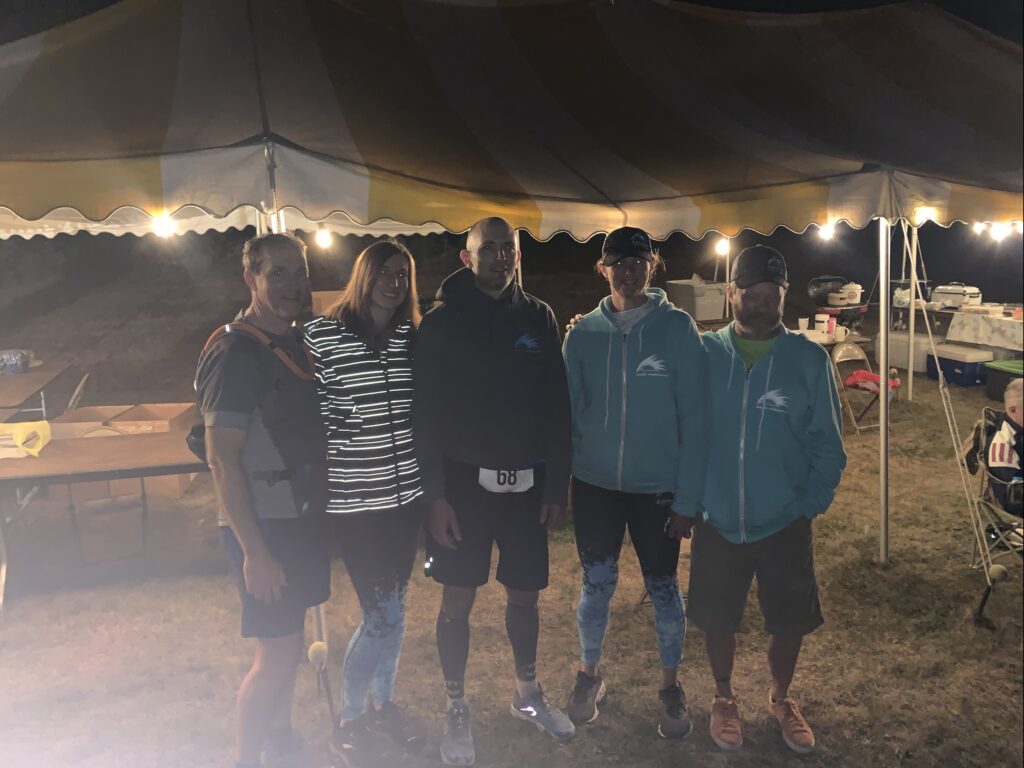 For the build portion of this race, there were a couple of key elements that made this a success:
CONSISTENCY – I often say to my athletes, you do not have to be consistently great at your sport, but you do need to be great at being consistent.  Travis missed one workout the entire build.  One run… that was it.  When you choose HARD goals this is key…a coach can write a plan but it is up to the athlete to execute.
NUTRITION  – I knew going into this, that we had MAJOR work to do in this arena.  Fueling for this type of run is so critical.  During the course of the run, we knew exactly how many calories needed to be consumed.  I knew towards the end we might be just trying to get in whatever worked… it was important to stay with the plan as long as possible.  Caffeine was a MUST
PACERS – Just like I advise long course triathletes on having a coach, I think this is super helpful for your first 100.  I know that people do it on their own, but it was incredibly helpful to hear from this group as we got later into the evening and overnight.  It also made Travis' job to just run… and we would take care of the rest.
DO A TEST RACE – while this was a little tricky as the goal 50 miler was cancelled and went virtual, we did our own 50 miler for fueling and as an information gathering session.  This provided me really solid information on what we needed to do in the final weeks before the race.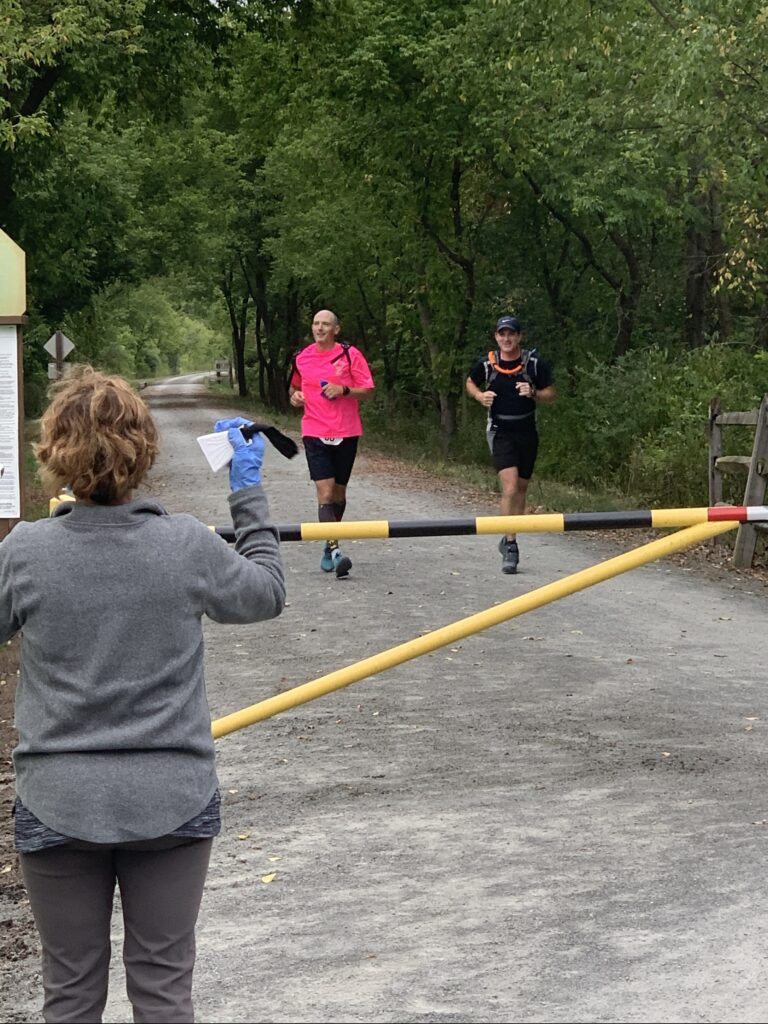 Overall, the event itself was very well run.  There were plenty of aid stations that were stocked super well.  In addition to being SUPER COVID safe, the volunteer staff was also amazing.  It consistent of a 10 mile out and back, and then a double 20 mile out and back.  After working through much of the logistics, we had a pacer ready from mile 47 on.   The remaining group, bunny hopped all over to the different aid stations to meet them when they arrived.  This also meant Travis did not have to pack drop bags because we had everything with us at the aid stations.  He did a couple of shirt/shoe changes over the course of the race as well.  He could pass off his headlamp, and excess layers as well.  It also allowed us to use a less heavy hydration pack for the shorter segments as well.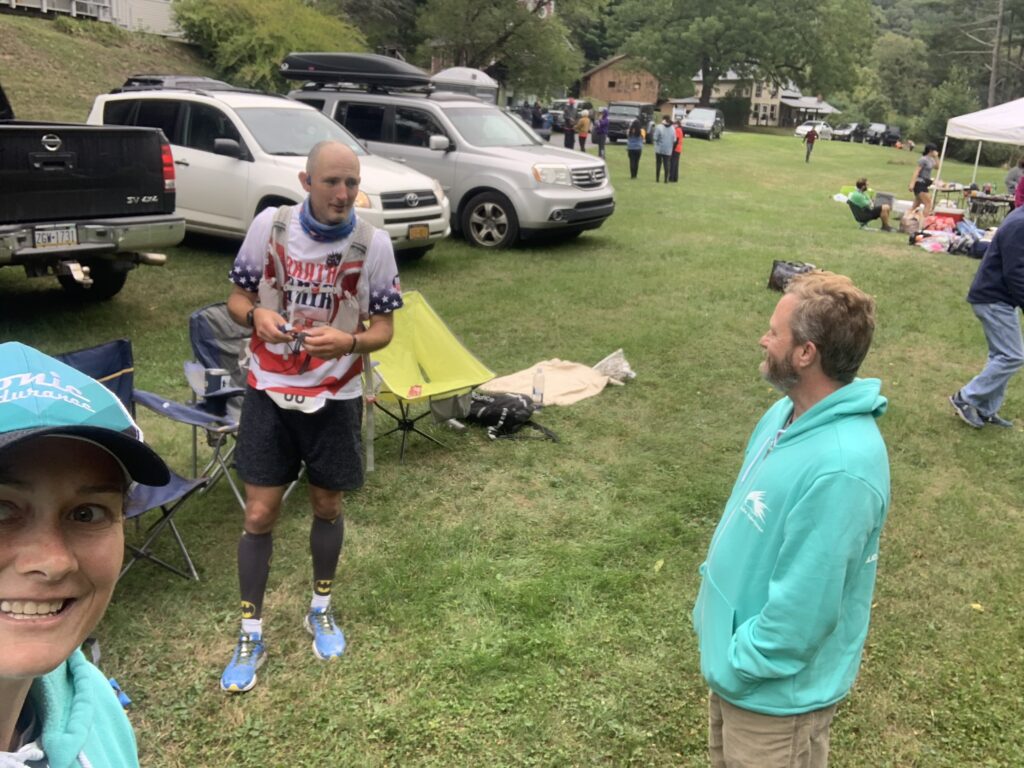 The race was entirely on the Pennsylvania Grand Canyon Trail, which was flat.  The surface was gravel and it was not closed to traffic.  We saw many cyclists out there and they were great cheerleaders.  There was a TON of dust, so the buffs actually came in quite handy.    Each aid station took down the bib number as they came in so the race had eyes on where people were.  There was only one portion that was not accessible and that was a stretch through the canyon.    There was the option to camp right at the start line.  The race also had a marathon, 50k, 50 miler, and 100 miler.
If you are wanting a big celebration and lots of fanfare, this finish line is NOT for you. Travis finished about 4 am and while there was celebration among our group, the finish line area was pretty quiet.  As a coach, the last 30 miles of this race was all about mental strength, clearly willing yourself forward when you have been running for hours.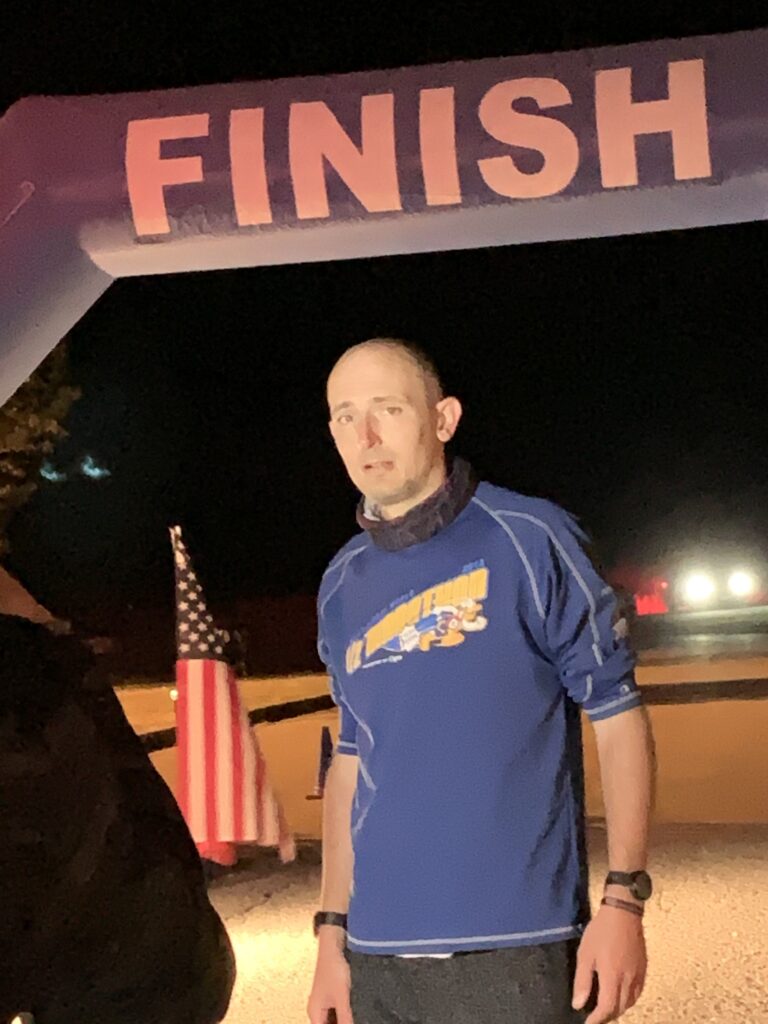 Overall, a great experience for everyone around.  The weather was perfect, cloudy and overcast most of the day.  We were lucky that the rac was able to actually happen!!!