Here we are in episode 10 of the drama that is 2020.  We were excited to see some real, in person racing return last month, but as the weather cools and the leaves turn bright (at least in the north east, maybe not for our friends in Texas), our thoughts turn to pumpkin spice season and all the cozy things it has to offer.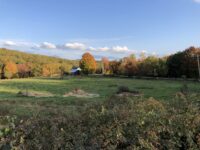 Speaking of things that are cozy Coach Jen is in love with the OS1st Thin Air Performance Socks.  They do everything they are designed to do — they're soft and stretchy and comfortable.  And even better they come in Sonic blue although OS1st calls the color aqua.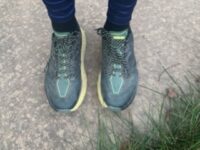 On things you wear on your feet Coach Stacey is in love with the Hoka One One Speed Goat 4 Trail Shoe. Hoka started as an ultra running shoe, and the Speed Goats are a return to Hoka's original territory: the trails. They provide great impact protection when you're on firmer surfaces without getting unstable when you head off-road. And, yes, they do in fact also come in Sonic blue too (although Hoka calls it Capri Breeze).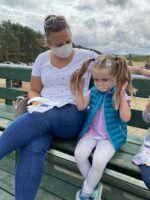 I'm currently obsessed with late summer / early fall fruits and vegetables — apples, pears, cranberries, corn, winter squash and pumpkins.  Especially varieties that you can pick on your own.  Local produce combined with eggs from chickens (beautiful Buff Orpingtons means lots of baking.  My go to is a buckle — a fruity coffee cake – crumble hybrid.  This Peachberry Buckle Recipe from King Arthur baking is amazing.  This time of each I substitute apples or pears for the peaches.  You can also substitute cranberries for the blueberries for a true fall seasonal treat.  And if your fall travels take you along the Connecticut River in New Hampshire or Vermont a trip to King Arthur Baking headquarters in Norwich, Vermont is well worth the trip.  A fantastic bake shop combined with a cafe and bakery — plus there's lots of COVID friendly outdoor seating.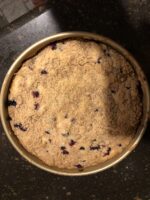 Not to be outdone Coach Stacey is in love with her Sweet Potato Breakfast Frittata (I think perhaps Stacey needs chickens as well).  The frittata is a great base for lots of improvisation whether it be cheese, herbs, onion, peppers, ham, bacon or anything else tasty that you can round up at breakfast time.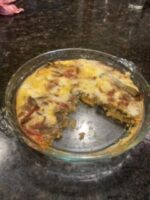 That's what we're in love with this month. What are you in love with? Leave us a comment with your favorites!