Last summer, IRONMAN rolled out return-to-racing guidelines, to ensure athletes' safety before, during, and after a race during the on-going COVID-19 pandemic. I recently was able to experience the guidelines first hand while racing IRONMAN Texas 70.  While there were not many differences swimming, biking, and running in a post-pandemic race, the biggest changes were in pre- and post-race procedures. Here's my experience.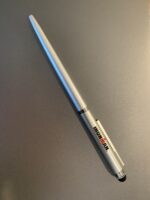 Pre-race:
The athlete village and transition were a bubble of sorts, with mask mandates and social distancing as the rule, even if the local restrictions were laxer. To help reduce the number of athletes at packet pickup, athletes received an email with a link to choose a check-in time, rather than having an open window. At check-in masked athletes stood in socially distanced lines to complete a pre-screening, which consisted of a temperature check and health questionnaire. After the pre-screening, packet pickup proceeded mostly as before, with the exceptions of using a stylus to sign electronic waivers (I would love this change to become permanent) and picking a bike check-in time.
The race expo was noticeably smaller with just a few vendors, but the merchandise store was spread out over a larger footprint and there were no problems social distancing.
Transition was huge and while I'm not sure it was enlarged to accommodate all the athletes; it was big enough to allow more room than usual around racked bikes. And there were extra port-a-potties!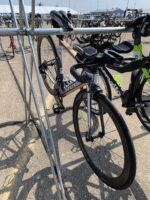 Race day:
Athletes were given disposable masks to wear in transition and while waiting for the swim leg to begin, disposing of them right before stepping onto the pier to start the swim. Post-swim, there were no wetsuit strippers and a self-serve hydration station.
Out on the bike and run courses, it was racing as usual, until the aid stations. All participants were encouraged to be self-sufficient and bring their own hydration and nutrition, but aid stations were still available. On the bike course, volunteers still handed out water or Gatorade, but wore gloves. At the run aid stations, however, volunteers stood back from the stocked tables and athletes helped themselves.
The finish line energy was noticeably diminished due to the lack of spectators and it was definitely anti-climatic to grab a medal off a table! The post-race food was spread over a wide area and everything was individually packaged (bananas, bags of chips, and individual pizzas!). Athletes were able to relax and recover while eating, although shade being at a premium made it difficult to socially distance. When we were ready to get out bikes out of transition, we put on the disposable mask received at the finish line and checked out smoothly.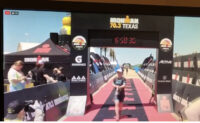 Overall:
The new protocols were minimally disruptive and there are a couple that I hope to see become a regular part of races in the future (there are never enough port-a-pots on race day). It was truly wonderful to be back racing after almost 18 months. I'm optimistic about safe racing this season!