For those of us who merely tolerate swim/bike/run training, motivated by a race at the end of the rainbow, what have we been training for in this past year of COVID? With races canceled or rescheduled for the next year, it's been tough. And with less comfort getting together in groups to train, it's drawn a lot of people to indoor training platforms like Zwift. I've been fortunate to find a happy confluence of these two things, with Zwift racing.
What about if you just enjoy the process of training, and it's not all about races for you? Well, if you've been training with a Sonic coach for a while, you'll know that training should ideally include a mix of hard and easy workouts. And we all dread those hard workouts. Zwift racing can be a great substitute for the hard training days.
I've been riding on Zwift for several years, but before 2020, I had never entered a Zwift race. And I quickly fell in love with it. Zwift racing is quite different to racing in real life, so there's a bit of a learning curve, but once you learn a few basics, it can be really enjoyable and nearly as exciting as racing in real life.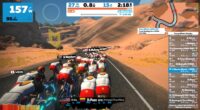 The first thing is finding a race well suited to your abilities. You need to have a good measure of your Functional Threshold Power (FTP), which is roughly the maximum watts (W) you can maintain for an hour. You also need to enter an accurate weight in the Zwift settings, since it's W/kg that is the main factor affecting speed in Zwift. Next, you'll sign up for a race in the Zwift Companion App. Look for races with recommended W/kg ranges that match you. Most races have several categories, from Category A to D or E, covering a very wide range of abilities, and providing something for everyone, even beginners.
After you've signed up for a race, you'll need to get onto Zwift at least a few minutes before the race is scheduled to start, and get in a warmup, because the start will be hot! Either warm up on an easy free ride beforehand, or in the start pens of the race, where you can pedal without moving, on a virtual trainer. The drafting effect is very strong in Zwift, with many races even employing double draft. Riders will try to take advantage of that by going all out at the start of the race to try to drop other riders immediately. Once dropped, if isolated on your own, it's near impossible to claw back a gap to a large lead pack. So the name of the game is doing everything possible at the start to stay with the lead pack.
After the first few minutes, the pace will settle down to something more appropriate for the category. From there, it's all about keeping an eye on the wheels in front of you, and staying tight. Let a gap of 5m open up, and you're in trouble. Get out of the draft on the front of the pack, and you'll work harder than necessary. It takes some practice, but sitting in the middle of the pack is the goal, and will minimize the effort needed. Holding onto wheels in front of you can be particularly challenging when the course is rolling, so pay special attention as the road turns up and down. Strategic use of feather power-ups on the climbs and drafting truck power-ups in the pack, can also help.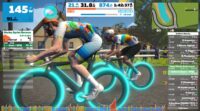 Play it right, and hopefully you'll find yourself remaining with the lead pack as you near the finish. Get ready for a big sprint finish. With the strong draft effect, it's important to not start your sprint too early. A few hundred yards out from the finish line is ideal, hopefully pulling to the front of the riders in the last 100 yards or so, and maybe making use of an aero helmet power-up when you do.
If you do a few races and decide you enjoy it, the next thing will be to sign up for an account on Zwift Power, and link your Zwift account. Zwift Power will track all of your Zwift race results, and will automatically determine the appropriate race category for you, taking the guesswork out of selecting
the right category. Some of the bigger races actually require you to have a Zwift Power category rating to enter.
If you're already at this point, and enjoying Zwift racing, then it may be time to step up to team racing. WTRL is the leader here, hosting both the Zwift Racing League (ZRL) on Tuesday nights, as well as a Thursday night team time trial. The ZRL races include both individual points races (with the team's score based on the sum of the team members' points earned), as well as team time trials. The team time trials are really fun. You start out in a group of 4-8 team members, and try to hold a nice, tight single-file pace line, drafting off each other, and taking turns pulling in the wind on the front. Communication is key here, and most teams make use of audio connections such as Discord to call out turns on the front, or when struggling on the back of the pace line and needing help. I just finished my 2nd season of ZRL racing, and found it a blast to be able to participate in a team event in a sport that's typically just an individual sport. It could be fun to put together some Sonic Endurance teams.