The recent oatmeal bake craze coupled with Picky Bar's attempt at making a pancake mix, both of which were kind of disappointment made me think — I can do better.  So after a bit of experimentation I've come up with an oatmeal pancake mix that it is tasty, filling, and pretty darn easy to make.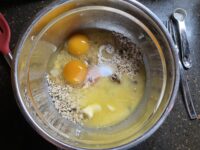 Ingredients
2.5 cups of instant oatmeal.  I use Picky Bars Trail Mix Fix Oatmeal.  It's high protein and already has fun add ins like chia, chocolate and sunflower seeds.
1 cup of milk.  I use whole milk but it also works with a milk substitute like oat or coconut.  Just remember a milk like coconut will add flavor to the pancakes.
2 eggs.  Mine are literally right from the chickens.  You can use an egg substitute. Here's a good list.
4 TB unsalted butter.  You can use coconut oil as a substitute.  As with the milk substitute you want to be aware of the potential coconut flavor.  If you use salted butter, but the salt in the recipe in half.
1 tsp vanilla extract.
1 tsp baking soda.
1 tsp salt.  
Any add ins you like — dried fruit, seeds, crushed nuts, chocolate chips.  Have fun.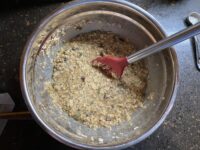 Put a pan on low to medium low heat.  Add some butter or coconut oil and let the pan heat up while mixing the ingredients.
The pancakes them selves, super easy.  This is an all in one.  Mix all the ingredients together using a spoon.  No need for a stand mixer, beaters or a whisk.  I find its easiest to mix the ingredients in the order listed above.
Make sure the pan is hot.  A drop of water should sizzle on it.  Add the mix in approximately 1/2 cup portions.  Allow to cook until brown, flip, allow the other side to cook.
This recipe should yield about 10 pancakes.  The pancakes themselves are hearty with a nutty flavor.  They go really well topped with something like greek yogurt or applesauce and also make for a great pre-workout snack, even when they're cold.