For the Coast to Coast Challenge, we had an active team that finished fifth overall out of seventy-four teams.  Not only did Tanya complete her personal goal of riding from Wilmington, North Carolina to Oklahoma City, Oklahoma, she also served as huge cheerleader not only for the Sonic Endurance Team but for all the cyclists participating in the challenge.  Tanya is not only an amazing athlete, she's also a fantastic person.  Here's her story:  
Virtual challenges are great for me mentally.  So when Kelly suggested the Coast to Coast Cycle Challenge, I was super excited about it, especially since it would keep me motivated to train for the Bike MS Century.   And the timing could have not been more perfect – typically I am shuttling around 3 very active kids, but with everything basically at a halt, I knew I had time to commit to this.
There were 4 distances as part of this challenge – I signed up for the 625 mile goal.  Then that very first week I completed about 75 miles.  After seeing this mileage, I knew I could very easily hit the 625 mark.  So of course, I tried to figure out if I could make it to 1250.  I remember having a conversation with Stacey about it, to make sure the higher goal was attainable.  I didn't want to get to the end of the summer and regret not pushing myself a little bit more at the beginning.  So I went for it!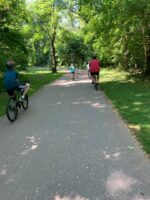 Every mile counted – I counted miles riding with my kids (my youngest learned how to ride her bike during quarantine), counted miles road during physical therapy, added warmups and cool down rides to my Peloton rides, road long on weekends, road longer rides in the early mornings (thank goodness for early morning summer sunrises), road during LONG school board meetings, road during a virtual work convention, and took my bike on vacation (although didn't get to ride as much here as I would have liked since DE was the quarantine list for PA at the time).
I also used the Coast to Coast Challenge to motivate one of my kids and challenged him to ride to our favorite vacation spot over the course of the summer, and having him try to reach his goal before I did mine.  Which he did, and the look on his face when he got his Coast to Coast medal was AWESOME!
During this challenge, I was so very impressed with the Full Send Racing team, the other participants in this Coast to Coast Challenge, and of course our Sonic Crew.  Everyone was incredibly supportive and fun!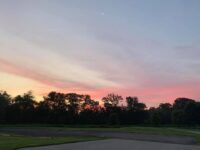 And during a random Tuesday morning ride in early August, I hit my Coast to Coast goal!!    As of the last day of the challenge, I logged 1520 miles.  Its quite mind boggling to me that I accomplished that many miles in 15 weeks!
I recently took my bike in to my favorite bike shop as I needed new tires – the guy who was doing the work commented "You must be riding a lot" – I most certainly am!