We all know there are a ton of virtual events out there right now.  Most of complete X number of miles in Y amount of time and get a medal.  I like those, but after grinding out 2,500 miles in the Coast to Coast Cycling Challenge, I was ready for something different.  Something more . . . competitive.  Along came Tour de Virtuel.  The premise is simple.  Assemble a team of two, four or six riders and as a team ride all the miles of the real Tour de France on the same day as the pros.  So, for example, Stage 1 of the Tour de France was 106 miles on Saturday August 29, 2020.  On that day the team needs to collectively ride a total of 106 miles.  Easy peasey, right?  Fastest team to complete all 21 stages (and 2156 miles) wins.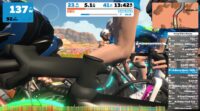 Initially Rob Piperno (Sonic athlete and my #ZwiftHusband) and I thought that we could totally do a two person team.  Thankfully we came to our senses and assembled a four person team — me, Rob, Chris Eckett (another fabulous Sonic athlete) and Ryan (who is clearly the fastest cyclist I know who would be willing to do this with me). 
Next step was figuring out who would ride what distances each day.  Seeing that we're a team of nerds, a spreadsheet was required.  With our miles filled in we started out on August 29th with the goal just to finish.  That goal lasted all of a day.  We came to the realization that not only could we win the four person division, but also that we could beat all the six person teams as well.  As we sit here on the first rest day after nine straight stages we've ridden 960 miles in 43:11.  We lead all the teams in the four person division by about 9 hours and we lead the best team in the six person division by about 3 hours.  At this point we are very much in it to win it (and to pick up some sweet yellow jerseys).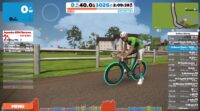 There is no "I" in Team. 

As much as someone might want to be a hero and put in huge miles on any given day, we figured out pretty quickly that the way to the fastest possible time was to divide miles up pretty evenly day after day and just push hard for the shorter rides.  The longest ride any of us had in the first nine days was 66 miles.  For the final 12 stages we don't plan on anyone having more than 36 miles in a single day.  

Zwift is your friend (course selection). 

There was no requirement that rides be done on the road.  So far all of our team riding has been on Zwift.  We generally selected flat to fairly flat courses (Fuego Flats, Tick Tock, Watopia Flat Route, RGV, Fan Flats, Greatest London Loop, etc.).  For the first 960 miles we only have 21,477 feet of elevation gain, a total of 22 feet per mile.  Flat is fast.  We've completely taken advantage of that.  

The Double Draft. 

Not only have we chosen flat courses, we've also used

double drafted

group rides to our advantage.  These rides simulate riding in a large pack on the road and boost speed.  The bigger the blob, the faster it moves.  For me I generally look for a "C" group ride (not race) aiming for about 2.5 watts / kilo.  That's a pace I can hope to hold for 60-90 minutes and pound out some miles.  

Get comfortable being uncomfortable.

  My two comfortable zones riding are: easy aerobic (around 130 or so watts); and short, very hard intervals (think going after sprint jerseys or short climbs on Zwift) followed by lots of recovery.  Neither of those do me much good in a race like this.  For this race I need to ride at or above FTP on a daily basis for 60 to 90 minutes.  I've gotten a lot more comfortable riding at 170, 180 and 190 watts for extended periods of time.  After every ride I look forward to the little Training Peaks medals indicating a new 20, 60 or 90 minutes power record.  Once this race is done, I'm going to do a real FTP test.  I think finally I can push my FTP above 200 watts. 

Group Think Is Good

.  We all get competitive and territorial and obnoxious.  We've also ågotten pretty good at letting other team members make decisions for us.  In multiple situations someone has been thickheaded about doing something and the rest of the team decided it wasn't a good idea.  We've all been good at deferring to other team members, I think deep down we all know that sometimes we don't have the best judgment when it comes to ourselves individually. 

COMMUNICATE.  Seriously this is the most important one.  We use the spreadsheet, group text and Training Peaks to make sure we're all on the same page and that we finish each day with the exact number of miles.  We've gone so far as to stalk team members on the Zwift Companion App to make sure that they're on the bike and riding (no one wants to pull on bike shorts at 10 p.m. for an emergency ride).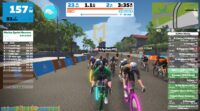 Today is a rest day (which personally I very much need).  Then we have 12 more stages over 14 days.  We can totally win the whole thing.  Our biggest challenge is ourselves — getting the miles in day after day.  Twelve stages to the yellow jersey, let's do this.