This is the second post in Coach Stacey's series about her completion of the Grand Canyon Rim to Rim.  You can read about the logistics of planning her trip here. 
We departed the North Rim about 6 am.   It was about 35 degrees when we started out.  We opted to take a later shuttle than we had originally planned so that we could see all of the North Rim during the daylight.   Prior to our departure we had looked and marked where we would be able to access water during 14-ish miles that we planned for the day.  We started the day with jackets, hats, gloves and several layers.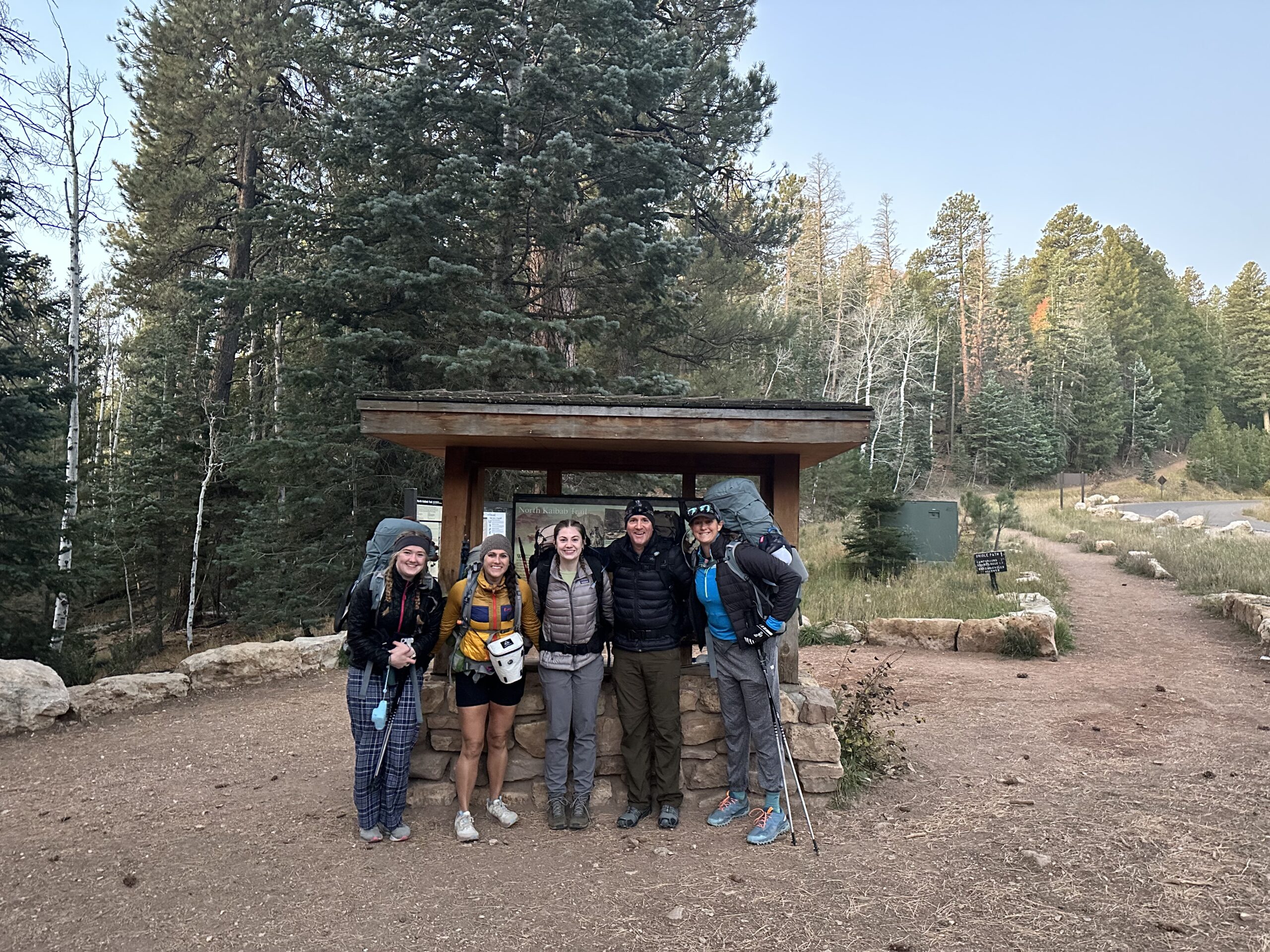 Of note, your GPS watches are unlikely to be accurate during this hike.   At one point, someone commented that we were almost halfway done according to their mileage, and we were not even close.   It seems that the signal bounces off the canyon walls and if you keep your watch running even if you are stopped the miles add up quick.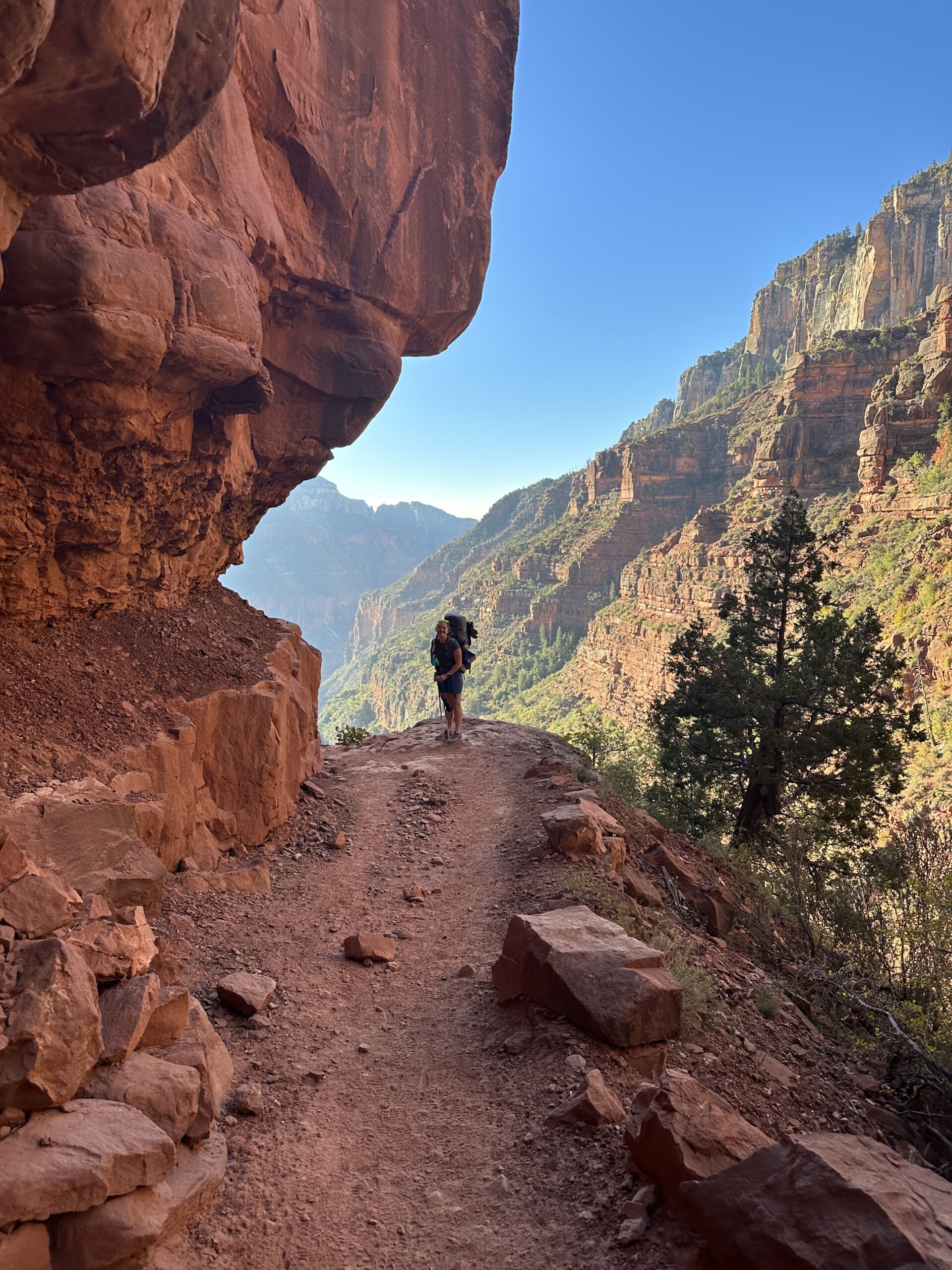 The scenery on the North Rim did not disappoint.  With the sun rising, it seemed that every turn was different view of the magnificent canyon.   We took our time on the downhill.  While we felt prepared in terms of time on feet and lengths of hikes, there is little you can do to prepare for the constant downhill of 8 miles.   The trail is not super technical, but the downhill makes up for that.    We knew the first time we would be able to access water would be 5.1 miles in at Manzanita.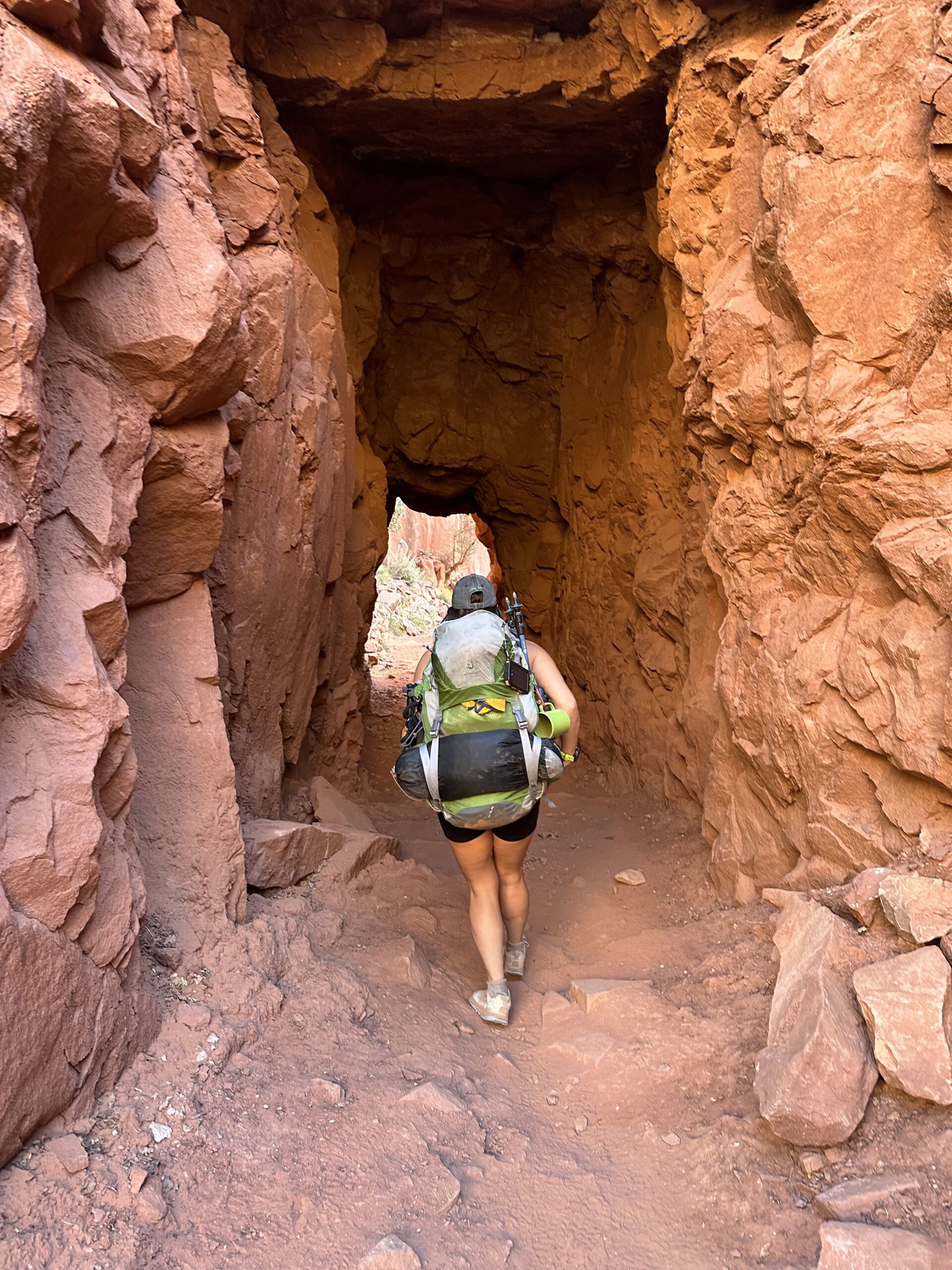 Once we had access to water, we opted to stop and take the packs off for a little bit of a break before we headed to Cottonwood Campground.  North Kaibob Trailhead is at 8240 feet and we descended just shy of 5000 feet by the time we reached Manzanita.  We had shed some of the layers, the sun was out full force and it was heating up.  The weather at the bottom of the canyon was expected to be around 85.   We added sunscreen and had snacks before heading out again.   The 2 miles from here to Cottonwood seemed to go by quickly.   It was less steep on the descent and we moved through this section pretty well.   I did not feel like there were any parts of this hike that you were worried that you might slip off the ledge.  The trail was plenty wide enough in all of the areas.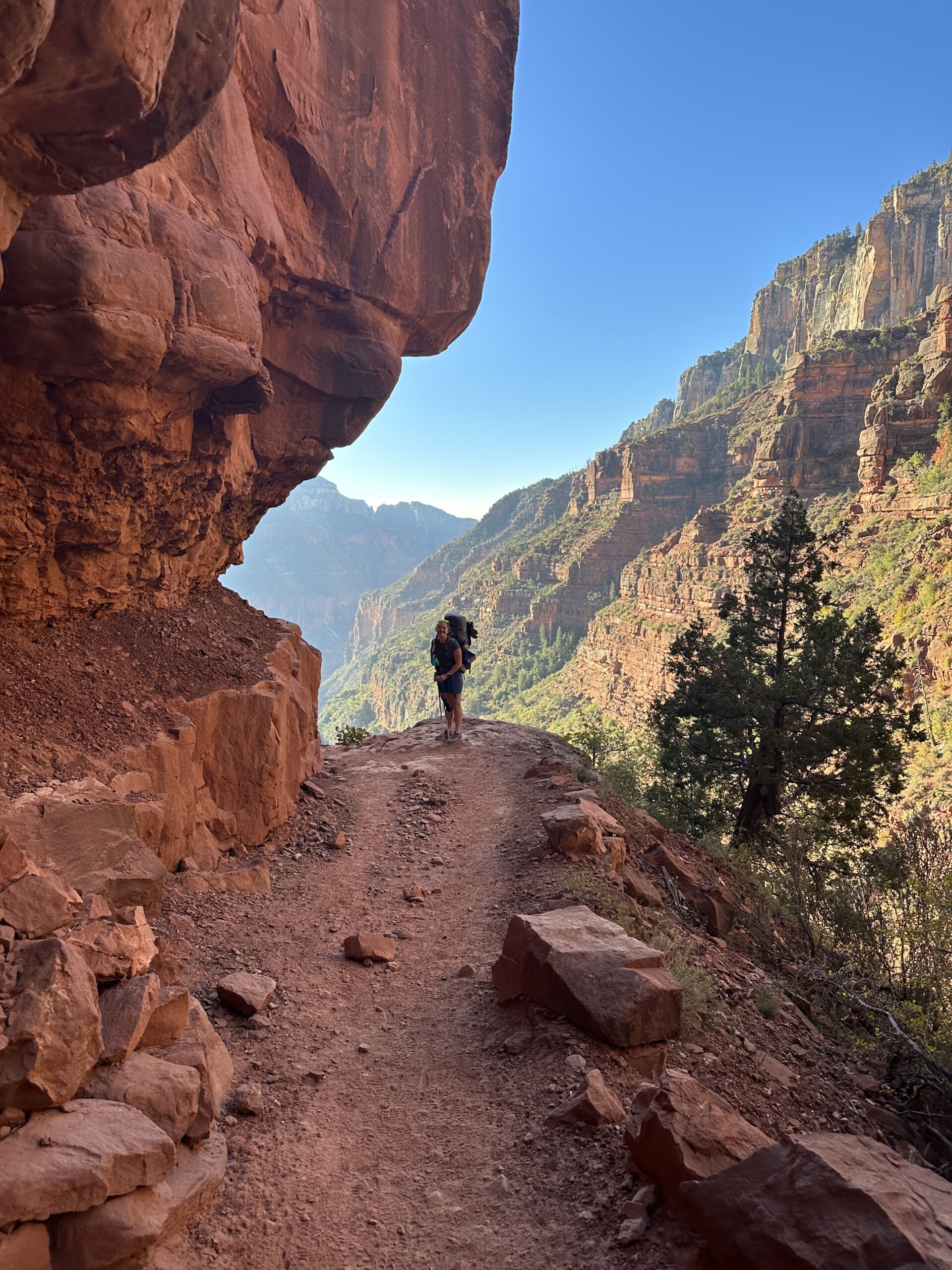 After Cottonwood, we opted to take the detour to Ribbon Falls.  There is a trail and bridge that does take you there, however the bridge is out and it is not clear really where the trail is at parts.  It also requires that you cross water in several locations.  There is no way to get to Ribbon Falls without getting your feet wet.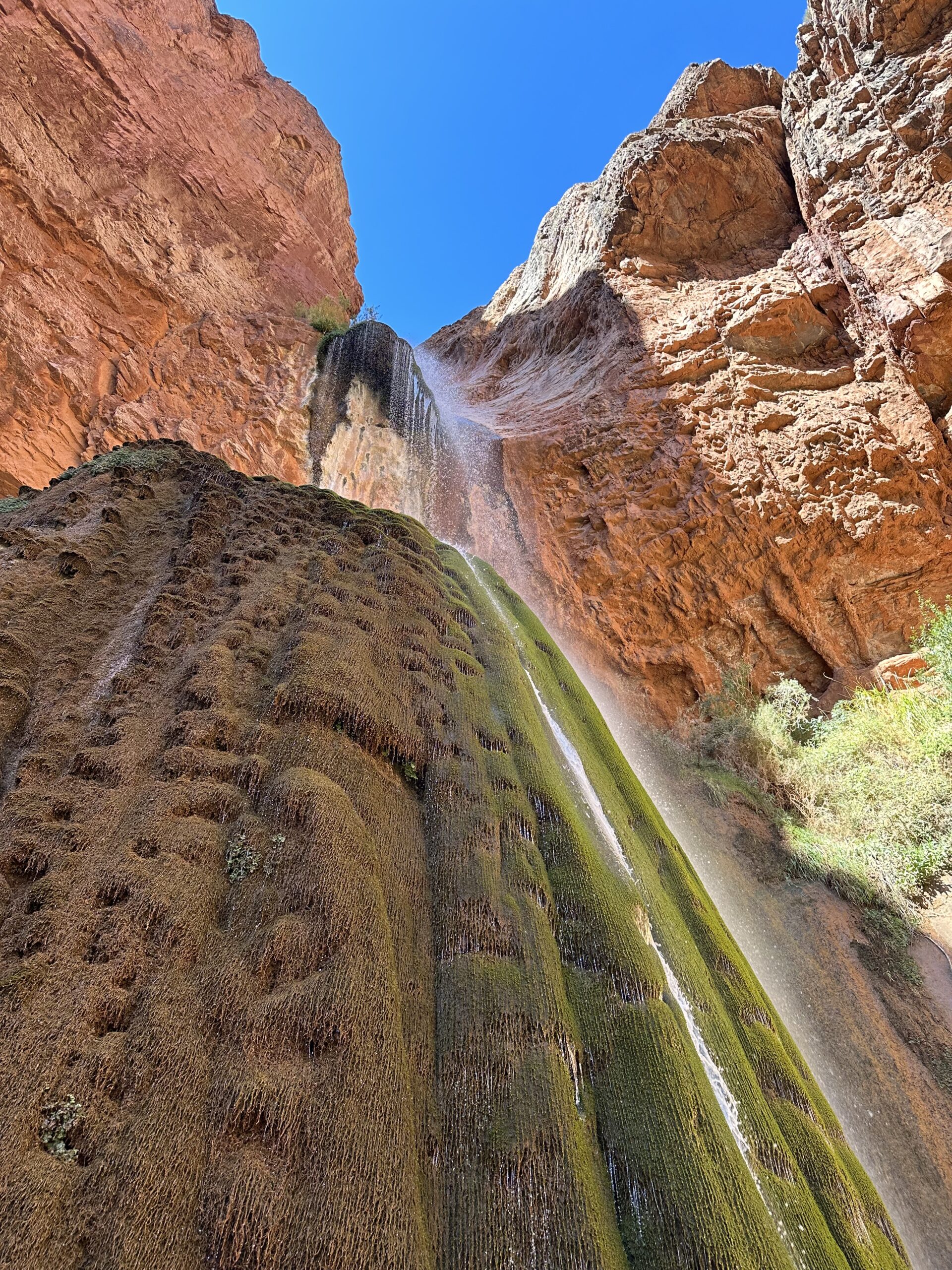 While I was a little hesitant to make the off-course trek, it was well worth the experience.  I opted to leave my trail sneakers on and just hike through the water.  The cold water felt great on my sore feet.  At Ribbon Falls, I changed into my Keens and clipped my sneakers to my pack.   We spent a short hour here soaking in the cold water and exploring the area.  There is an upper and lower area to hike around.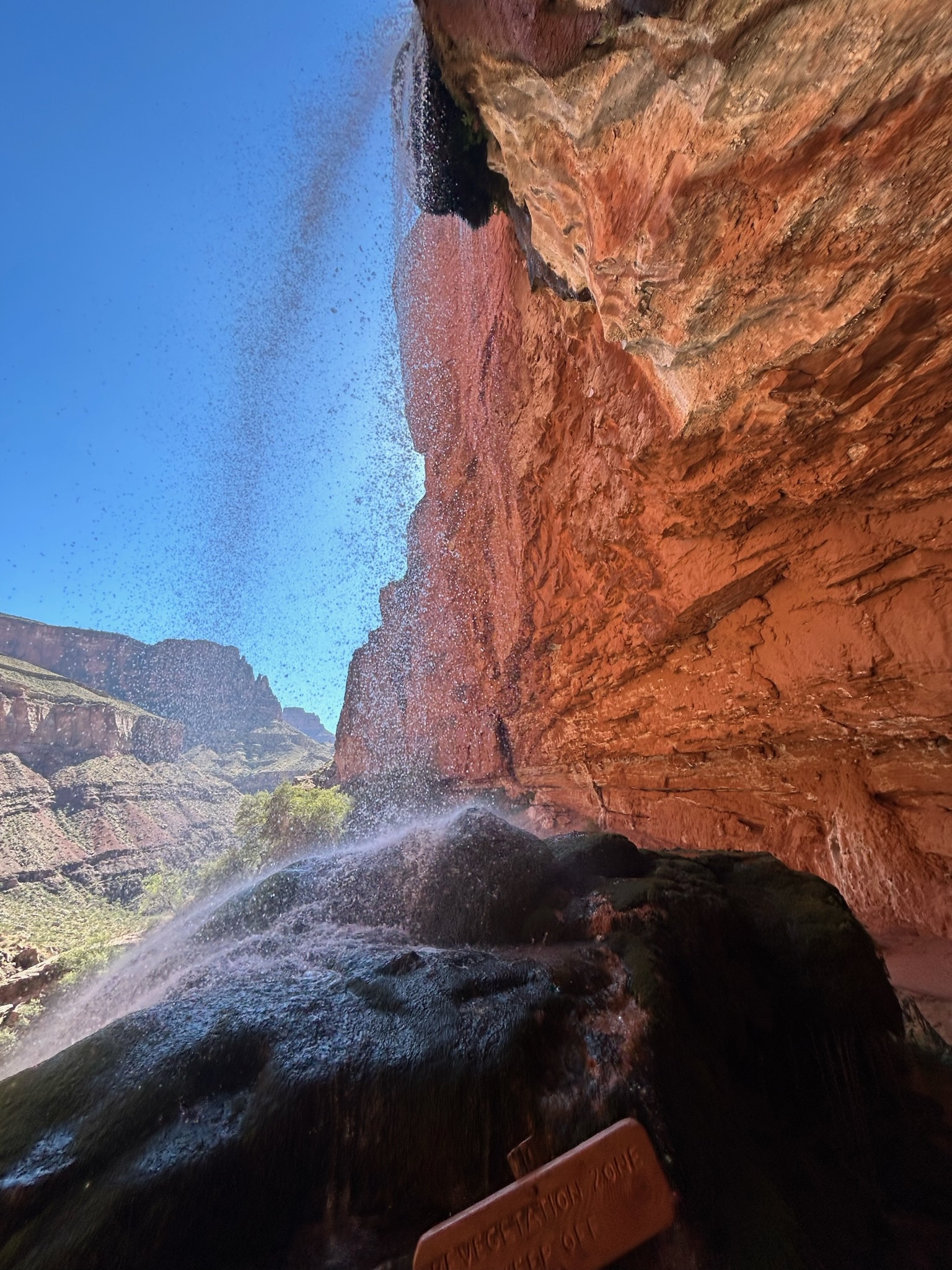 As we headed back to the trail, we opted to try to navigate and pick up the North Kaibob at a different location.  I highly recommend downloading the All Trails maps prior to entering the no service zone.  We were able to see where we were on the trail map at all times and that was the best way to navigate back to the trail.  You have plenty of access to water along this section, but you would need to filter it.  I think the excursion out to Ribbon Falls adds about 1.5 miles depending on how you navigate it.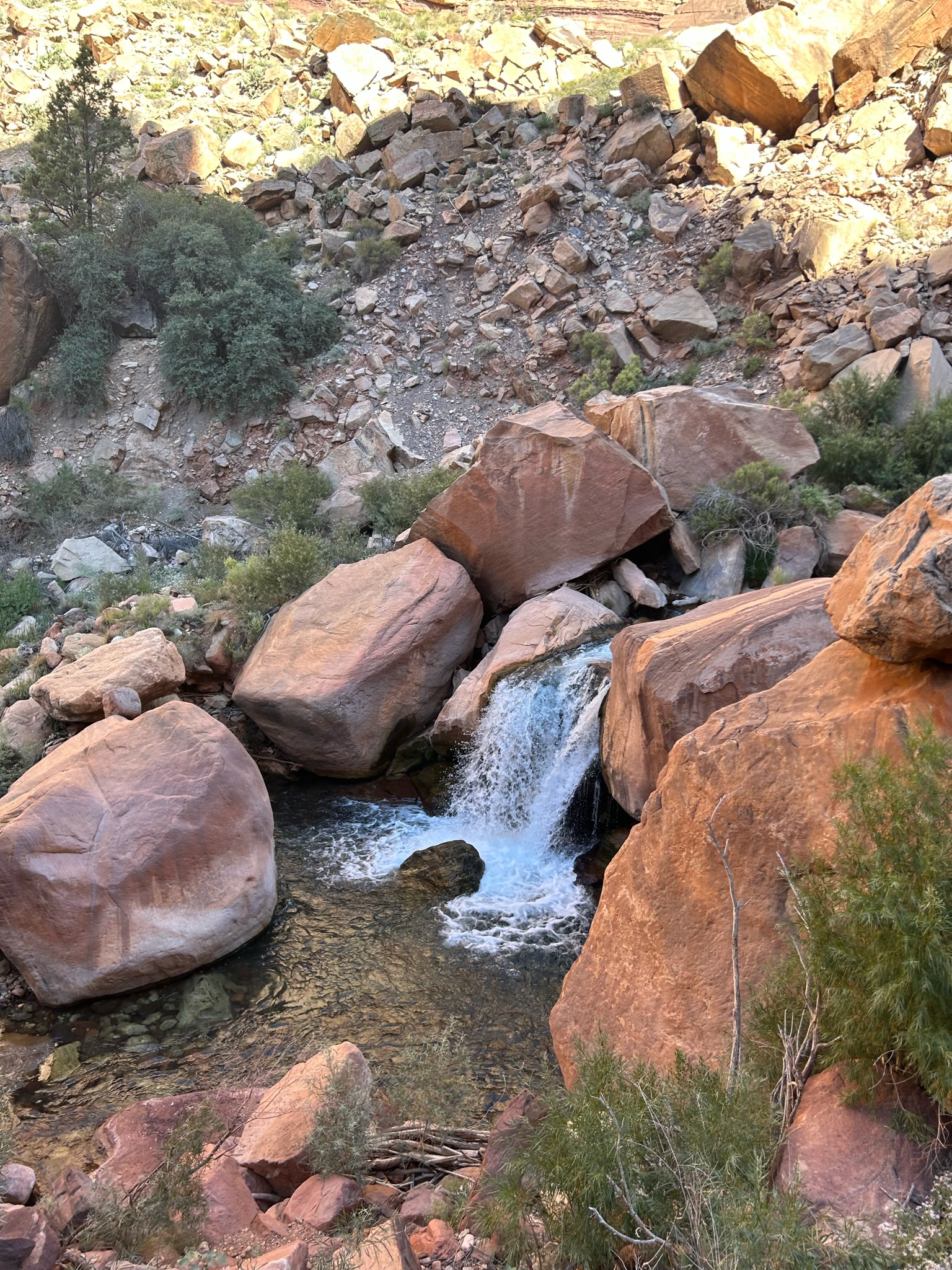 You have no access to water from Cottonwood to Phantom Ranch.   This section is known as "The Box" since there can be no shade and the bottom can get really hot.  We soaked our long sleeve shirts in cold water prior to leaving Ribbon Falls.   This section of the trail is pretty flat, but it seems to go on for a long time, especially with a heavy pack.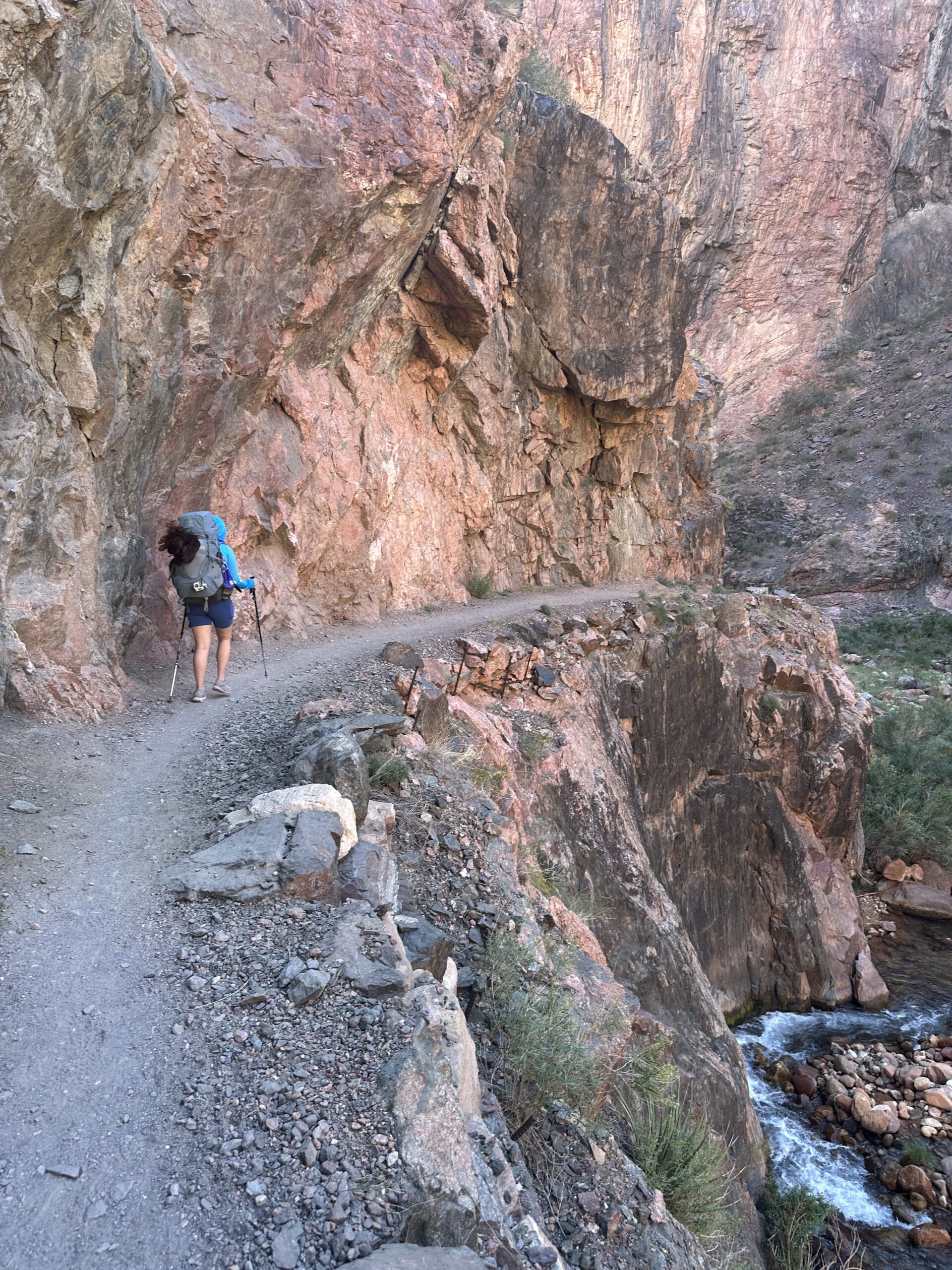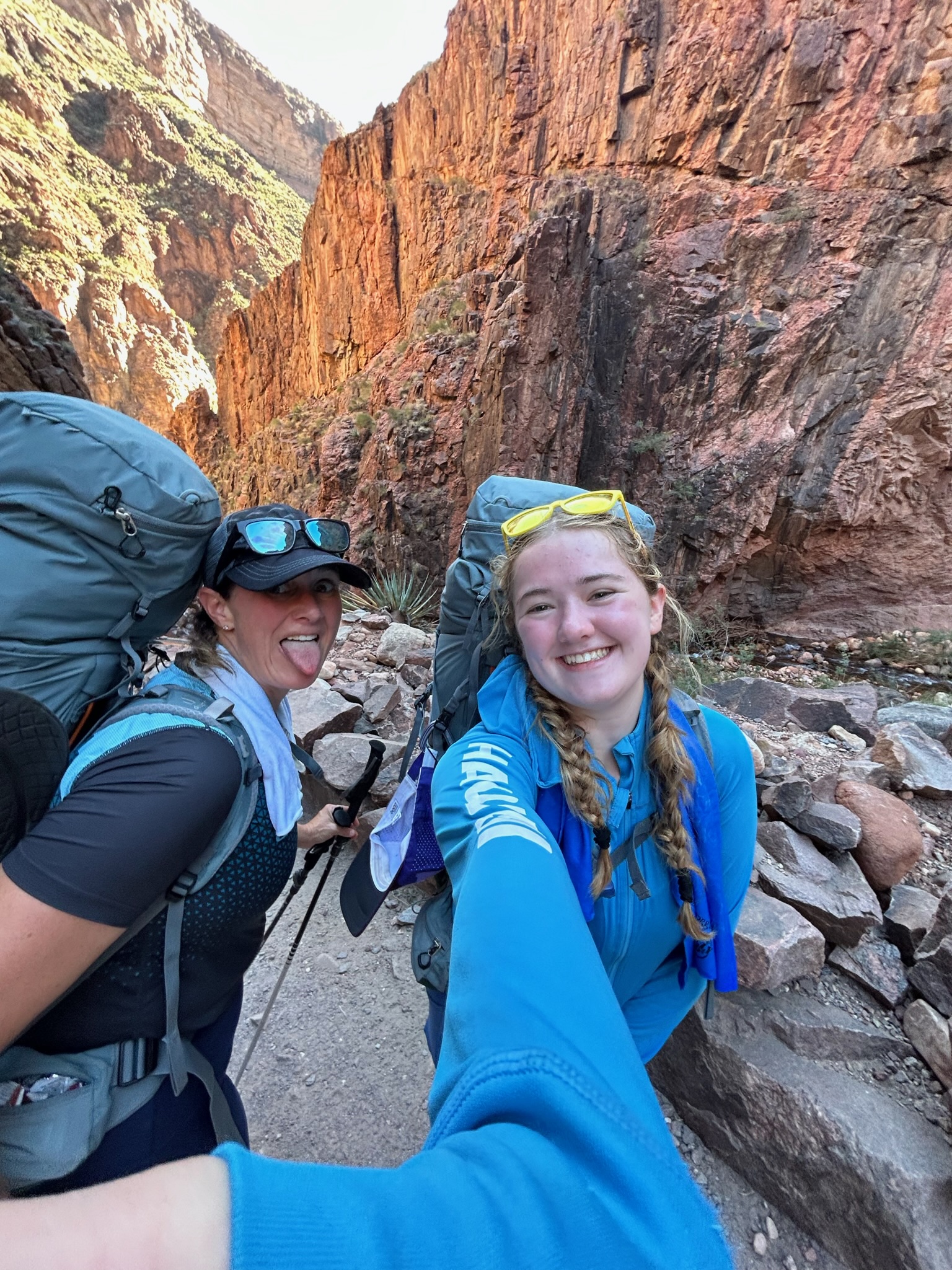 We finally made it to Phantom Ranch around 4:30.   We were able to mail postcards that would be taken by mule to the top and to enjoy some of the Phantom Ranch Lemonade.  Most of the first day was fueled with Uncrustables, Bonk Breaker bars, chews and salt tabs.  We used both Nuun and Skratch for electrolytes.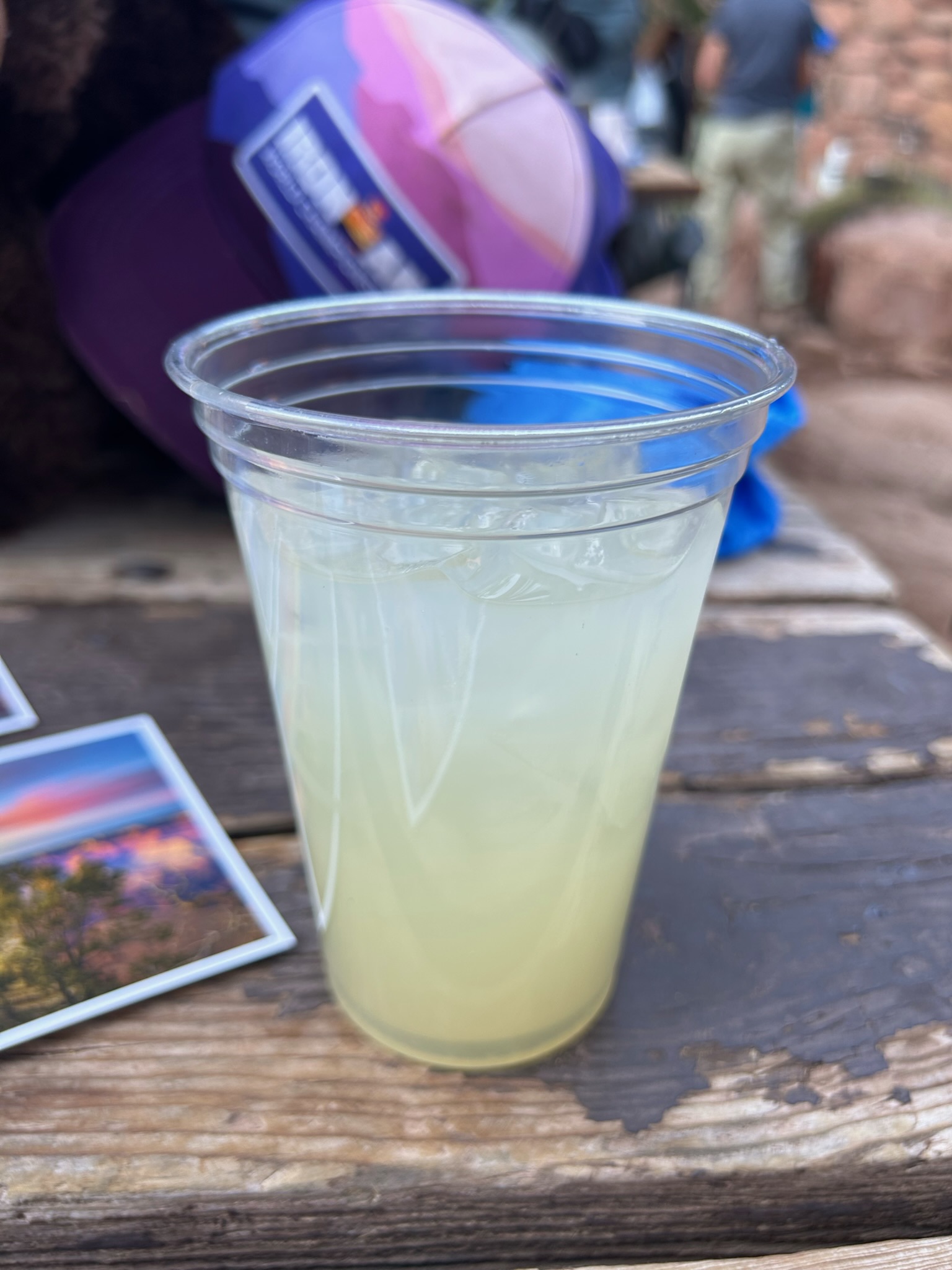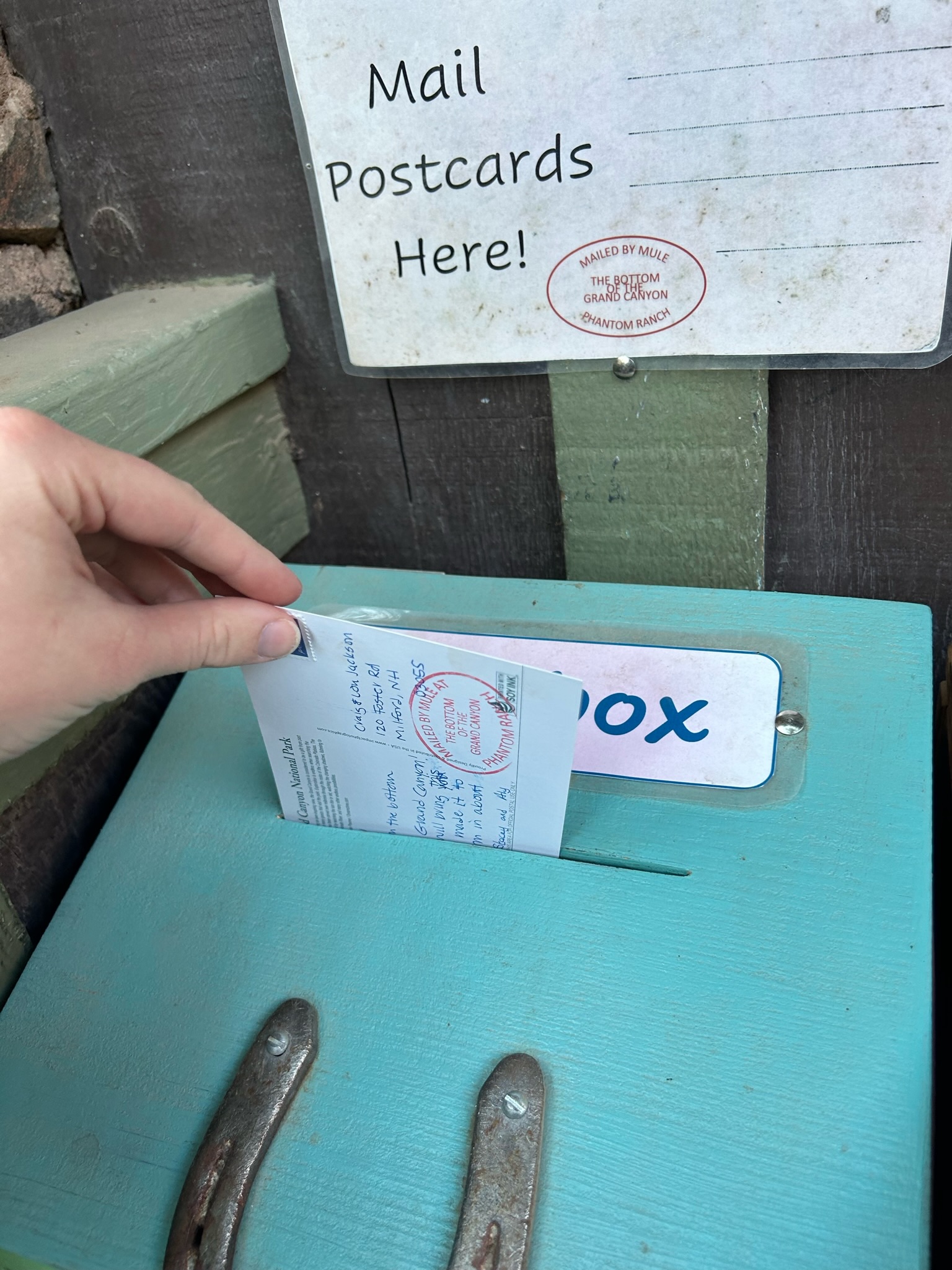 The Bright Angel Campground is a short .3 miles from Phantom Ranch.  We knew we did not have a ton of daylight left, so we headed over to pick out a campsite and set up camp.