This year (2023) saw quite a few new IRONMAN 70.3s added to the IRONMAN calendar and one of the most anticipated was IRONMAN 70.3 Pennsylvania Happy Valley. This race takes place on Penn State's beautiful campus and the surrounding area, with a single-loop reservoir swim at Bald Eagle State Park, a point-to-point bike ride through picturesque farmland, and a two-loop run past storied Penn State landmarks. Not to mention a surprise competitor, the mayor of State College!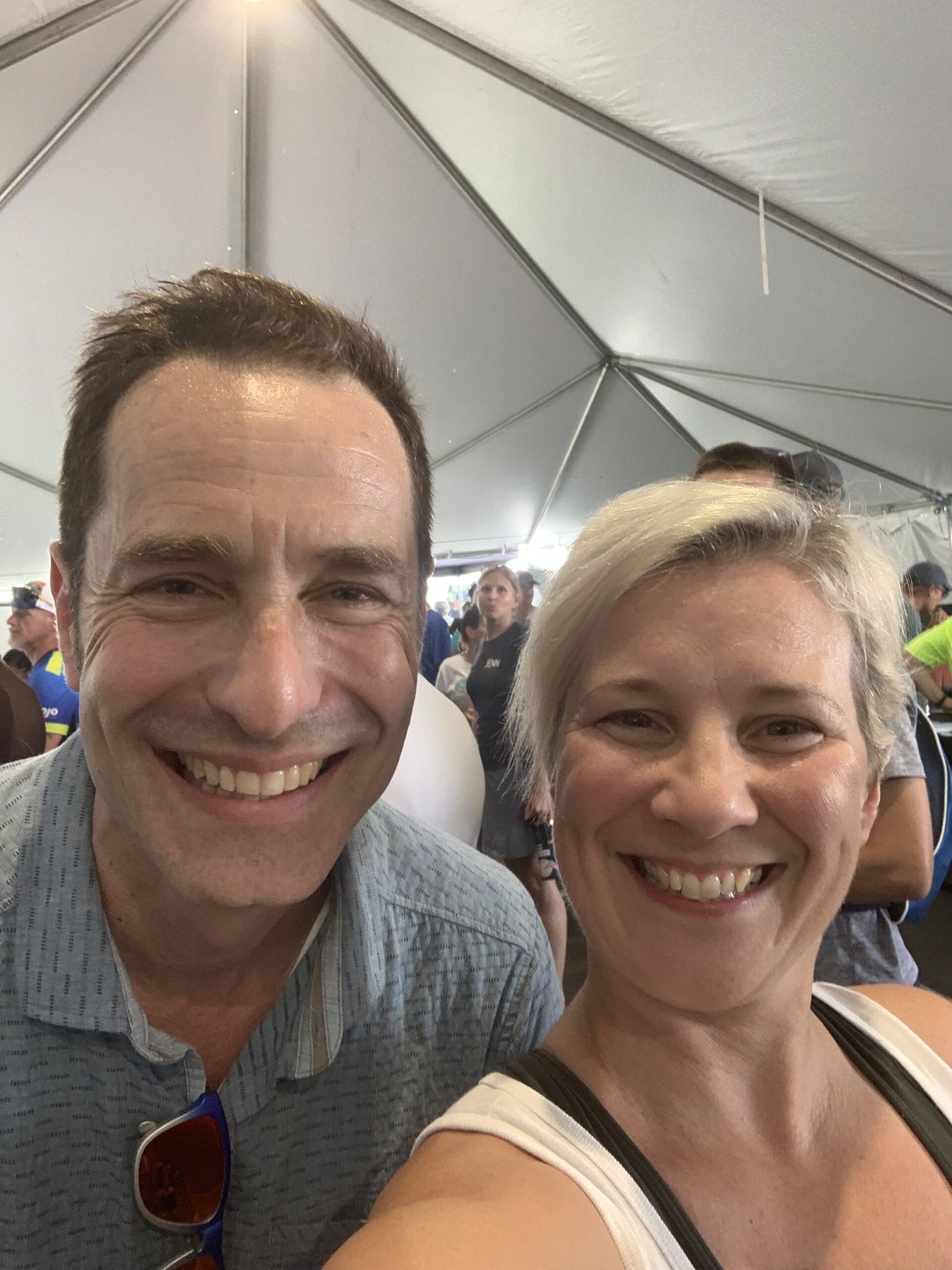 Pre-race
Since the bike is point-to-point, there are two separate transitions and unlike most 70.3s, you need to use both the bike and run gear bags provided to you at check in. It helps to have your gear already laid out in your car, so you can pack up your run gear, find your spot in T2, and attach your bag to the rack. Then you will head out to the swim venue (about 25 minutes away by car) to check your bike in. You have the option of packing your bike gear and leaving it in T1 overnight or bringing it with you on race morning. There is plenty of parking at Bald Eagle State Park for bike drop-off and there were many athletes getting in a practice swim or a quick preview of the bike course start. Changing areas in the restrooms guarantee you don't have to ride back to where you're staying in a wet kit.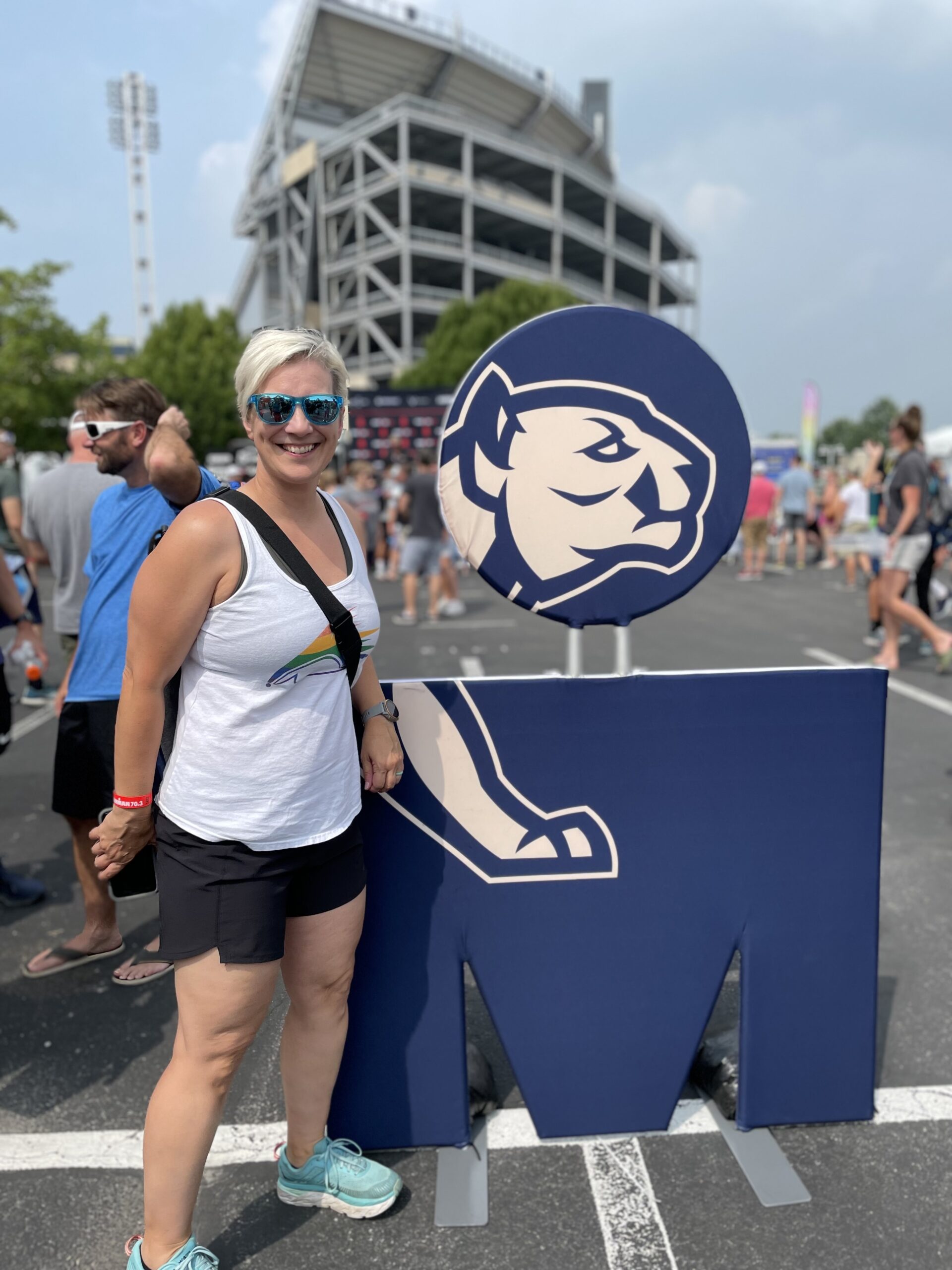 Race Morning/Weather
Now I'm a Nervous Nellie on race day and like to arrive early so I can take my time setting up and then relax (as much as possible). I took advantage of the shuttles to avoid driving myself or needing a support person to drop me off and I'm glad I did; parking became tighter while traffic grew heavier and a couple of shuttles with athletes got tied up in traffic entering the park. Thankfully, the race personnel delayed the race start to accommodate anyone stuck on a shuttle. Cars were not allowed out of the park until everyone was on the bike, which created another mess when everyone tried to leave at once. It took forever to get back to campus and some relay runners did not make it to T2 before their biker!
Summertime in Pennsylvania has the potential to be oppressively hot, but clouds prevailed on race day this year. The water temperature was *just* wetsuit legal at 75.7, which leaves the possibility that a heat wave leading up to race day will tip the temperature into wetsuit optional range. Rain during the bike and run was welcome, and while I could do without the torrential downpour at my finish, it was better than being burnt to a crisp.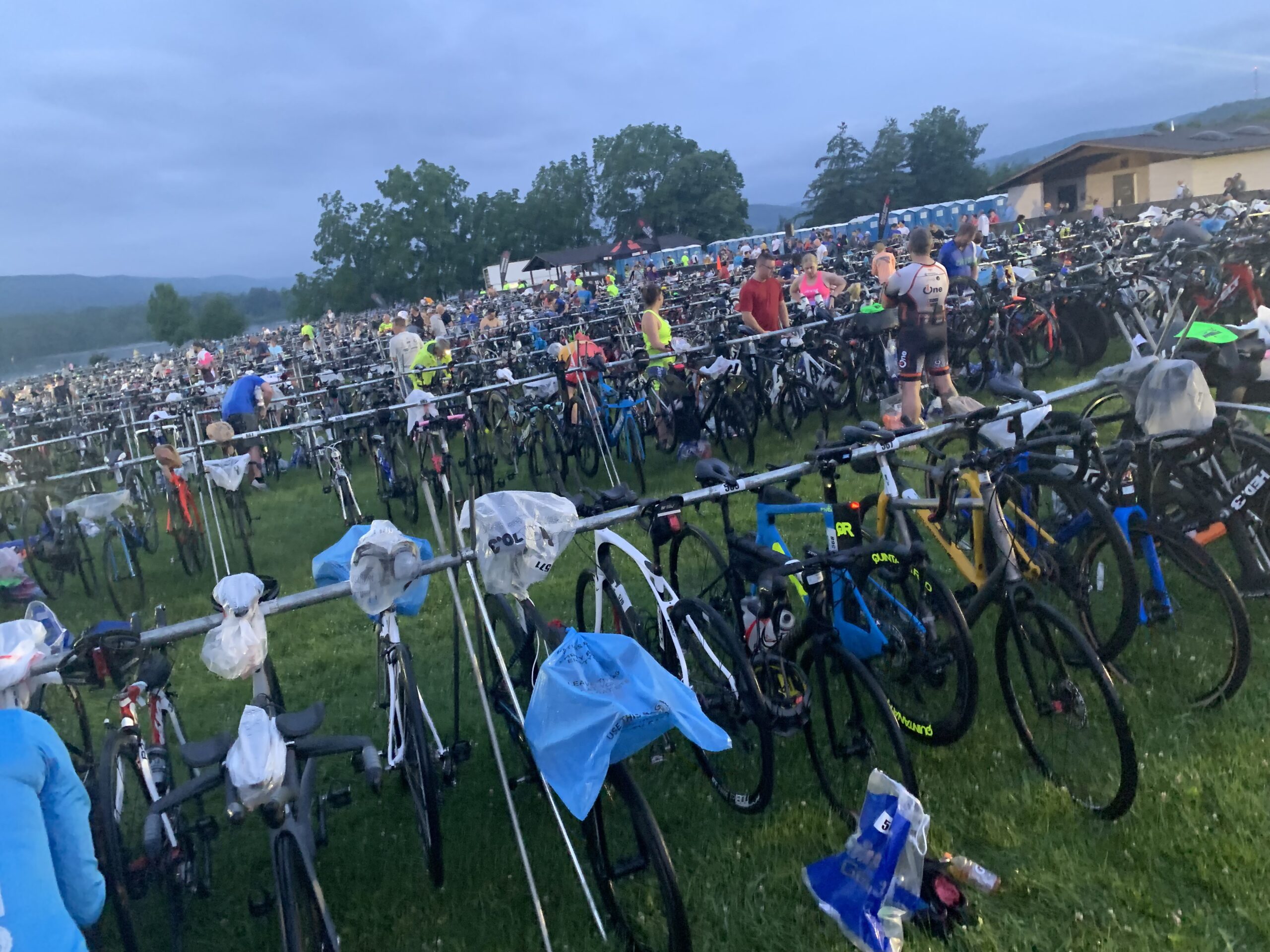 Swim/T1
Just like almost all IRONMAN races, the swim is a self-seeded start. There was plenty of room on the beach for everyone, so the pre-race jostling for position was minimal. Five athletes entered the water every 5 seconds, and the one-loop swim was underway! Cloud cover made sighting much easier and there was minimal current. At the swim exit, there was a short run on sand up to the wetsuit peelers (they're back, YAY), then a longer run on grass into T1. Take the extra 30 seconds to wipe the sand off your feet before you put on your bike shoes, otherwise it will be a long day on the bike. Before you head out, make sure all your swim gear is in your bike gear bag. It will be waiting for you in T2!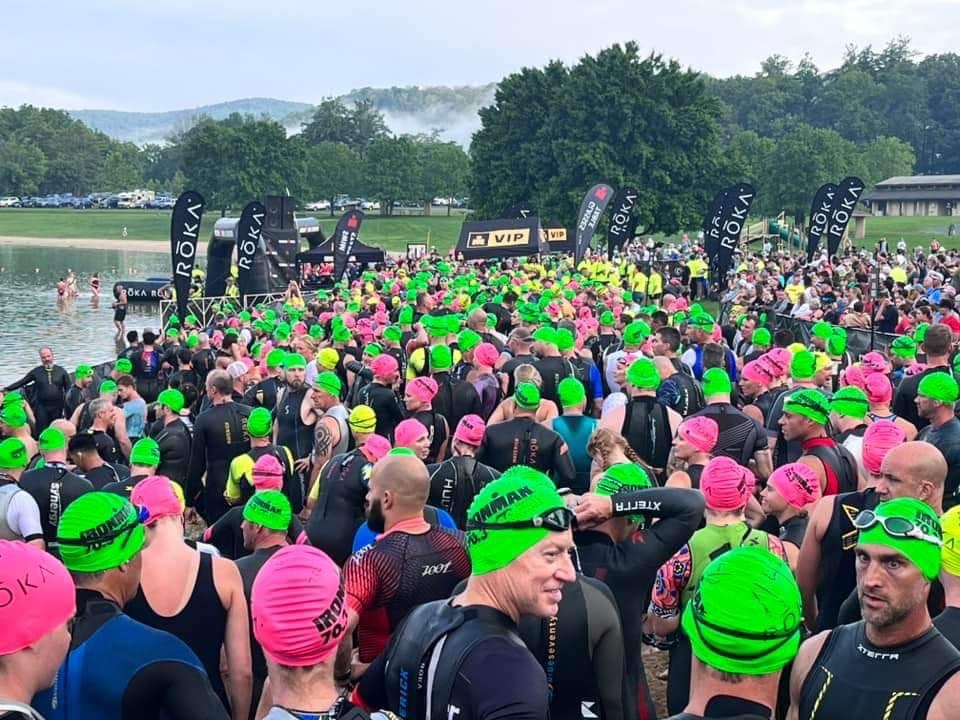 Bike/T2
This course certainly lives up to its billing as "hilly" with about 3500ft of elevation gain over 56 miles!
There is a short out-and-back in the park to start the bike, which coupled with the narrow roads make paying attention and passing safely important. Once you exit the park, the first 20 miles are flat to rolling, before you hit the first climb on Hubler Ridge Road. It's short, but sharp and there is a nice downhill for the effort. Then it's back to flat road to prepare for the showcase climb to Centre Hall. At just under 3 miles long and around a 5% grade, it is not particularly hard, just long. Once you crest the top at the Mount Nittany Observatory, there is a speed limit on the descent, leading into a sharp turn at the bottom of the hill. The next 10 miles are an overall downward grade towards State College. However, just when you thought you were in the clear, the last 5 miles back to T2 are surprisingly hilly, ending on an uphill just as you are trying to dismount gracefully!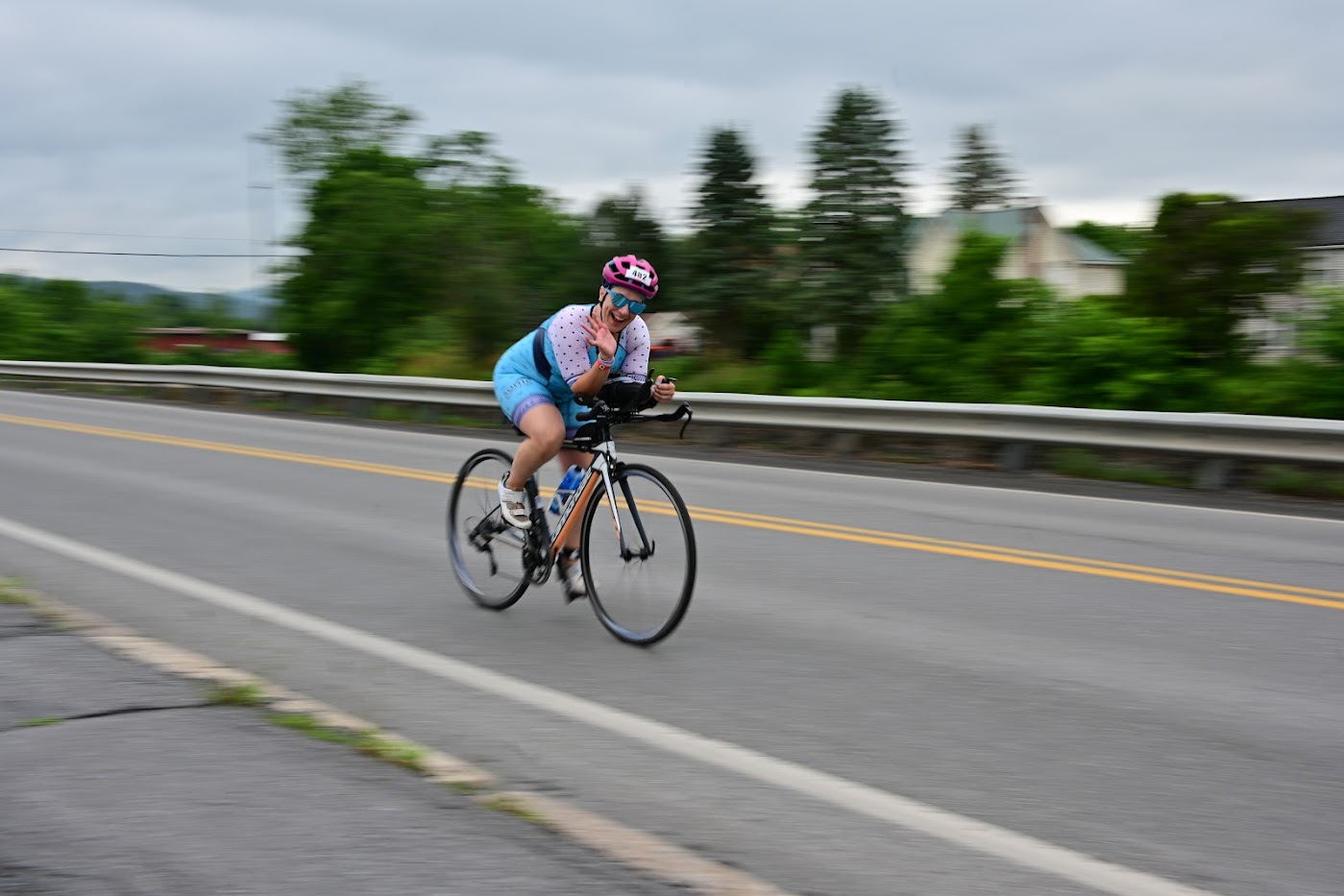 Run/Finish
The second transition is in a parking lot in the shadow of Beaver Stadium, and after heading out to run, you pass by the Tri Club Village and tons of spectators. Along the way, you will get to see a good part of the campus and landmarks like the Nittany Lion Shrine, Old Main, and everyone's favorite, The Berkey Creamery! A two-loop course typically means lots of opportunities for spectators to cheer you on and they did not disappoint! As you head down Curtin Road towards the finish, the volume is deafening and then you make that turn into Beaver Stadium. The finish arch is set up on the 50-yard line and coming out of the tunnel onto the field is something else! There was a bit of a letdown as spectators were only allowed in the stands, so there wasn't the usual finish line energy of high-fives and drumming on the finish chute. Immediately after the finish, you were ushered quickly through the volunteers handing out water, blankets, and medals to another tunnel with post-race ice cream. I had to walk a bit to reunite with my crew and then some more to collect my bike and gear, but all in all, it was a good day!