7th Annual Story County Freedom Run 5k Socially Distant Running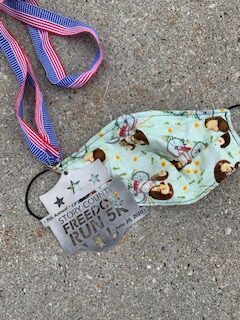 We traveled to Iowa to visit family while Philadelphia remains in lockdown.   While we were there, we had the opportunity to participate in the Story County 5k that was happening.  A perfect time to see how the new social distancing recommendations were going to impact racing.  Iowa never had a shelter in place requirement.  Masks were not (and are not) mandatory, but suggested when going out.
Registration:  Was all online, there was no race day registration possible.  Given that where we were located in Iowa, I suspected that it would be a fairly small race to begin with.
Packet Pick Up:   Packet pick up happened in the 1/2 hour before the race.  Packets were in bags and they were lined up alphabetically and separately by letters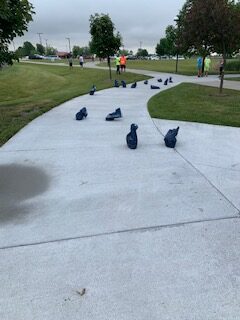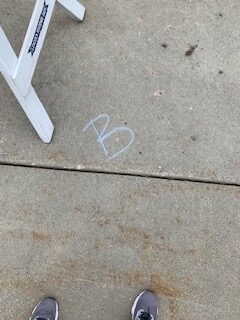 We walked through to pick up packets.  People were pretty good about staying 6 feet apart and finding their own space in the park.  Our bags included bibs, shirts, race medal, and some free giveaways.  It was new to get the medal before the race actually happened.  There were signs near the packet pick up area to keep 6 feet apart.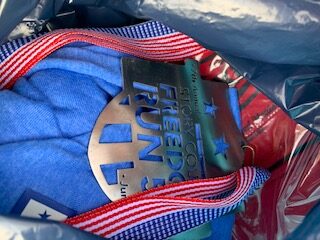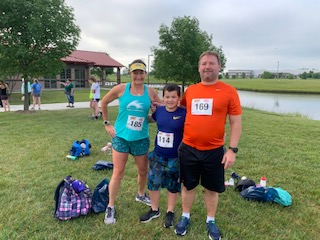 RACE – Its go time!!!  They sent groups off in 10 year age group waves, starting with under 19 males, under 19 females, 20-29 males, etc.  They separated the groups by a minute or so, I don' think the largest group was more than 15 people.  It was really well executed, in that there was no large group formations at any point in time.  If I were to make any suggestion it would be to send off the runners in time waves as opposed to age groups.    You could ask athletes to self seed according to projected finish times.  This allows the faster runners to not have to pass as many people.  It also allows more of a true "race" feel as you are with individuals who run a similar pace as you do.  There were no aid stations, it was only a 5k, so that made it easier to orchestrate the race.
Post Race – Crossing the finish line, there was definitely less craziness than in prior races.  There was a person at the finish taking down times by hand.  The clock just showed overall time of the race.  There was a table with water to take if you needed.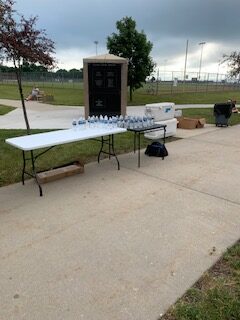 The post race food was in to go containers.  There were individual servings of Pancakes and sausage and OJ.  It was a great set up, and no one gathered around the food.  They got their food and found their own space on the grass.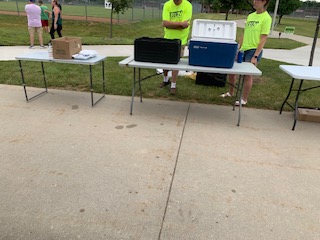 Post race thoughts – Overall, I thought it was a super experience getting back on the race course.  We were careful in the pre race and post race to hang with our families and keep space around others.  Spectators were spaced out along the course and in the finish area so it never felt really crowded.   The awards were posted online after the event and they were great about wrapping things up and not encouraging congregating as a group.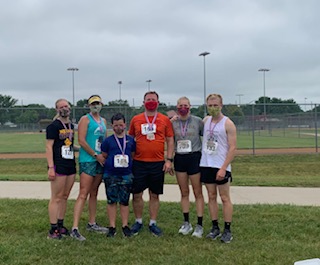 I hope that this is the beginning of getting back to some fun racing!!!  It was a great event for our first time back!