The latest in our series on #FindingYourOwnFinishLine, guest blogger and Sonic Endurance athlete Johan Keus recaps an epic adventure recently taken through the Rocky Mountains. Be forewarned — after reading this, you may have a new adventure on your bucket list.
It all started with registering for Boulder 70.3 a year ago. It would have been my first IM distance race outside Texas and was extremely excited about racing in the Triathlon Capital of the World. Alas, as you all know by now, it was not to be. In the spirit of Sonic's #FindYourOwnFinishLine, and my need for an adventure, a resetting of goals was in order. But what to do? 
Well, Colorado was still there, it's been something I've wanted to do for a long time, and it had a couple of little mountains and passes that begged to be climbed. So off I went. My new found goals were to ascend (and descend, naturally) East Vail Pass, Mt. Evans, and the ultimate achievement, Pikes Peak, along with some lesser rides to acclimate. But first I need a theme for my trip, a declaration. I decided on "My Bike Goes to the Best Places." The fact I happen to come along, sometimes, is an added bonus.
The drive out took a day and a half and upon arriving in Colorado Springs, and after a lunch, I convinced Brian, my friend's husband, to go for a quick shakeout spin through The Garden of the Gods. Even though it was raining, and the temperature had dropped into the 50's, the hour ride was spectacular. The Garden has an unprotected, dedicated, cycling/running lane. It felt great to be out of the car and on the bike. I was quickly, and rudely, awakened to the fact that I was at an altitude of 6,400 ft. It gave me some concern about the coming days. This was not going to be a cakewalk.
Isn't this an exciting story? Wait until I tell you what happens to a body above treeline, and all the way to 14K feet. Not just once, but twice!!!
I spent the night in Denver and on Monday morning drove out to Glenwood Springs to ride with my sister on the Rio Grande Trail (RGT). We started near Carbondale and headed uphill toward Snowmass. The RGT starts in Glenwood Springs and ends 42 miles up valley in Aspen. From there you can decide to climb Independence Pass, if you have the juice. Someday I plan on making the whole trip but for now we just rode a portion of it. The trail runs parallel to Hwy 82 and is dedicated to cyclists and pedestrians only. It is well paved but not really conducive to the types of training rides we are used to. There are quite a few pedestrians and leisure cyclists present. I know, that sounds snobbish. All and all it was a great bike ride with about 1200 feet of elevation gain. The scenery is breathtaking and is well worth doing, if you are in the area.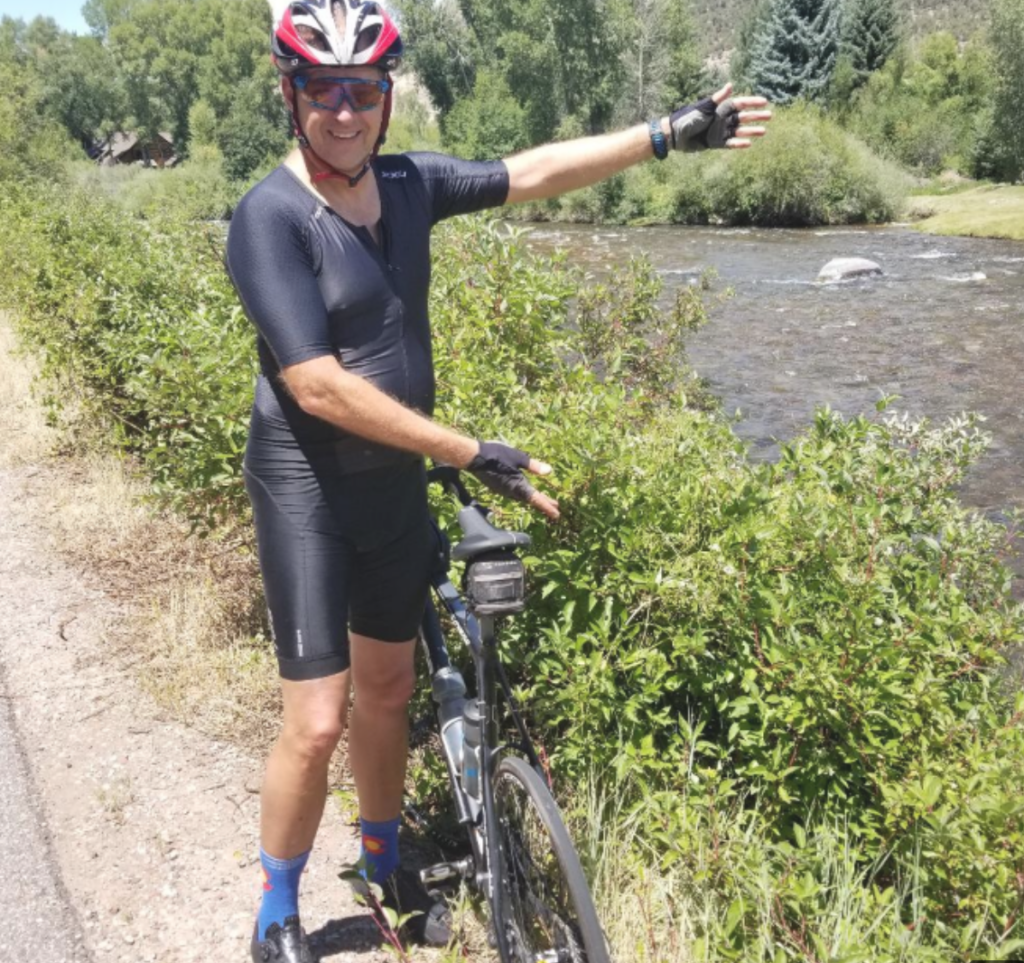 On the Rio Grande Trail
The next two days found me in Frisco (elev. 9100 ft.). What a great little town. They have wonderful amenities and an abundance of flowers in planters on Main Street. The first day I chose to ride the 23 mile loop, clockwise, around the Dillon reservoir. There was a bit of a climb near the end giving me 1400 feet of elevation. The rainy weather held out until I was done which was greatly appreciated. Happiness is a martini, a book, on a covered porch, after a great ride, while it rains.
Day two sent me off to East Vail Pass. My first real climbing with 1,800 ft. of gain, over 12 miles. I had been walking around with a mild headache for a couple days and had trouble sleeping at night. I attributed this to the altitude (not the martinis) and it was something I had to live with. I remind myself regularly there is nothing sadder than a whinny, cry-baby IRONMAN finisher. We, my bike and I, had not gotten to the real meat of the trip and since my bike wasn't complaining, neither should I. 
The climb up Vail Pass was not bad. I took my time and enjoyed the magnificent scenery. Again, the weather held out but boy, it sure can change quickly around here. At the top of Vail Pass, I thought about cresting and making the 11 mile drop into Vail. I climbed the West side of Vail Pass a couple years back and it is considerably more difficult than the east side. Discretion got the better of me, so I decided to forego that little experience. The whole Frisco area is a great place to spend some down time with more bike trails than I could cover in the allotted time. I will be back.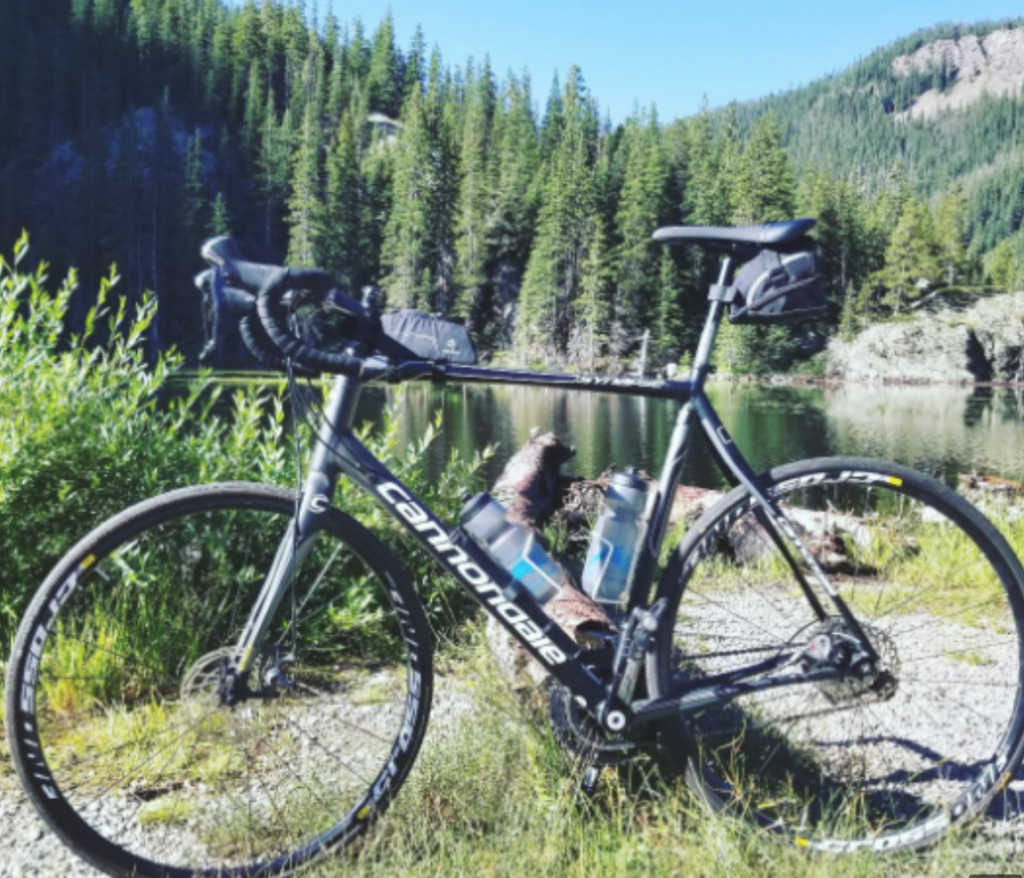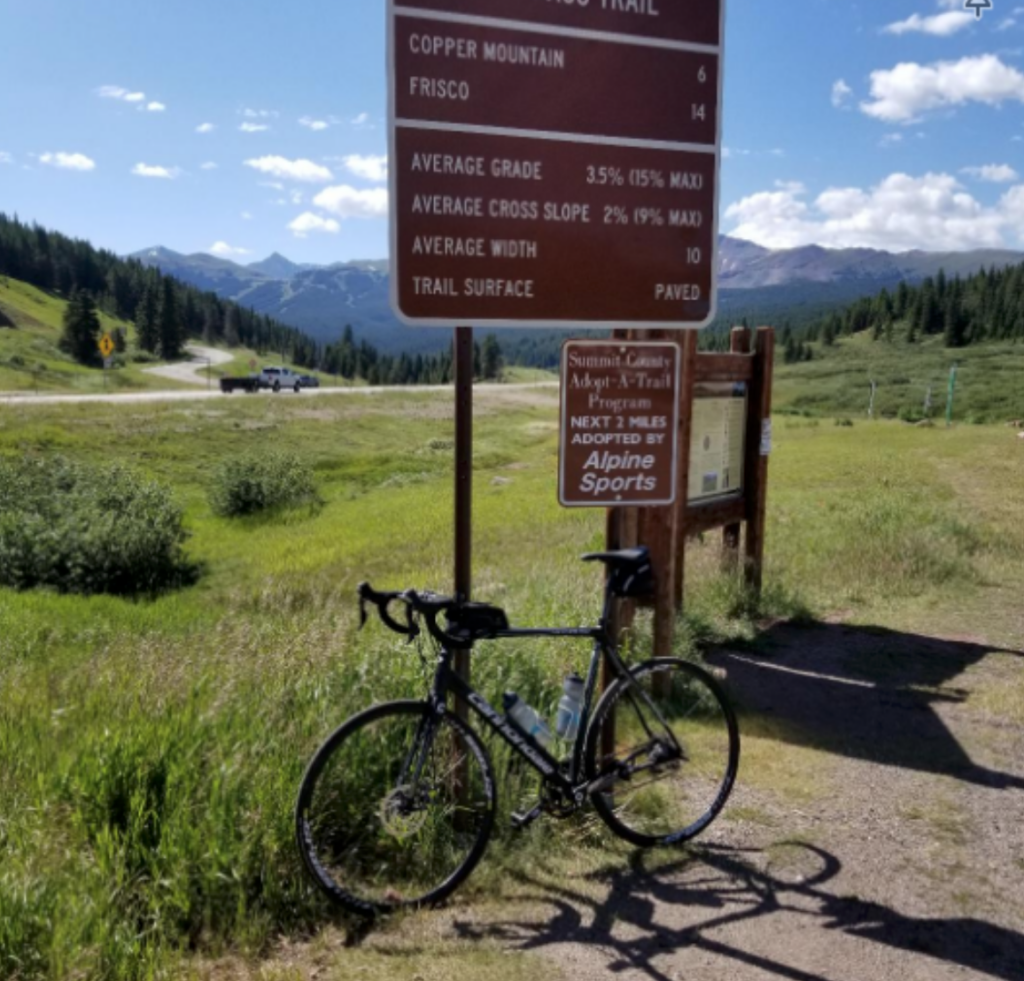 Climbing East Vail Pass
Welcome to Thursday and the first real climb. Mt. Evans has been written up in magazines as the ride to do this season. It is currently closed to motorized vehicles. My original plan was to start in Idaho Springs and ride the 56 miles round trip. There was another option to start at Echo Lake which would cut it in half. I chose the latter option for various reasons: the weather, my physical condition and the ultimate goal of climbing Pikes Peak two days later. 4,200 feet of elevation gain culminating at 14K is no joke. But what a rush!!!
I spent most of the climb around 7 mph. my thoughts were, this isn't so bad. If Pikes Peak goes this way, I'll be golden. In two days, to my dismay, I would learn differently. Mt. Evans was wonderful. I made it to Summit Lake and a Marmot came to see me. I called him fatty. He was well winterized. I stopped many times to take pictures on the way up. Every corner taken, every foot gained, provided a more spectacular vista. At the top of the mountain, I treated myself to a New Belgium 1554 and a sandwich. I think I deserved it.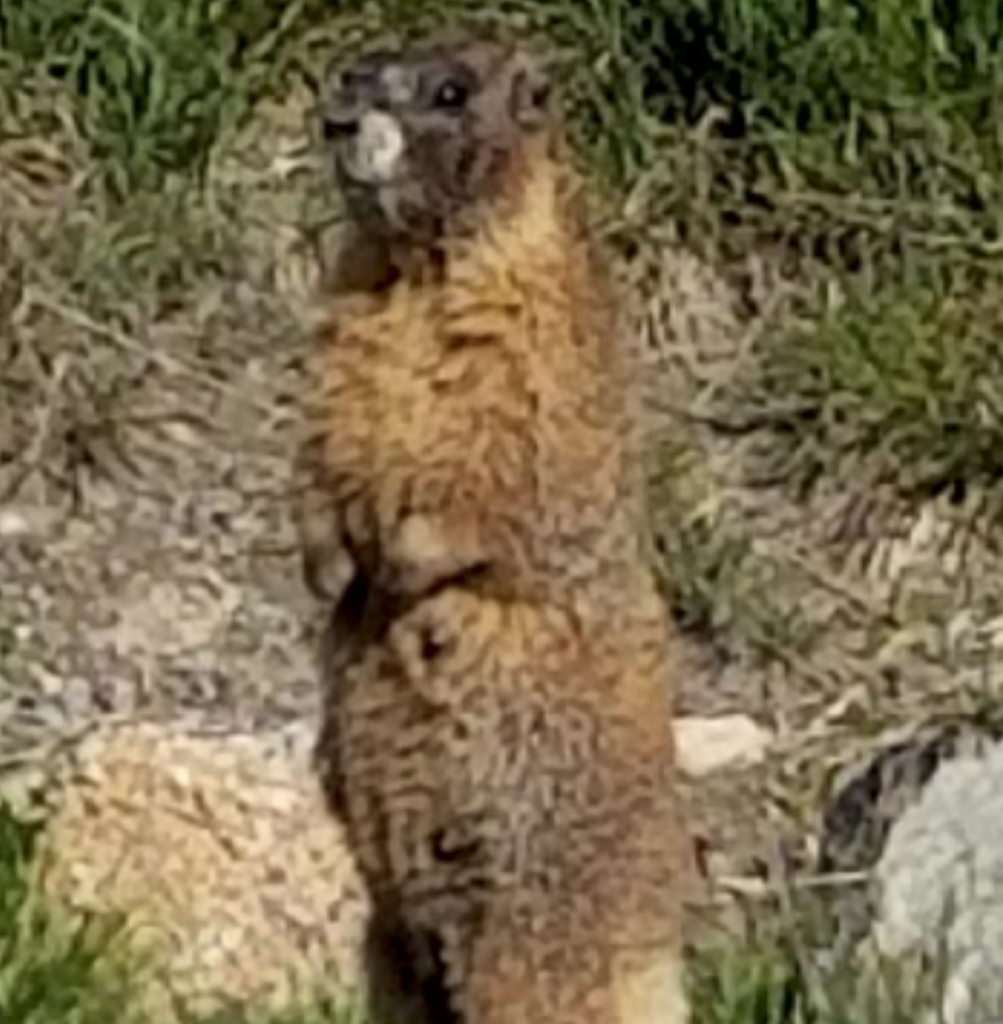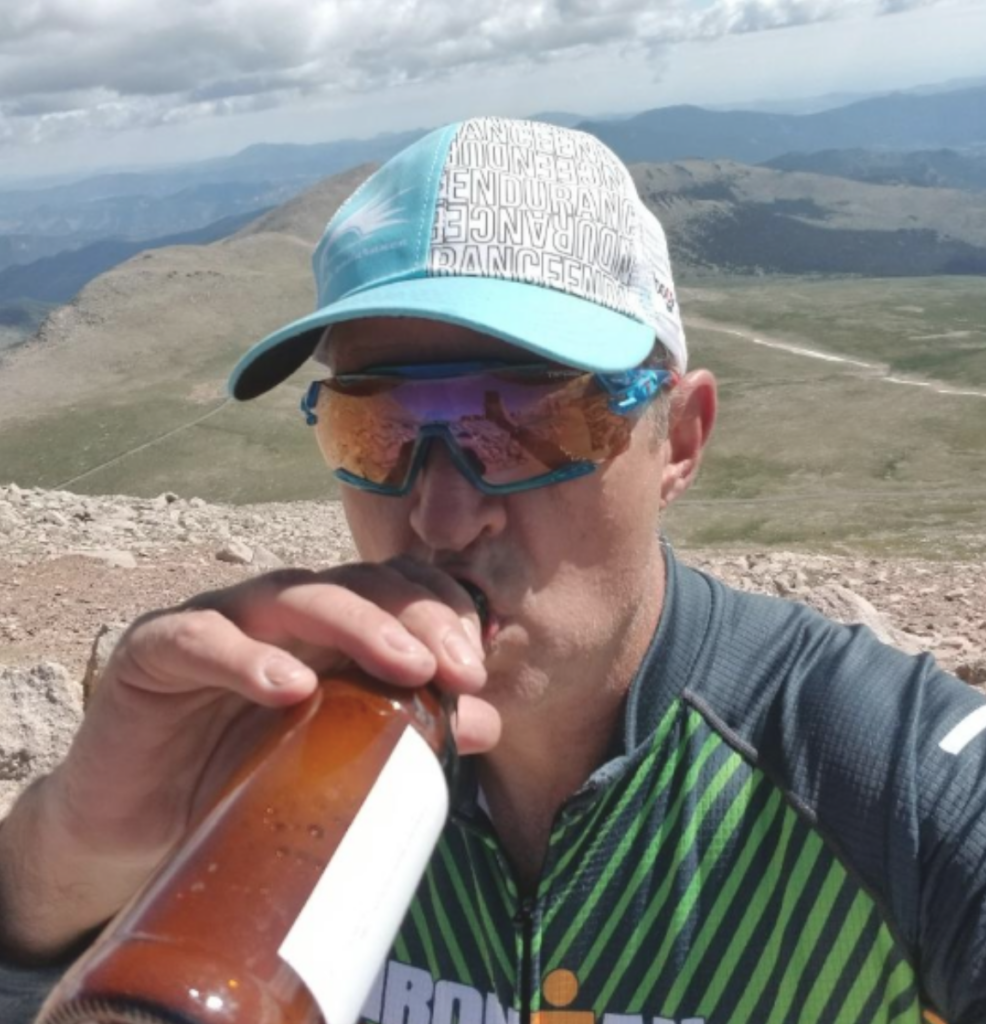 Mt. Evans
Friday morning I found me in Colorado Springs catching up with an old friend, Dawn, and her husband, Brian. He and I went for a quick spin to keep the legs loose, but for the most part it was a rest day.
Saturday morning came early. We planned on starting the ride up Pikes Peak at 7:30. We would spend the next four and a half hours climbing. It was slow going, spending most of the time around 3 miles an hour while sharing the road with passing cars. Many people would holler encouragement from their vehicles and they were courteous for the most part. Dawn decided not to take up cursing on that day, instead to just holler my name draped in whatever emotion she was feeling at the moment. I heard my name a lot, most of the time it was not good. I just chuckled and stayed in sight of her.
My coaching was really paying off. I knew to start out easy, to be patient, and to feed regularly. Thanks Jen. I kept my heartrate around 130, but elevation was gained, it became impossible to keep it there. Above 13K feet, it was over 150 bpm and holding. About a third of the way up, Brian made a break for it and we would not see him again until the peak. He's strong and acclimated to the elevation, so I made no attempt of keeping up with him. It was a long haul and the more miserable it became the extroverted I became. I waved at the kids and dogs in the bypassing cars and had a huge grin on my face for everyone. They responded in kind.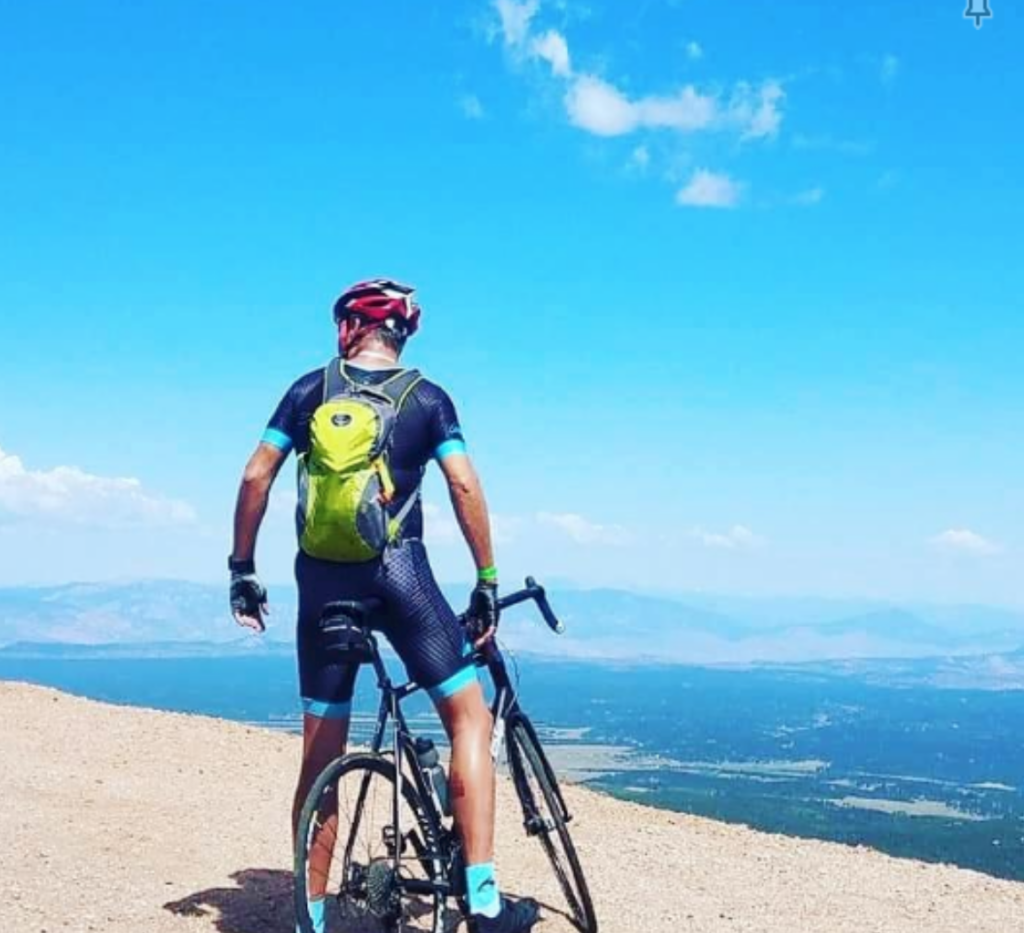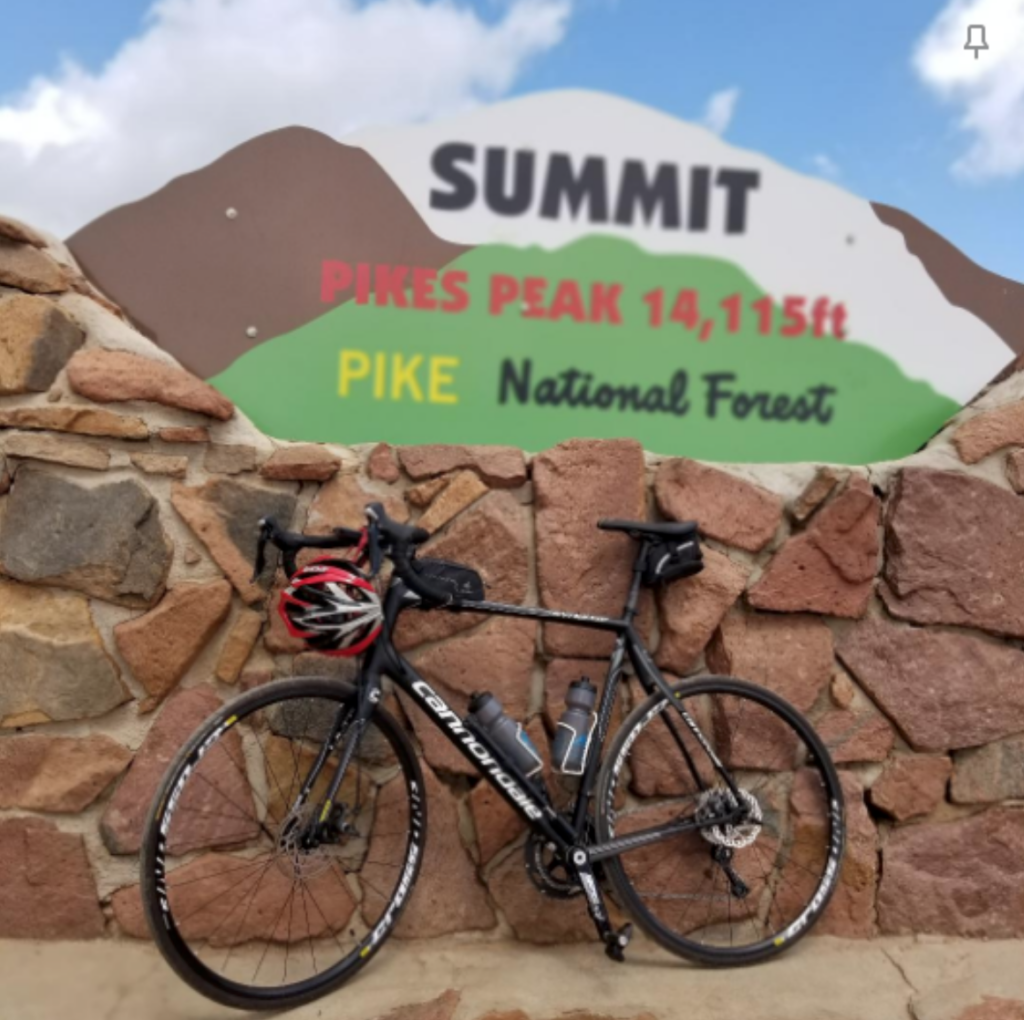 When Dawn and I reached the top, a number of people congratulated us with cheers and clapping. So much fun, and all our pain subsided. We found Brian and, reaching into my backpack, I pulled out 3 beers, one for each of us. Here's to climbing 6,700 feet, Prost!!! That was the best. We took a couple of pictures together at the elevation sign, and planned our descent. We donned our cold weather gear to fend off the temperature, since the speed and the cold air would rob us of core body heat quickly.
The descent went quickly, but not as fast as I had wanted due to heavy traffic. The bikes will take the corner at the double the speed limit if you're willing to throw your body into the turn. We passed a couple motorcycles and I went looking for some cars to overtake. Unfortunately, discretion got the better of me and I tapered back. No hospital visit, no making the local news, and no speeding tickets for me. I know, BOOOORRRING!!!
All said and done, it was an amazing trip. At the end of the trip I had only ridden 157 miles in 15:49:10, but that included almost 16K feet of climbing. I'm putting the Pikes Peak climb in my "I did a really big thingy" bucket. At the bottom of the mountain we all agreed with enthusiasm, we would never have to do that climb again, until the next time…. 
They also have lots of other mountains there, so I've been told. There is discussion of doing the Double/Triple Bypass next summer. It's a 117 mile bike ride from Evergreen to Avon on day one, and back the next. Do you want to go? It's going to be a burner!