When I first found out that I would be going to Texas in March, I was excited beyond belief. It's always fun to experience somewhere new, especially since I would get to swim, bike, and run my way around Galveston. Plus, I was going to get to meet Coach Jen and our Texas athletes. However, my excitement quickly turned to panic when I realized I would have to fly with my bike.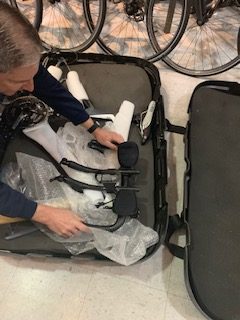 For the uninitiated, traveling with your bike involves packing it in a bike box by partially disassembling it, trusting the airline to deliver it safely to your destination, then reassembling it to its previous road-worthy status in time to ride. Having little background in cycling and not a lot of mechanical inclination, that caused much stress and lost hours of sleep. Luckily, behind every coach, there's a good team willing to lend support. I was able to not only borrow a bike box from my local bike shop (side note: buying one wasn't in my budget for this month), but our local bike guru helped me break it down and load it up. In the end, we only had to remove the wheels, pedals, and aerobars, so no worrying about getting my saddle height wrong! Now with my bike safely packed and armed with the knowledge that I could absolutely put it back together AND take it apart again, I was ready to go!
The check-in and flight were uneventful; it certainly helps to have a seasoned traveler with you who knows the ins and outs of "athletic traveling" (Thanks Coach Stacey).
The two worst parts were trying to maneuver both a suitcase and a 35-lb hard plastic rectangle through a crowded airport and loading that bad boy onto a packed airport shuttle. Thankfully, most travelers we encountered were patient and we made it without crushing anyone.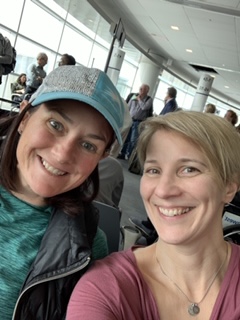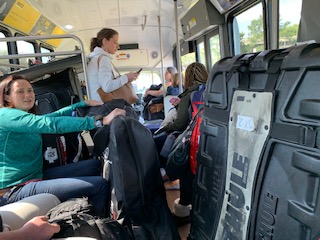 Once we made it to the Galveston house, it took less than a half hour to get my bike assembled and ready to ride. It helped that one of Jen's athletes came prepared with a bike stand and toolkit; he even was nice enough to adjust my rear brakes! Repacking for the trip home was just as simple, although both Stacey and I needed assistance removing a pedal. Our cattle-rancher neighbor obliged and then Jen helped us tuck everything inside. Moral of the story? Air travel with your bike not as big a deal as I thought it would be. Also, 99% of the time there's someone willing to lend a hand, especially if you ask.