With the majority of road marathons having being cancelled/gone virtual this year, and into next year already as well (a moment of silence for my favorite race ever, the Houston Marathon) many people are looking for other options.  It can be difficult to motivate yourself to get out there and continue to train without the carrot of a race dangling in front of you, so getting something on the schedule can really help.  Races that ARE happening, at least locally where I am in Texas, are trail races!  These tend to be pretty socially distanced events, even before that became a thing.  They are smaller, out in the woods or the hills, and already had minimal contact points as far as aid stations etc.  With all these factors in mind I signed up for my first ultra distance race.
Now, depending on how you define an ultra event, I've either done 3 or I have done zero.  I've completed two 31 mile trail Ragnar Races, but as your miles are split up with breaks some people don't consider that an ultra race.  I also paced a friend for 38.5 miles of a double marathon (don't forget the point 5), but I was not a registered participant so that technically doesn't count either.
My point is I'm not a total newbie, but kinda.  I chose the 50k distance, which is like an Ultra-lite.  I like running, a lot, but not 10+ hours worth of running.  So this is the right distance for me.  The right distance for you could be 50 miles, 100k, 100 miles, depending on your goals and abilities.  I also did a very technical and difficult X-Terra in Waco in 100 degree weather.  That was just a half marathon but it FELT like a 50k.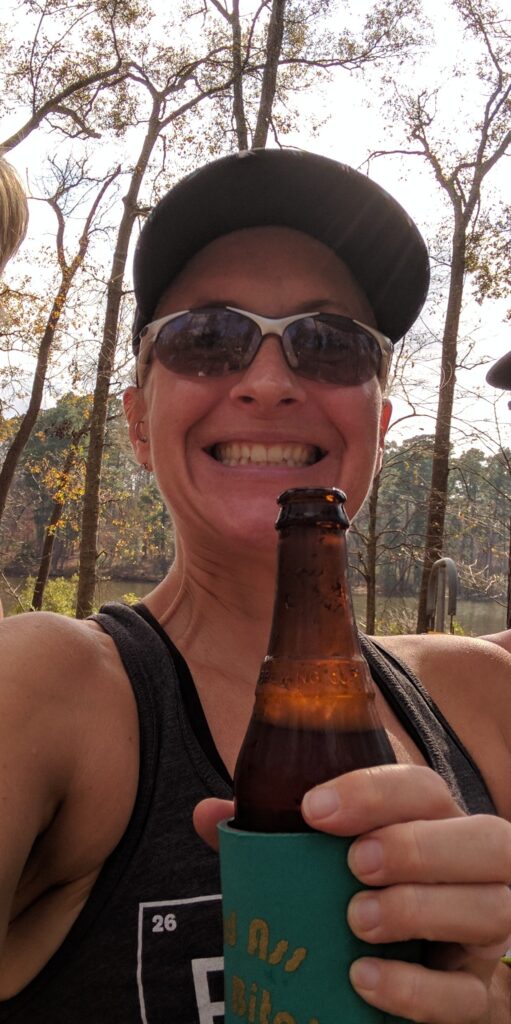 Once you have chosen your distance, the second factor to consider is location.  I picked the Rocky Raccoon Race, which is local-ish, being in Huntsville State Park, relatively close.  I have camped there before and run the trails so I am familiar with the terrain and I know I like it there.  Huntsville is in a forest, the trails are really nice, lots of tree roots to try not to trip over, and enough elevation to make it interesting.  (But still flat, this is South Texas)  The weather in February is a total crapshoot.  Could be 30 degrees, could be 85, but that's what makes it interesting, right?  You may want to choose a local race for that hometown advantage or you may be wanting to get outside your bubble and explore!  The sky is really the limit with ultra/trail racing.  There are races of all lengths, elevations, terrains.  I would recommend for your first picking one that you are comfortable knowing you will make all the cut offs and be able to finish. (Cut off times are usually listed on the race website)  So if you live at sea level going up to 10,000 feet in Colorado is probably not the best choice for your first.  Likewise if you live somewhere flat choosing 50 miles with thousands of feet of climbing will likely be a bad time.
The third thing (actually this one was probably the first one) was that everyone else is doing it!  So why not join the fun?  The great thing about a shared event is you have people to train with, to get excited about the event with and you're far more likely to follow through on your goal.  You can also try and talk more friends into joining and really make it a party! A safe, outdoor, socially distanced party.  I do think the even bigger sense of loss this year is not just the racing but our shared sense of community, and of doing things together.  Yes, triathlon and running are individual sports but we still do them together with friends.
Finally you need to consider timing.  Choose a race that leaves you enough to properly train and prepare for it.  If you are working off a solid run base then 16 weeks is plenty to ramp up to an ultra event.  If not, take some time to build your base.  The timing for the Rocky Raccoon is perfect for me as it involves training through the winter which is prime running time here.  Choosing an ultra in late summer or early fall would be a terrible choice for me.  Obviously if you live up north then the reverse is true.
So you've picked your race, lined up your squad, given yourself enough time to train, all that's left is to get to running!  If you need a training plan/coaching we can help you with that!!  And if you want to join our team at the Rocky Raccoon let me know!