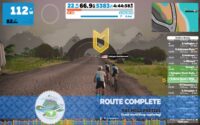 With many (most) races off the table for 2020 lots of athletes, myself included, have found other goals, other carrots, other adventures that speak to us.  For me, my 2020 finish line revolves around Zwift.  For the uninitiated Zwift is a gaming platform that blends indoor training on the bicycle (or treadmill) with an elaborate virtual world.  Zwift is comprised of multiple worlds (Watopia, London, New York, Innsbruck, Richmond, Yorkshire and now France and Paris) that include specific routes ranging from 3 miles to over 100 miles.  Prior to the release of the new France and Paris worlds there were 67 routes that could be collected.  Each time you finished a route you received a route badge.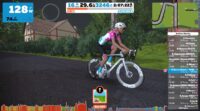 Way back in March I started to get serious about Zwift.  Like riding my bike every day on Zwift serious.  By early April I realized that I was riding quite a few miles and thought it would be interesting to see if I could ride every route in Zwift.  I didn't think much of it other than to draw up a check list with color coded pens (of course) and to start riding.  As the routes vary in length at first it was really easy to pick up a new route.  I could complete at least one route per day and sometimes more.  As I started to tick off more and more routes, they got progressively harder.  Its easy to get on the bike and bang out short routes like the London Classique (3.2 miles and 62 feet of elevation gain) but its a whole lot harder to find the time and effort to ride something like Quatch Quest  (28.5 miles and 5522 feet of elevation) or the Mega Pretzel (66.5 miles and 5387 feet of elevation).  Figuring out when and how to get routes in started to become a hobby in and of itself.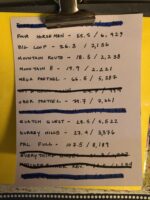 The quest was going along really well until late May when I fell down a set of wooden stairs and sustained a nasty lisfranc injury to my left foot.  Prior to the injury I was on day 61 of a bike streak and was hoping to complete all my routes by the end of June.  In fact I was scheduled to ride the London PRL Full course (107.5 miles and 8189 feet of elevation) four days after my fall.  That didn't happen.  What did happen is that I got back on my bike and started pedaling softly.  By mid-June I was back picking up routes, albeit at a slower pace.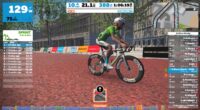 Over the course of spending lots of time riding in virtual worlds I learned a few things.  First and foremost having a good group of people to ride with is key.  For many of badges I was accompanied by Shaun Gallagher, Chris Eckett and my #ZwiftHusband Rob Piperno.  Peer pressure is an amazing thing.  Knowing that others are suffering with you really helps especially on the long and hilly routes.  I also learned that I prefer a shorter steeper climb to a longer gentler climb — I'll take the Epic KOM Reverse over the Forward Epic KOM any day– and that sometimes the longest, steepest, grindiest climbs can be the most gratifying (I'm looking at you Alpe du Zwift).  Finally I learned that long riding requires being prepared — good shorts (I've literally ridden through two pairs of shorts in the last four months), adequate nutrition, lots of chamois cream and a lovely husband nearby to help when things go awry.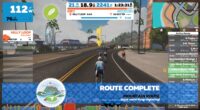 Now as we sit in July I have three of the "original" routes to complete — London PRL Full, Four Horsemen and the Uber Pretzel —  along with seven new routes in France once they are released to the general public (these routes will be part of a special virtual Tour de France before being being made available to everyone on the Zwift platform).  The Four Horseman is scheduled for this Sunday (7/12), the Uber Pretzel for the Sunday after (7/19) and I'll have to find a special date to complete the PRL Full.  Six to seven hours on the trainer, in summer, with no air conditioning is going to be special.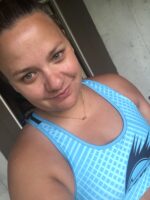 In addition to picking up route badges, going after all the Zwift routes resulted in other achievements.  I got stronger on the bike.  A lot stronger.  And I logged some serious miles.  My total mileage for March was 289.39 miles.  April was 659.93 miles. May was 692.23 miles (even with the foot injury).  June topped out at 866.02 miles.  I'm aiming for 1,000 miles for July.  It just might happen.  I also became competitive for Zwift sprints and KOMs.  I've nabbed every sprint jersey in forward and reverse and am working on the KOMs, unfortunately I'm a lot better at putting out relatively big watts for a short duration than I am at climbing.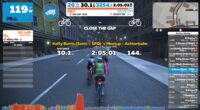 This challenge has also left me thinking about what's next.  I think when you're on a quest to #FindYourOwnFinishLine two things are important: (1) that the task be hard enough that it really forces you to stretch; and (2) that obtaining the goal be completely within your control.
Goals like winning a race (even a Zwift race) are amazing but they're very dependent on who shows up on the start line on any given day — you can do your absolute best and fail.  When it comes to a #FindYourOwnFinishLine goal I prefer ones that you can control — riding all the routes in Zwift, climbing all the 4,000 footers in New Hampshire, swimming around a large lake, completing an ultra distance in swimming, biking or running, or climbing the 6 gaps in Vermont.  All of these goals are hard.  All of these goals require time, effort and preparation.  All of these goals are completely within the athlete's control.  Come the end of this month I'm hoping that I'll have checked every Zwift route box and that I'll be off finding a new finish line.