We all have that one food that kicks our salivary glands into overdrive.  For me, it is Key Lime Pie!!  Yummmmm.  For Christmas, my sister in law bought me the cook book "Run Fast, Cook Fast, Eat Slow" by Shalane Flanagan and Chef Elyse Kopecky.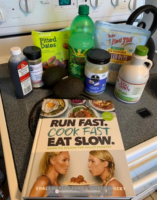 This book is FILLED with a ton of delicious recipes, but there was one that caught my eye.  Avocado Lime Tarts.  Cue those salivary glands!  I immediately opened up my shopping list on my phone and added all the necessary ingredients I did not already have at home.
I was so excited to try these tarts that I did not hesitate on getting in the car and heading to the store!  The ingredients are super simple and healthy.  Combine that with a straightforward and an easy to follow recipe and we have a win!
Let me tell you, these little tarts did NOT disappoint!  Do yourself a favor, write down these ingredients and head to the store now.  We know how finicky avocados can be when it comes to getting ripe!
Bon Appetite!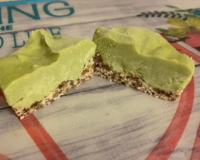 Avocado Lime Tart Recipe, from "Run Fast, Cook Fast, Eat Slow"
Prep time: 1 hour 30 minutes
Servings: 8       Calories: 235 kcal per serving
Ingredients
Crust
1/2 cup old-fashioned rolled oats gluten-free
1 cup dates pitted
1/4 cup sesame seeds
2 tbsp coconut oil melted
pinch Kosher salt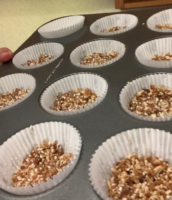 Filling
2 small ripe Bacon Avocados or 1 large Haas Avocado
1/3 cup fresh lime juice approx. 3 limes
1/2 cup maple syrup
3 tbsp coconut oil melted
1/2 tsp vanilla
1/8 tsp Kosher salt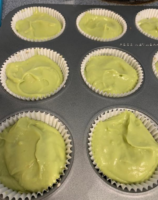 Instructions
Line a standard muffin tin with 8 paper muffin cups.
Make the crust: pulse the oats and dates in a food processor until they're finely ground. Add the sesame seeds, coconut oil, and salt, and keep processing until they're all combined.
Divide the crust evenly between the 8 muffin cups and pack it firmly down using your fingers.
Make the filling: Use a blender to mix the avocado, lime juice, maple syrup, coconut oil, vanilla, and salt until smooth.
Divide the filling evenly between the 8 muffin cups, pouring it on top of the packed-down crust.
Place in the freezer at least one hour to set. Store any leftovers in the freezer in air-tight freezer-safe container.