Big CONGRATULATIONS  to Coaches Stacey and Kelly for being selected as finalists for the Outspoken Women in Triathlon Awards.  Coach Stacey is a finalist for Coach of the Year and Coach Kelly is a finalist for Race Director of the Year.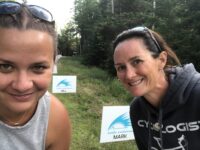 We are so proud of the work they have done in this very challenging year.  2020 has been all about adaptability and pivoting (can you say virtual races and challenges and Zoom workouts and team meetings).  While we hope 2021 is more "normal" year, we're prepared to have an amazing year no matter what.
Winners will be announced at the Outspoken Women in Triathlon Awards Ceremony presented by Coeur Sports on November 15, 2020.