I will start by saying I had zero idea of what I was getting into as I drove down to the Sonic Endurance Training Camp in Maryland. Of course the coaches and Sonic athlete helpers had planned out what the weekend would look like and discussed is a few times leading in. However, I was totally unprepared of what it would mean to have a group of FIFTEEN campers!
Let's start with Day One (for the Coaches):
I arrived to the house around 5 p.m. At this point it was just Coaches Stacey and Maribeth, and the most organized teenager I have ever met, Stacey's daughter Aly.
It was then that I learned that about the jellyfish that had moved into the area. We are not talking one, or even two jellyfish. There were HUNDREDS of jellies in the Choptank River! Aly was a brave soul and went out on her paddle board to see if maybe a little further out there were less, and that was a big nope!
We need our athletes to get into the water, because that is the first step in a triathlon. Not to mention we had promised our athletes a swim workout. Cue the quick thinking of our Sonic coaches and they were able to connect with Barb at the Cambridge, Maryland YMCA! Barb is the swim director at the YMCA and told Coach Stacey to call back on Friday morning and she would confirm if we were able to use the lanes. Both Aly and I set alarms for when Barb asked to call because we were NOT going to miss that call!
The four of us went out to dinner at a restaurant called Snappers  Waterfront Cafe which I highly recommend to anyone in Cambridge (Crab tacos, yum)! Not only was the service extremely pleasant, but the food was delicious and the hostess's mom was a multiple IRONMAN Maryland finisher and they actually moved to Cambridge for her parent's love of the race. Dinner conversation was additional weekend planning and coach talk, then back to the house and to bed for us all. We had a big weekend ahead of us.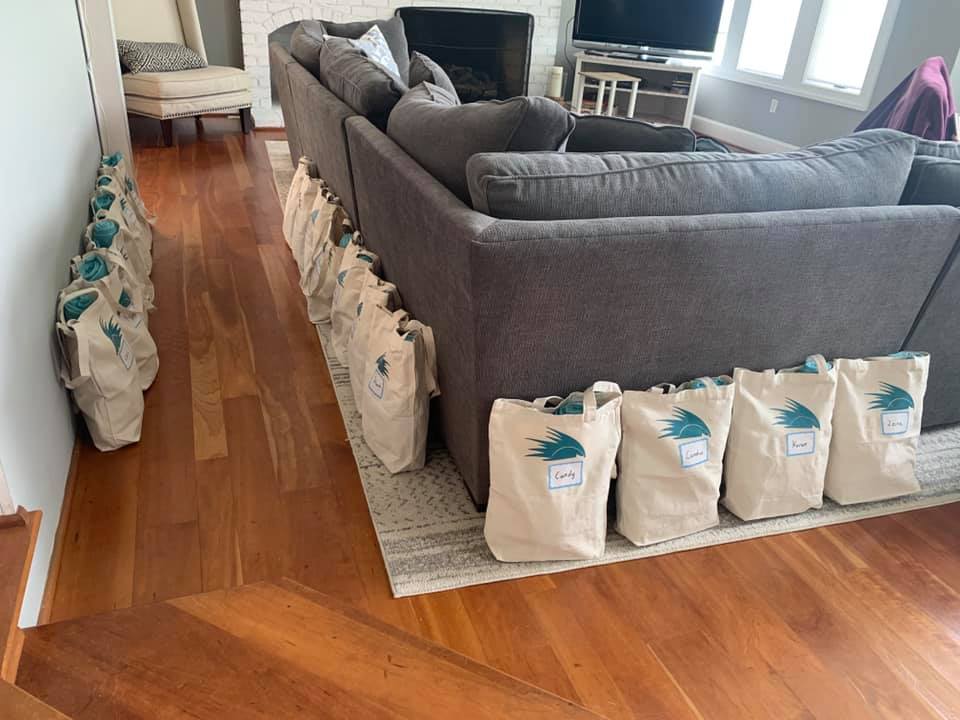 Coaches Day 2 Pre-Athlete Arrival:
Coach's Stacey, Maribeth and I woke up nice and early, because that was the theme for camp. At the time I was not training for anything that called for a long run, so Stacey and Maribeth went off on their planned run. I took the opportunity to run to Gerry Boyle Park to see what the distance from the camp house to the park would be (1.3 miles!) I feel like this is the point I should mention how HOT it was this weekend. Like WICKED HOT and humid, which of course made for a super pleasant run.
Not long after we recollected, our Sonic athlete camp helpers Amy and Janelle arrived! Big hugs and then onto camp discussions and the time came to call Barb. HOORAY!!! Barb came through in a big way and we were all able to exhale.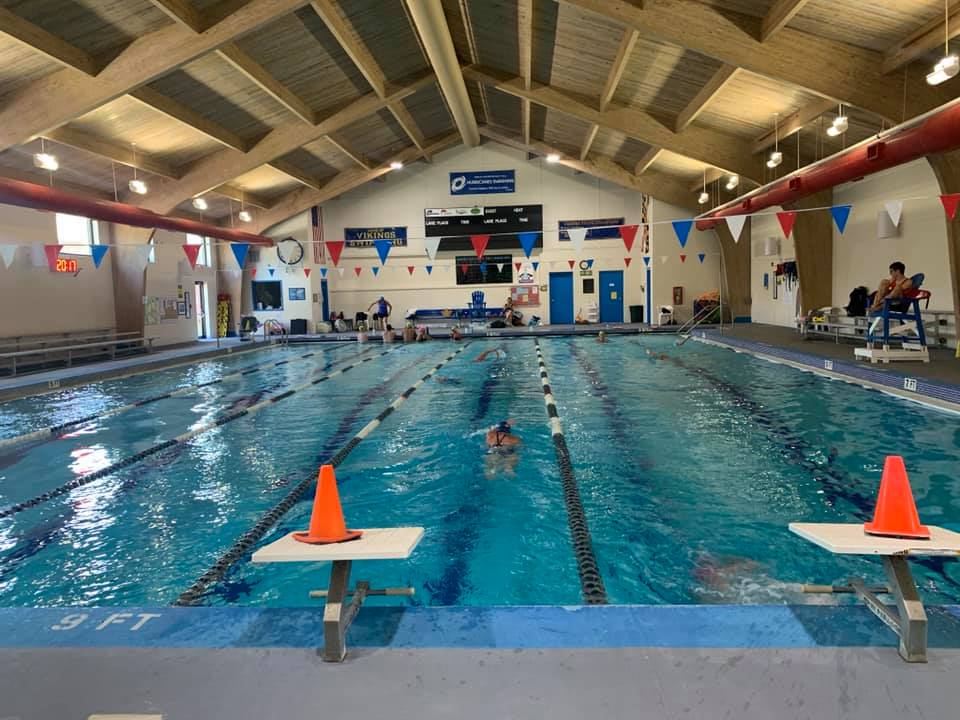 The Athletes Arrive:
It was SO exciting to have the athletes to arrive! One by one I got to meet so many faces I have known for years, but only through the Sonic Endurance Facebook forum. Along with our Sonic athletes, we also added four brand new faces to the bunch! It was so great to meet everyone and feel the sense of excitement.
Once everyone settled, Coach Stacey gave the rundown of camp rules and what the first day would look like. Thanks to Barb, we had our secured space at the YMCA only two minutes up the street. Everyone departed and we meet up shortly after at the pool.
Coach Maribeth had written an awesome and challenging swim set for the gang. The goal was to make sure that everyone was able to get in the max yardage we could in the time allowed. The pool was AWESOME and the group basically had it to ourselves. Everyone was seeded into their lane and off! From the pool side, Coaches Stacey, Maribeth and myself were able to assess athlete swim form and offer feedback to make swims more efficient. Coach Stacey also got into the water to share some tips and technique with a couple of the newer to swimming athletes.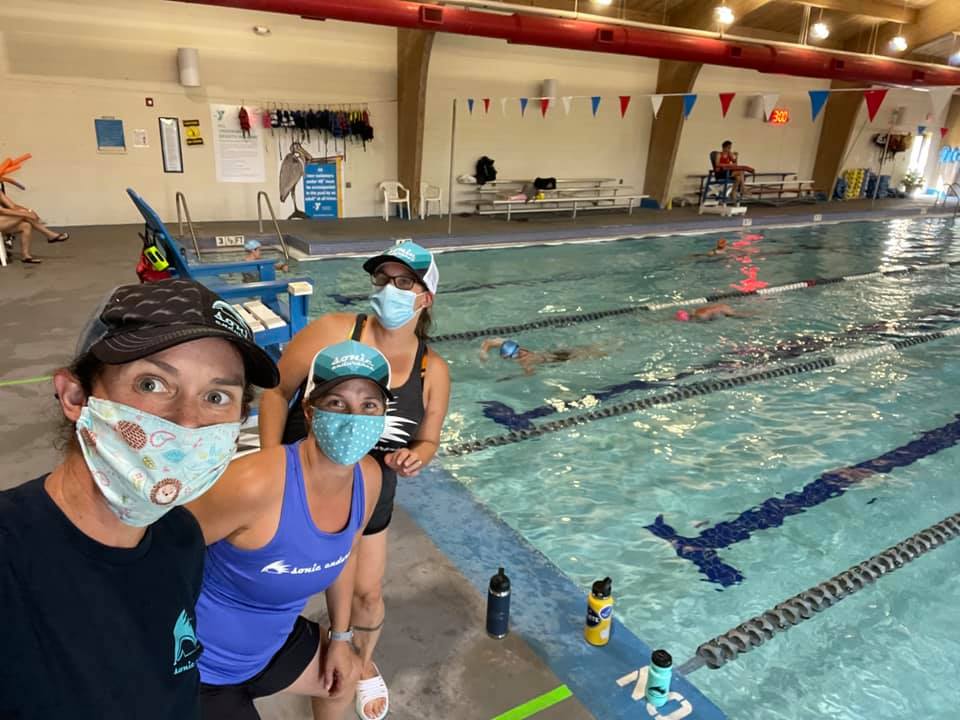 After the swim set, we wanted to give everyone an opportunity to try out some open water swim tactics. All the athletes were put together at one end of the pool in an area of three lanes side by side with no ropes. On the count of three, it was GO! All at once the swimmers pushed off and went for it. It was super cool to watch and gave everyone the feel of having people all around you in the water. An additional OWS tactic we practiced was how to job off the blocks to simulate jumping off a dock like some swim starts have. Everyone had a lot of fun with this and it was a lot of fun to watch as well!
Once everyone was done, we parted ways for showers and everyone was to then return to the camp house after for dinner and a long course presentation from Coach Maribeth and myself.
Best Camp Food Ever:
For food at camp, we had an amazing secret weapon — Coach Mike.  For athlete dinner on the first night Coach Mike made these awesome street tacos and sides that even as I am writing this are making my mouth water.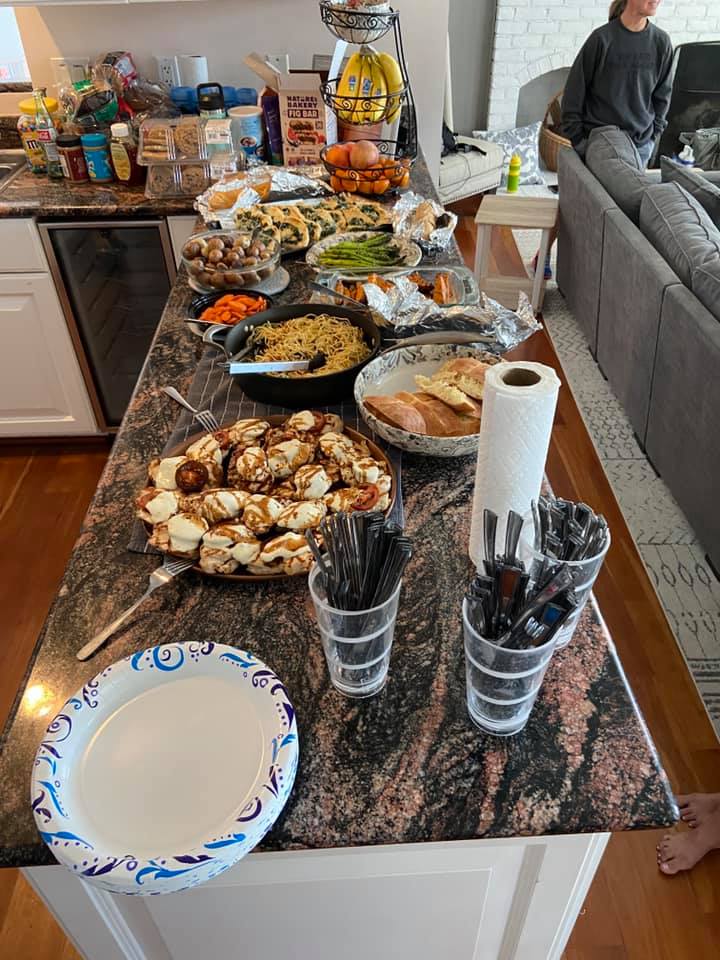 Once everyone was fed, Maribeth and I began our presentation. (I will make a separate blog post with that information, so be on the look out!) We captivated the audience talking about tips and tricks and some race day fueling information. Once we were done Coach Stacey told the team what to expect for the next morning….the LONG RIDE!  And off to bed we went.
Continued in Part 2 . . .