When I was 9 months pregnant with my first baby in 2019, my hormones got the best of me as I watched so many cross the finish line at Lake Placid. The next morning I spontaneously signed up for 2020 thinking I could complete an Ironman before my son turned 1. As soon as I was feeling like myself again, and ready to ramp up training, COVID happened and everything changed. No longer did I care about whatever races or goals I set out, I just wanted to make the most of the time I had with my little one and keep our family healthy. Part of that was maintaining my own mental health through fitness, and being outside running and biking became a big part of my Covid experience.

Fast forward to 2022, I'm very pregnant watching people do their thing out on the race course and I register for Happy Valley 70.3 and Maryland 140.6, my husband always said I have the worst FOMO. This time around I knew I was not just committing to a race season, but committing to getting back to what I love to do, regardless if I ended up deferring the races or not (thank you Flex 90 Program)!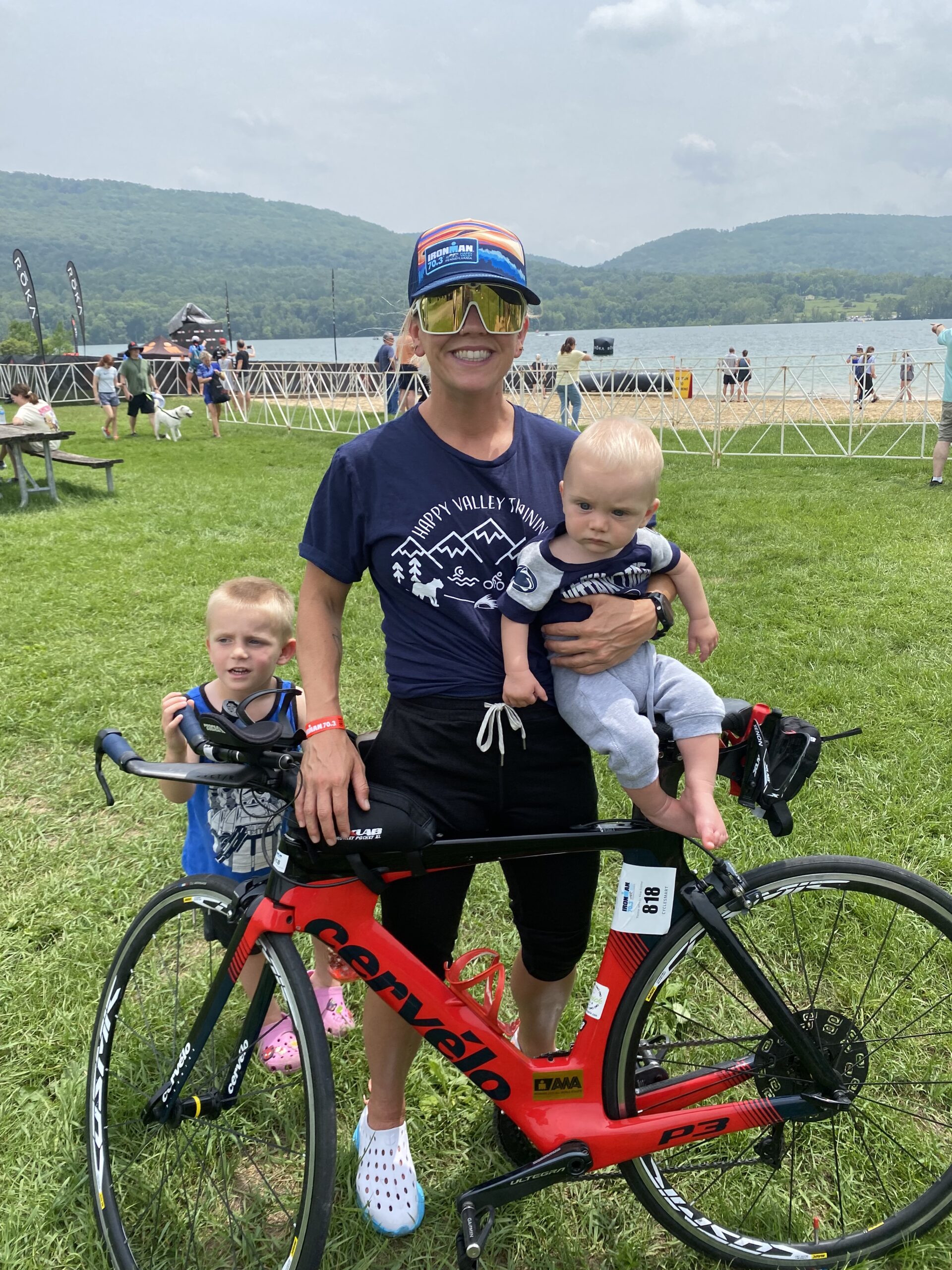 Every pregnancy is so different and after delivering my now 9 month old boy Cooper, my road to recovery was pretty quick. I hired a nutritionist, a pelvic floor PT and prioritized my mental health right away after learning lessons from my first pregnancy. I think the most important thing I learned was the value in asking for professional help, and while I didn't ask Coach Stacey back to coach me (Sorry Stacey lol) I was confident in my ability to coach the body I know best to my next finish line.

Having kids really does make you appreciate time, and that mental shift has been huge for me when it comes to quality vs. quantity in my workouts. I have had my baby home with me this whole time, and man does a nap really light a fire to get moving. Picking races that excite the hell out of you is also key to enjoying the process of gearing up for a race season, time off or not. I didn't care how challenging the course would be at Happy Valley, I knew that 70.3 was made for me. I also knew that regaining strength to tackle the mountains was a crucial part of the process, no matter how monotonous it can be. I also spontaneously added in Escape The Cape Olympic Triathlon to kick off my season because the thought of it excited the hell outta me. I knew all about the special environment Delmo creates at his events, and it was the perfect race to jump back into things, no pun intended.  
I will admit there were quite a few times this summer I questioned why I signed up for such a time commitment with 2 little kids. The mom guilt and again, FOMO, is a real issue for me when I head out on my bike without my family. I am almost immediately reminded by my husband that they are fine without me and that my boys support me and my training. Being able to let go and focus on the time I was given to train, even if often getting cut short or rescheduled, made me appreciate the gift of this sport on another level. Despite the exhaustion, worry and guilt, I had a major mental shift in my perspective this year. Of course I want to show my boys what it's like to be active, have fun and do things you love, but I also realized even if triathlon is not for them or every body, it is not selfish to enjoy the time I spend training and racing.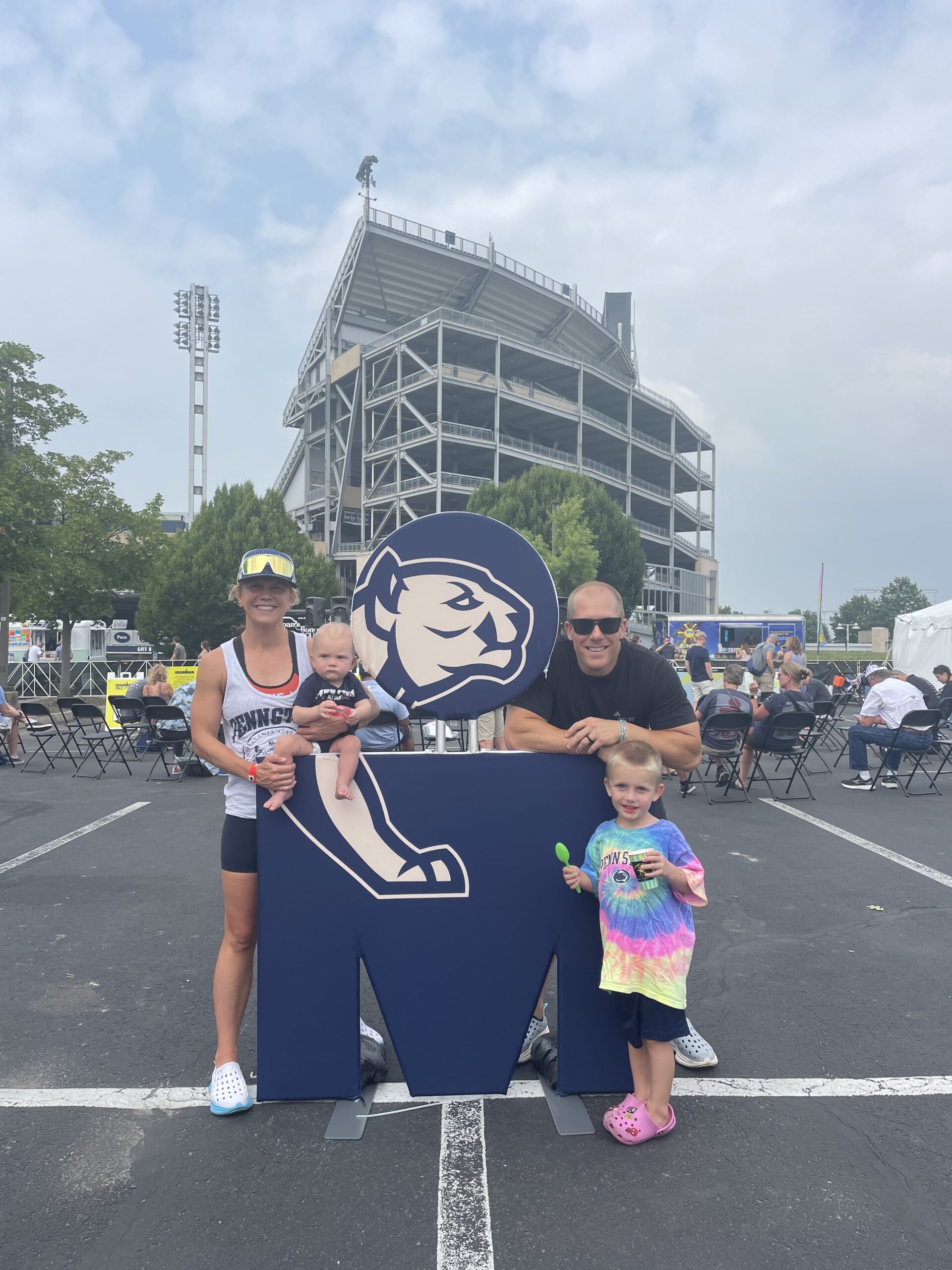 My now 4 year old often asks me questions about triathlon, and asks me how my ride or run was. He asks me for "workout gummies" aka, Skratch chews when he sees me prepping my bike. He wants to participate in the IronKnights when he's 5, and come cheer on Ironmans with us because he already feels the connection to the community. This community is why I keep going 13 years later, and out of all the teams I have been a part of, Sonic Endurance has hands down been the most impactful on me as an athlete and coach. If you are reading this post, you are one of the reasons I am grateful for Sonic and all of the support it brings to all of us, so thank you!
My dream of crossing the finish line to the faces of my little blonde boys is hopefully right around the corner in Maryland, but I already feel like I accomplished what I set out to do this season and so much more.