So, I'll let you in on a secret here…I'm a scaredy cat.
I'm very afraid to try new things – particularly if I don't feel like I will have a 99% chance at succeeding at said new thing. Then consider that other people may get to watch me suck at said thing…and then, add in the fact that the other people watching me sucking are likely NOT sucking and well, there I am paralyzed by fear in the corner doing absolutely nothing. This is definitely not a trait I like about myself and honestly this is why I tri.
Group rides, Zwift, and Masters Swim are all examples of things that are/were very scary to me. When I first started indoor riding 3 winters ago, I had a dumb trainer and it was great because I rode all alone in my living room. And it also sucked, because I always rode all alone in my living room. So, I upgraded to a smart trainer last winter and tried out Zwift and TrainerRoad based on recommendations. Of course, I chose TrainerRoad because there I got to ride with someone (the little person in the computer who cheered me on) but also all alone where no one could see me suck. And eventually, the all alone part started to bore me.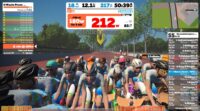 Last year, around the start of COVID lockdown, I decided to give Zwift another try. I kept it safe and mostly did workouts Coach Laura created for me, and occasionally I did a free ride. And I still didn't love it because I was still all alone. Then I saw a Facebook post from Coach Kelly about the Slowtwitch Women's Only Group Ride and I was intrigued. And I shocked myself by replying to the thread asking for directions on how to do a Zwift Group ride before I even processed that now I would have to actually show up after expressing interest.
I joined my first Tuesday morning Slowtwitch Group Ride at the end of August. What I experienced was an amazingly supportive group of ladies who, most importantly, did a great job keeping the chat going on the side as a very welcome distraction from Coach Kelly's torture. But truly, I was shocked because these women WANT to answer questions, WANT to help newbies, WANT everyone to feel supported, and most importantly happily admit publicly that somedays they just don't have it. I was in love and immediately asked (told LOL) Coach Laura to put this ride on my schedule every week.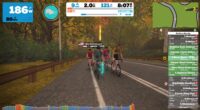 The coolest thing about a Zwift group workout is that you are all doing the same programmed workout together and held together by some invisible rubber band (so you can't fall behind as long as you keep pedaling). But no one else knows anything about what your interval power targets are and if you are actually hitting them or not. So, I can be totally sucking, or killing it, and NO ONE sees it even though I am surrounded by an awesome group of real people.
I do still need to try a Zwift race and maybe Masters Swim someday (I'm temporarily saved by COVID pool rules). Slowly but surely though, I continue to learn I can do new things and they really are never as scary in reality as I make them out to be in my mind.