After a two year hiatus on putting on large in-person events, on September 25, 2021 we were able to run the 20th Annual Hogsback Marathon.  And to quote the Grateful Dead, "what a long, strange trip it's been."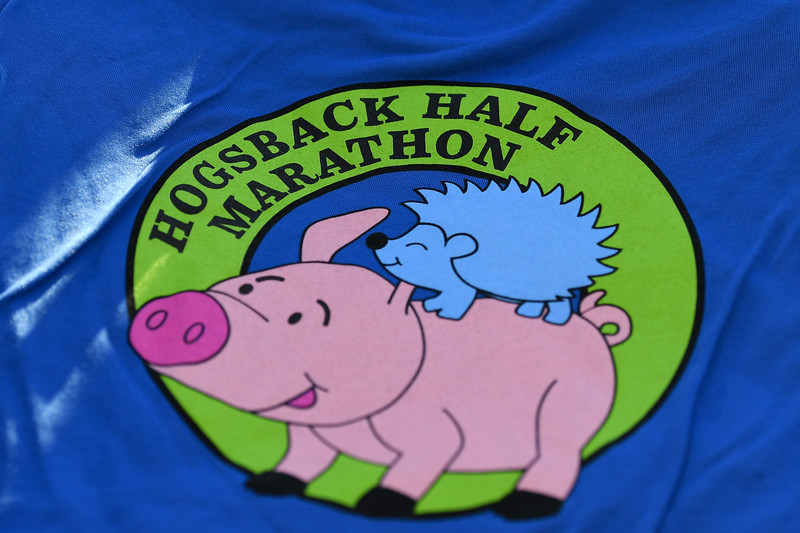 First off, many races didn't survive 2020.  Race directing is a lean business.  There's not a ton of profit to be made.  In a lot of ways we're lucky.  The Hogsback Half Marathon is a 100% volunteer endeavor for us as race directors.  Because we don't rely on the race to pay the mortgage or buy groceries, when COVID-19 hit we were able to close up shop and wait and see. For the cancelled 2020 race, we gave runners three options:  (1) full refund; (2) defer to 2021; or (3) donate their race entry to Running for Rescues, our race charity.  We had about 100 runners defer to 2021, the rest split pretty evenly between refunds and donations.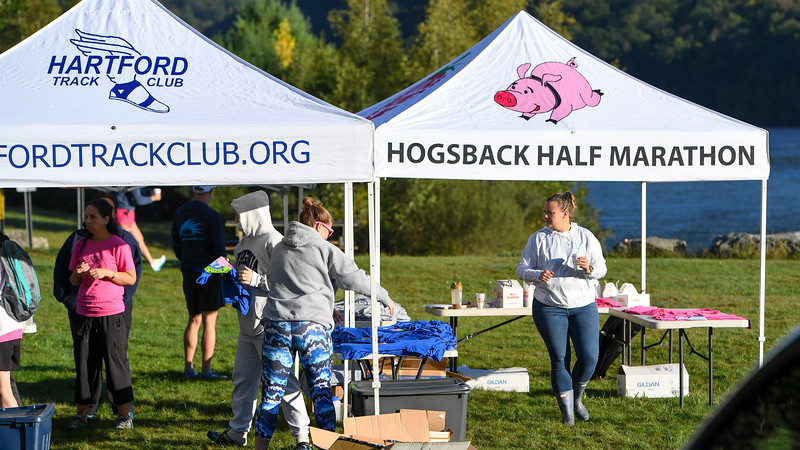 When it came to the 2021 race, for quite a while we didn't think it would happen.  As late as mid-May we did not have approval from the Metropolitan District Commission (MDC) to hold the race.  MDC approval is key as the race starts and finishes on MDC property in Colebrook, Connecticut.  I set a hard deadline of June 1 for approval.  If we didn't have approval by that date, we'd have to cancel the race because we wouldn't have enough time to plan and secure all the services we'd need.  Lo and behold, the MDC came through at the end of May and gave us permission.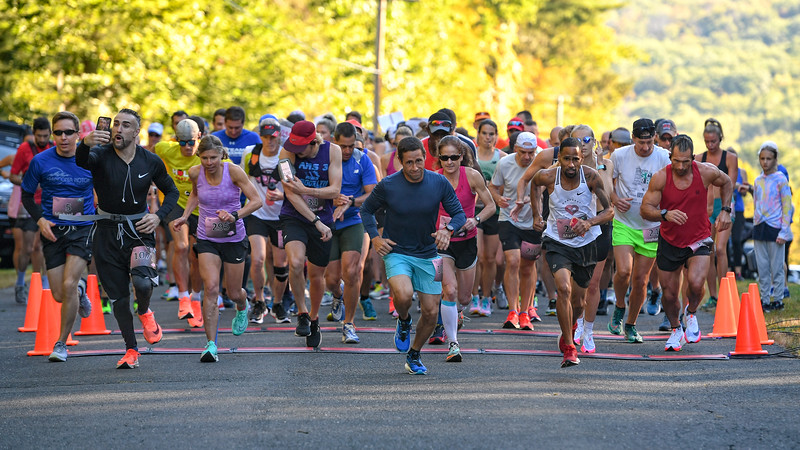 The MDC's approval triggered a flurry of activity — getting permits from the Town of Barkhamsted and the State of Connecticut, securing timing for the event, designing and ordering medals, pushing out registration, recruiting volunteers and pacers, and figuring out how we would handle the new landscape presented by COVID-19.  In putting on the race we had to make sure that we complied with any applicable guidelines and with CDC guidance.  This kept changing as the the Delta variant caused COVID numbers to surge throughout the summer.  We took a lot of precautions to ensure our permits did not get revoked — limiting the race to 400 runners, changing how we did post-race food, cancelling the awards ceremony (I love mailing awards said no one ever), asking runners to socially distance and to wear masks when distancing was not possible, keeping all race-related activities (including packet pick up) outside, providing masks and gloves for runners and volunteers, and instituting a no questions asked deferral policy for all runners.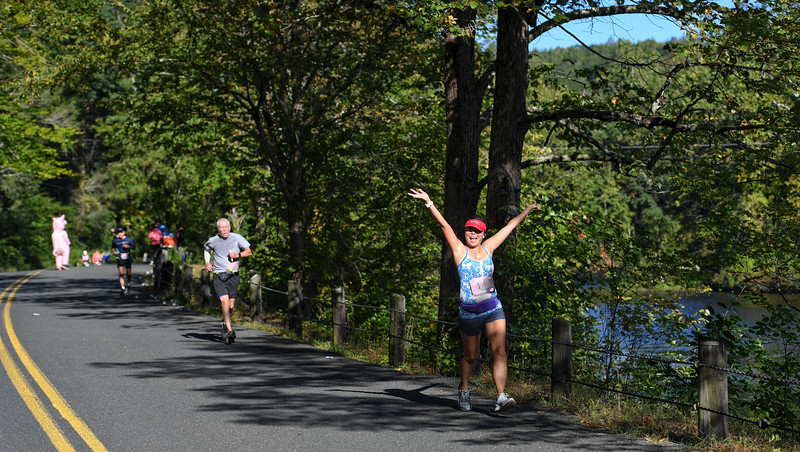 These measures didn't come cheap, and the decreased field size meant we were dealing with a smaller budget and a higher per runner cost.  Many costs are fixed regardless of the field size.  We order the same number of awards whether we have 400 or 600 runners.  The photographer costs the same amount regardless of field size.  We pay for two hotel rooms for the timers no matter how many runners cross the line.  And on and on and on.  I have two goals for the race — put on an amazing experience for the runners and raise as much money as possible for Running for Rescues.  This year the budget part of race directing caused a massive amount of stress.
Thankfully, luckily, mercifully (you pick the adverb) we were able to raise $5692 for Running for Rescues.  I'm proud of this total but its also $2,000 – $3,000 less that were able to raise in pre-COVID years.  If you're curious here's the breakdown on costs for the 2021 race:
| | |
| --- | --- |
| Mailing | $143 |
| Port-a-Potties | $1,033 |
| Donations | $245 |
| Medal Deposit | $1,163.90 |
| Volunteer Swag | $600 |
| Awards | $731.25 |
| Store Hats | $1000 |
| Timing Deposit | $500 |
| Honey Stinger | 758.96 |
| Masks | 88.93 |
| Decals | 199.5 |
| Timing Balance | $1,600 |
| Medal Balance | $1,036 |
| Photography | $700 |
| Race Primes | $350 |
| Food | $1,622 |
| BJs (water and ice) | $450 |
| Shirts | $3,106 |
| Packet Pickup | $326 |
| Van/Truck Rental | $187 |
| Timer Hotels | $457.7 |
| Volunteer Food | $65 |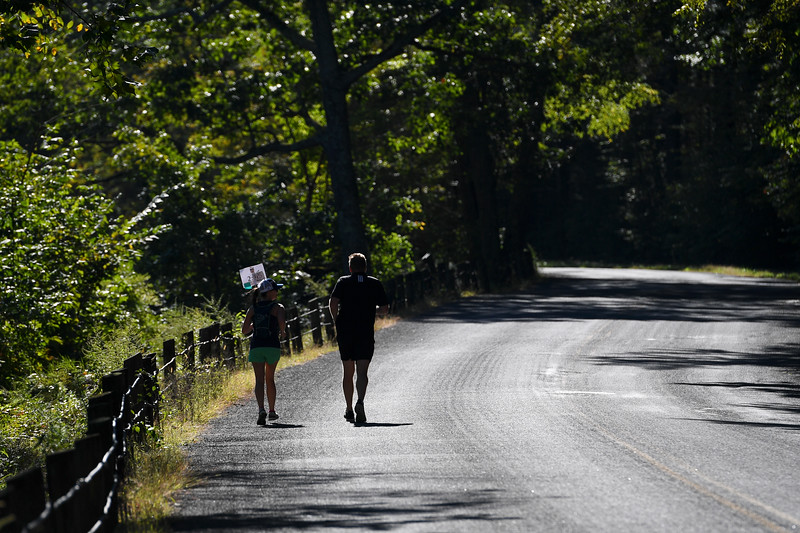 In addition to budget stress, we were also the recipients of a fair amount of runner stress and assorted runner shenanigans.  I think the pandemic has caused a lot of stress for many, if not most or all, people.  That stress came out in several of our runners.  While we also receive a lot of interesting pre-race emails, this year the number and intensity of those emails increased.  All I can say is people sure are special.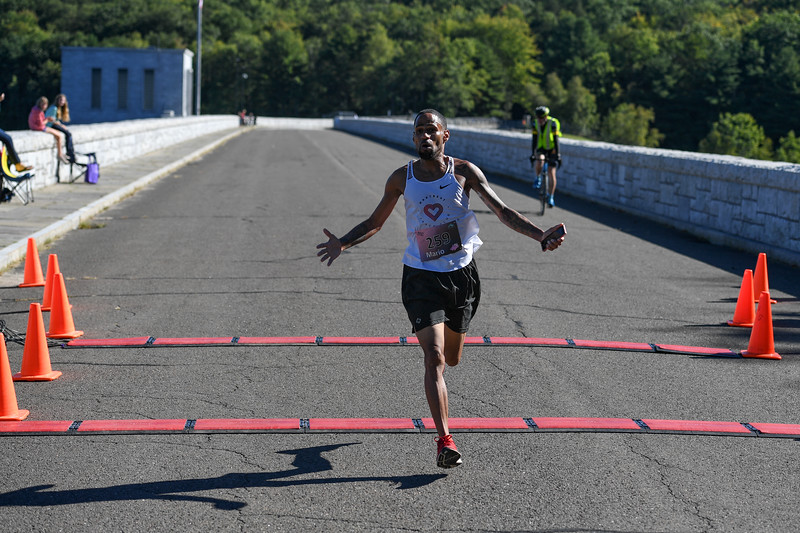 At the end of the day we put on a pretty good race, had amazing volunteers, honored some fantastic runners, and got to witness oh so many magical finish line moments.  Every year I say I'm never doing this again, and yet I still do it.  We'll be back in 2022.  Hopefully next year will be as "normal" as it possibly can be.