In a year marked by COVID related cancellations and generally uncertainty, we're encouraging our athletes to #FindYourOwnFinishLine.  Texas athlete and ultra marathoner Nicole Berglund has approached that mantra with gusto attempting an 80 mile journey on foot from Katy, Texas to the Gulf Coast.  Here's the story in her own words.  
2019 was my year. I spent 2 years training for The Last Annual Vol State 500K road race. A 314 mile solo and self supported race that touched 5 states, the majority of it across Tennessee. I finished in 8 days 5 hours 9 minutes and 15 seconds. The coach who trained me for this race was specific to this type of running, Journey Running, which is where the athlete runs and walks self supported with usually just a credit card and a phone and a bottle and enjoys this beautiful world by foot. Think: Transcontinental Runners. My last coach crossed the USA by foot in 2016. I fell in love with Journey Running even before I had even registered for Vol State. I had created my own 80 mile journey run from Katy Tx, leaving my apartment by foot and 2 days later arriving at the Gulf Of Mexico. Day 1 is always 50 miles. Then you sleep a few hours in a hotel and wake up and finish the last 32 miles and the whole way you walk and run and walk some more white stopping to eat and drink along the way as you find it. As a journey runner you have to be able to problem solve on the fly, remain calm in the face of uncertainty and never forget attitude is everything "If you can't see the sunshine, be the sunshine" I didn't realize how much the skills I had learned over the last two years would prepare me for what happened next.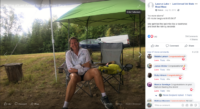 I'm pretty sure none of us were ready for what 2020 had to offer. I know I didn't have "World shut down by Virus and all your dream races are canceled" in my Training Peaks. I had decided that I wanted 2020 to be an epic year of PR's so I parted ways with my coach. I had heard about this group of crazy people called Sonic Endurance. They were all fast and did really awesome stuff and hung out together here in TX. SIGN ME UP! The last 2 years I was mostly running and training solo which I don't mind but I wanted a team to back me up and I wanted friends to cheer along the way. So Jen decided she would coach me (yay) and I loaded up my year with some dream races. First was Mt Hood 50K in July. I have always wanted to do this race. It's got elevation which I never attempted and I said this is my year. I registered and got in. The race sells out in about 30 minutes. My TP was full of parking garage repeats and speed work. Things were going GREAT until they weren't anymore. I got word that the race was canceled.
Everybody has a plan until they get punched in the mouth. Mike Tyson.
Just like traveling 314 mile by foot, everyone has a plan until they get punched in the mouth. You can plan all you want but it's how you respond and react when things change, it's how you problem solve on the fly and keep your emotions in check which determines the outcome. When you are running for 8 days you are allowed to have mental breakdowns and sit on a guard rail and cry as long as in a few minutes you get up, get to the next store, buy something to eat and drink and keep going. The first thing I did was I donated my race registration back to the RD. My registration money was already spent and I was fortunate to be able to donate it back without any loss to me.  Next up was to register for a few virtul races and change my goals. My hilly 50K now changed to a paper flat 50K PR attempt. And I did with the help of Coach Jen and teammate Johan and my best running partner and friend Kristen as well as the other people who were out on the path that day cheering and running on their own. That day wasn't possible without all them.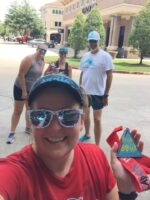 I continued to fill my calendar with other virtual races and runs to keep myself busy and motivated. The Great Virtual Race Across Tennessee which is 1000 KM or longer if you choose ending on August 31st. I love this race! Every day there are thousands of runners logging miles and your current positing can swing up and down drastically. The desire to log miles and not take a zero day is very strong and can really make your coach's head spin when you start logging your dedicated longer dog walks which really aren't walks anymore but extra workouts in TP. (sorry) The current field is made up of 20 thousand other runners from all over the world. I am on a team called Team Nicole which is 10 Nicole's all competing against other teams like Team Jennifer and Team Jenna. I have become friends with 3 other Nicole's and we are all having a great time cheering each other one every day as we log our miles and deal with changes in our work and life schedules during Corona. I never would have met them if it weren't for this virtual race.
The other thing I have done to keep myself motivated is to go on long journey runs or just long walks around the neighborhood. A few weekends ago I walked 20 miles over 2 days on a 1.25 mile sidewalk loop. 10 miles each day. Some might call that crazy but I am telling you where else are you going to test your mental resolve and hone your "why" which you need during hard races that push you to your limits. If you can walk 3 miles an hour for 3 hours over and over again while practicing your fueling and problem solving skills you will learn little things that will help you when you are out there in a tri or a marathon. This past weekend I had planned to complete that 2 day 80 mile journey run from Katy to Surfside. I sent the dog to daycare for the weekend and at 6 am Saturday my friend Scott and I left my apartment and headed down the road. Life sure if simple when you are out there and the only thing you need to worry about is drinking, eating and moving. You also learn other lessons about humanity and friendship when you are walking down the road. Later in the afternoon a truck approached us with its hazards on slowing down in the shoulder. A nice man offered each of us a bottle of water. He had seen us earlier in the day as we passed through a town and he wanted to make sure we were ok and had what we needed. We call these people Road Angels. Spontaneous acts of kindness. Later in the day as we approached another town we saw someone standing in the shoulder and all of a sudden he started playing the trumpet and behind him was the entire staff from an auto body shop cheering us on. The trumpet player had two ice cold bottles of Gatorade and the shop let us use the bathroom and gave us more water. Thank you so much Johan for surprising us with your visit. A little later on our day ended when we called an Uber to drive us home. We had lost some time while hiding on a front porch of a business during a heavy rain and when we got moving again our feet were becoming macerated which we could have fixed and we could have kept going to the hotel at mile 50 but one of the purposes to these runs is to do not harm. We weren't out there to run on waterlogged feet in and out of more rain. The bigger picture is that Scott and I both have other races on our calendar and we have to stay healthy and well to keep training and racing.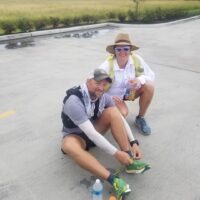 Journey running, adventure running and virtual running isn't for everyone but if you are having trouble finding a way to pivot during these uncertain times I highly recommend taking that long walk around your area. Travel by foot. There is nothing quite like it.