I've always been incredibly transparent about race directing.  Ask a question and I'm happy to answer.  As we start to plan for 2021, I wanted to take some time to discuss what we are struggling with when planning races for next year, especially the Quarter Marathon which takes place on the first Saturday in April.
First and foremost I need to state that location and timing matters. All of our in-person events take place in Connecticut.  Regulations related to COVID-19 are done on a state-by-state basis and Connecticut is one of the most restrictive (it's not New York or California, but it's close). If we were putting on a race in Florida, or Utah, or Alabama, or numerous other less regulated states, the landscape would look much different.
Moreover there is timing to consider.  In the northeast, the COVID-19 landscape looked very different in August and September than it does now.  We've gone from under 400 cases per 1 million people in nearly every county in New England to significantly higher levels of infection on a widespread basis.  This has led to a tightening of restrictions.  It is a very real possibility that as the numbers get worse, restrictions will continue to tighten.  With the current restrictions it is incredibly difficult to secure a permit.  The MDC, which issues the permit for the Quarter Marathon, is not issuing any permits at this time.
It's tough for me to open registration for an in-person race in April, even an in-person race with every conceivable safety precaution, when I have serious concerns about our ability to get a permit.  On the flip side the situation could look terrible through the late fall and winter but change dramatically for the better come spring.  Problem with that is that races require a fair amount of planning, preparation, and financial investment.  It's incredibly difficult to plan for a quality event in the face of a ton of uncertainty.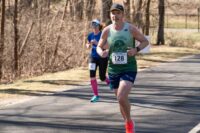 The next big consideration is financial.  Races require a lot of investment up front.  There's liability insurance coverage.  A deposit to pay to a timer.  Bibs to pay for.  Medals to order.  Awards to be designed and purchased.  Buses to be reserved. Shirts to be printed.  This all needs to be paid for well in advance of race day.  It also requires having a decent handle on how many participants there will be.  Races are economies of scale.    Without knowing whether a permit will actually be issued and how field size may be limited, it is really difficult to plan.  Normally for Quarter Marathon I would order 500 medals as we've sold the race out at 500 runners for almost a decade.  2021?  I have no idea on the numbers for a potential in person event.  We took a huge financial hit in 2020 and can't afford to do so again in 2021.
In order to try to prepare for 2021, we sent a survey out to all of our pervious runners asking them about their preferences for 2021 and if they had any suggestions.  So far we've gotten about 300 responses, including numerous comments. I thought it was important to respond to a few of them to help give an understanding of our thought process surrounding racing in 2021.
No one likes paying for a race and not getting to race it. Virtual racing if that's the route you go, should be free. With no vendors to pay and no safety to worry about you're not incurring cost.
I've heard this a lot — "there's no cost incurred for virtual racing."  First off I think the commenter is assuming that in a virtual race people submit results and don't get actually get anything — no shirts, no medals, no awards, no mailing — and that there are no charitable contributions.  I hope the commenter understands that if registration for a virtual race includes swag or a charitable donation that those items do cost money.  In addition there is the added expense of mailing, which is a lot more expensive than most people realize.
Even if the race involves no swag, the commenter discounts the work done by a virtual race director.  I'll note that all of my race directing is voluntary.  I don't take a fee so we can maximize donations to charity.  Regardless, the work I do, and the work done by other race directors has value — even for a virtual race with no swag.  The race director is designing how the race will be run, setting up a platform to submit results, creating a community of runners, sending reminders and updates to submit results, verifying the accuracy of results, compiling standings and responding to dozens and dozens of emails from runners.  Race directing is work and has value.  I really hope participants can see that.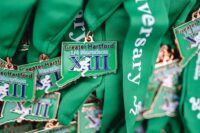 Just hold in person. Maybe limit participation. Have people wear masks?
Have it!! Please let's bring back normalcy!! I need the excitement of lining up for a real race!! It can be done!!
In my mind these two comments go together.  As a race director I would love nothing more than to hold a "real" race.  Unfortunately my hands are tied by state regulators and permitting authorities.  While I may agree that a safe race can be run, many states, towns, and permitting districts are not willing to take on the risk by allowing a recreational event.  Right now in several states gatherings are limited to single digit numbers of people (New York) or to people who live within your own household (Vermont).  We keep seeing more and more restrictive orders from a wide variety of states every day. Many races that were previously issues permits are having those permits pulled.
While I would love to be optimistic that everything will be fine in April, I can't shake the memories of having to cancel races in 2020 and deal with the fallout from going virtual at the last minute or trying to issue refunds to hundreds of runners.  It sucks for the runners, it sucks for the race directors and it sucks for the charitable partners.
I'm just worried if you do a virtual, you won't get the participating to "make it worth it" for your charities etc.
Me too, me too.  Over the past 15 years we've raised over $100,000 for our charitable partners.  I think a virtual race can be worthwhile but it takes a lot of work.  With the Hedgehog Hustle we raised close to $5,000 for our partner charities.  In order to do this we used a slightly different model.  The race fee was $20 and $10 of every entry went to our charities.  That resulted in about $2,000.  In addition we allowed runners to make direct donations to the charitable partner of their choice during the registration process.  That resulted in another almost $3,000 in donations.  I will say that we worked incredibly hard to keep costs down.  $10 is pretty shoestring, especially when it involves mailing a medal to every participant, but at least we know it can be done.
Trail events have been successful with staggered starts, but that would limit the field in your event. However, your event is off the road, so maybe it's possible. I know that the Mt. Washington road race will be females on Saturday and males on Sunday. Would you be willing to look into it?
Yes — I think having the race spread over multiple days is a really good idea.  What I'm seriously thinking about for Quarter Marathon is this:  opening the race as a virtual race in December or so and planning to do a series of small in-person events at the end of March / beginning of April.  Essentially 3 or 4 small races limited to 50-100 people depending on the current regulations.  Individuals already registered for the virtual race would have first dibs on bibs and time slots for the in-person events.  The in-person events would be no extra cost (or a very small extra cost) and would likely involve only a bib and timing (the person would also get all the swag from the virtual race).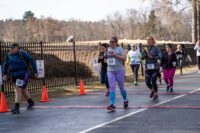 If normal races can't be held in 2021, I will skip all of them until they can be. Wearing a mask before the start and then after the finish and not having food or being able to socialize makes it pointless, in my opinion. Virtual races are more pointless. Can't understand why anyone would pay to go for a run.
This comment is what really worries me.  It's a totally valid opinion to not want to race virtually or not want to participate in races that are radically different from "normal."  I get it.  It also means that there are athletes out there that, no matter what we do, aren't going to want to race.  As a race director I have to understand that there are just some athletes that I won't be able to win over in 2021 and that that will have an impact on the bottom line.
So what does this all mean for our races in 2021?  Long story short the answer is somewhere between "it depends" and "I don't know."  Over the next few weeks I'm going to try to pull together a plan for Quarter Marathon and then try to test if it's economically and practically feasible.  More than anyone I'm hoping for in person racing in 2021, but in the end I can't plan a race on hope alone.