Guest Blogger Amanda Headlee is a gravel-grinding, bike-hoarding endurance athlete who is motivated by the lure of tacos and ice cream. When she isn't working her day job as a software delivery program manager or training for her next big gravel race, she can be found penning tales of horror and dark fiction that will be sure to give you nightmares. 
Five Tips to Get Started
Over the past few years, interest in gravel cycling has skyrocketed where road cyclists and mountain bikers—especially the pros—are starting to turn their wheels toward the discipline. This type of cycling is the perfect marriage between road and mountain. On one side of the coin, there is the thrill and adventure of racing through the forests on rickety old jeep trails, poorly maintained gravel roads, single track, smooth cycle paths, and the occasional tiny rock garden—avenues that can't be reached on a road bike. On the other, there is speed and agility that one doesn't experience on a mountain bike due to the geometry of a gravel bike.
Interested?
Here are a few tips on how to get started:
1. The bike. There's no need to buy a gravel bike until you know you love the discipline. You just need a bike with tires with a tread that can handle the off-road nature of gravel. Mountain bike, an old aluminum road frame that has clearance for knobbier tires, or a cross bike all will work.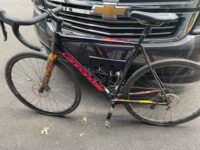 2. Skill is required. In any cycling discipline, there is a level of technical skill required for that specific type of bike handling. Gravel handling is a mix of road, cross, and mountain. Don't expect to descend a chunky gravel road as if you would a smooth paved road. Cornering is even more precarious and prone to slipping in gravel. Correct posture along with relaxed grip is needed to withstand bouncing around while descending at a high speed. Definitely not easy to learn when you feel like you need to mash the brakes or death grip the handle bars for control. And unless you are on pavement, absolutely no super tucks!
3. Have a grand sense of adventure! The mountains are calling and so are the gravel roads. Gravel riding will take you on the most epic adventures into the wilderness. Go explore and take the roads less traveled. They tend to lead to the most amazing destinations! When exploring just ride. Don't pay attention to time or distance. Just enjoy and be in that exploration moment.
4. Wear off-road shoes. Leave the road shoes at home because there is a high probability that you'll be hike-a-biking it at some point up steep grades. It isn't uncommon to have gravel climbs that are anywhere between 13% or 20% or beyond. You need a shoe with lugs and grip to help you hike up those hills.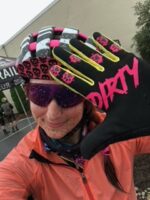 5. Be Prepared! You go to very remote places with Gravel riding. Make sure you have enough food and hydration with you. Get yourself a handlebar or frame bag. If you don't like chewing dirt when drinking from a water bottle, wear a hydration pack. Water bottles tend to get quite dirty.
Gravel riding is a blast, a party on two wheels. Yet, there are times (depending on the route) when it is exceptionally challenging, but the struggle is worth the reward of riding out in the heart of nature. Plus, you'll make a ton of new friends, learn a new endurance skillset, and have the best race after parties—because gravel cyclists love to party!

Enjoy the adventure of gravel riding and the fact that you'll finish your ride dirtier than when you went in—who doesn't like playing in the mud?