After many years of racing 70.3 and the 140.6 distance, I decided to change 2023 up and do some different endurance events.  While I love the grind off long course racing, I wanted the challenge of new events.  I set my sights on my first Xterra race and doing some more gravel riding to start the year.  I think one of the best parts of endurance sport is there are so many options to explore.  Camps have always been one of my favorite parts of training.  The experiences of training with others and the time away from the normal everyday grind is important.
Last minute, a friend posted an opening for a Women's Gravel Camp in Vermont.   I really wanted some more skill instruction, and the gravel in Pennsylvania is not like the gravel in Vermont.   So off I went to a Yoga and Gravel Retreat.   We lucked out with the weather and while it was cold at points, we had sunshine as well.   We kicked off the weekend with a shake out ride, a chance to meet each other and stretch out after a long car ride.  It is always funny to me how the first day is so awkward in that no one really knows each other and by the end of camp there were plenty of memories.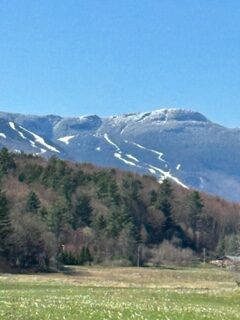 Views of Stowe Ski Area (Mt. Mansfield)
We started each day with yoga, which was nice to work through some of the soreness from each day.  The next day we headed out to do a longer ride with some skill work mixed in.   I quickly learned that my cyclocross bike was not geared for the typical gravel riding.  Getting up the hills took a little more work as I did not have a large cassette.  We made it work.  This was one of my favorite rides.  I had never ridden on a pump track.  It was a great way to get a better feeling on the bike and some handling skills.  Deb who was leading the camp was incredible at identifying places where we could improve on the bike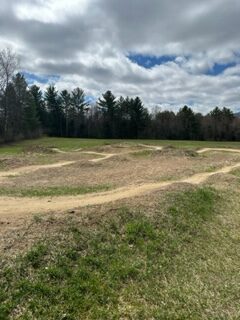 The following day, we stayed closer to the camp house and did some more skill focused riding.   We worked on cornering, and riding on some mixed terrain.   We ended the ride climbing up to the Trapp Family Kaffeehaus, which had some amazing views.  Gravel riding, requires a different skill set in that the terrain is always changing.  It can be mud, loose gravel, or packed dirt.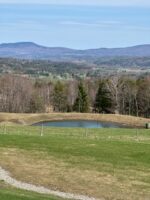 The last day, we headed to Montpelier, to ride the Muddy Onion.  I did the 40 miler, which had plenty of spice and mud to make it a fun day.  The climbs were great, the aid stations had good fuel and overall I thought it was a good event.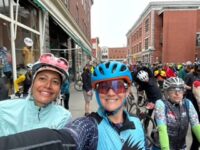 One of the best parts of camp is the people you meet.  I always find that I learn and meet great people.