This post is a little bit race report, a little bit of a cautionary tale and little bit just the story of a crazy weekend.  And it's a mix of all the things I DID wrong (that I could have controlled) and things that WENT wrong (out of my control).  As always, I believe in keeping it real, being honest and sharing the good, bad and ugly.
To start, I wasn't even sure up until about 2 weeks ago that I was going to do the Ironman Texas 70.3.  I was in no shape to take the start line, vastly undertrained.  In the end it came down to wanting to be on course with my athlete (who was just beyond ecstatic about the race) and not wanting to pass up the opportunity to do a race after all the craziness of the pandemic (which let's not forget is still happening!!).  I was healthy enough and not injured, and I knew I would be able to finish, so I decided to wing it.  If you know me all, this is really out of character.  I plan, I organize, I don't wing much of anything.
The biggest missing piece was I have not been swimming, like at all.  I can count on my left hand how many times I swam in 2021 and on my right how many times I swam in 2020.  I stopped swimming after the World Championship 70.3 in September of 2019.  There was an unbelievably tragic incident in which a friend from Katy who was competing lost consciousness in the swim and a few days later passed away.  It was horrible and awful and I just didn't want anything to with pools and lakes and oceans for a very long time.
In January of 2020 I did start back at the pool but then injury, followed by the pandemic shut all of that down.  By the beginning of 2021 I was ready to get back to it and did start going to the pool, but then the ice storm hit and my pool was shut down (mid February).  It reopened April 8th . . . three days before the race . . . not quite in time to get in any kind of training.  So the first thing I DID wrong was not swimming.  I did a last minute open water practice a couple days before the race and I commented afterwards to someone that I would be lucky to make it out of the Galveston swim in 45 minutes.
Going into the actual race I was banking on 2 things.  First, prior experience.  This would be my 4th time doing the swim, and 5th times for the bike and run.  Second, I hoped the long distance running I had done in January and February would have built my endurance enough so I could make it through.
The second big thing I DID wrong was not enough long bikes, and not enough outdoor riding on my actual race bike.  I had done a fair bit of trainer riding but only one ride over 2 hours and almost nothing outside.  For a long distance bike race you need long distance bike training!  And to ride outside in conditions like Galveston you need outside practice.  Trainers are great for building fitness but they aren't going to help you build core strength for fighting the wind and trying to stay upright with a 20mph crosswind.
The third thing I DID wrong was almost no running off the bike.  I did only a handful of bricks and only one of any length.  (This is a good place to insert why it's great to have a coach.  ACCOUNTABILITY!!!).  Why did I not train better?  After 2 postponements, I didn't really think the race was going to happen this time either.  I was expecting a cancellation right up until we got in the water race morning.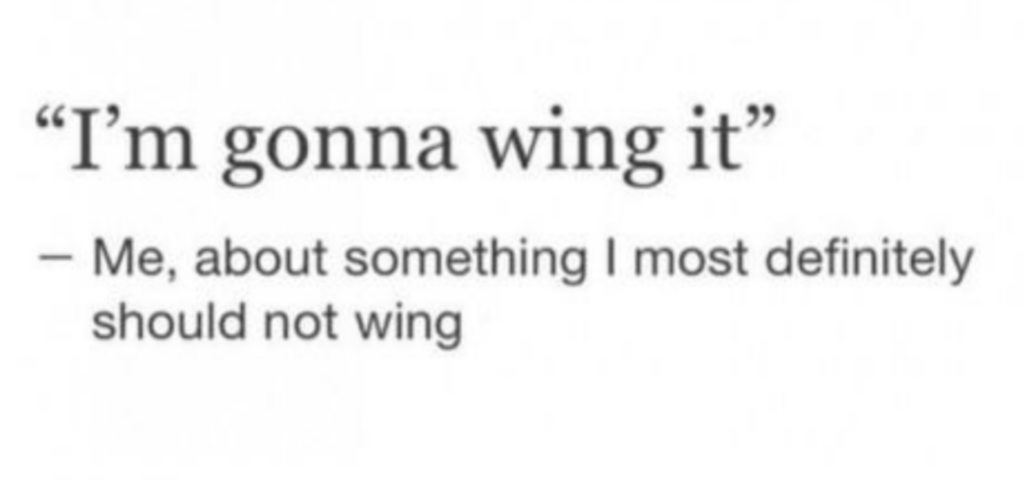 The week leading into the race was pretty hectic.  Trying to get everything done for work so I could leave, getting my house in a presentable state to have my first houseguest in well over a year, and just getting things ready to actually race!  By the time Coach Maribeth arrived Friday I was tired and still way behind schedule as far as packing etc.
The next thing I DID wrong was to drink a couple glasses of wine on Friday night.  The sleep you get 2 nights before a race is the most important because it is very likely you won't sleep well the night before.  I have a minor heart condition and wine aggravates it and makes it very difficult for me to sleep.  I know this and therefore chose poorly.  Live and learn.  Or as one of my athletes likes to say "Every day is a school day".
I was awake by 3 am Saturday morning, after a fitful night of tossing and turning.  Our plan for Saturday was to go to the group run for my Spring Into Speed group, do a short run, have breakfast at the awesome French bakery there, then head home and do a short shake out bike.  This all went to plan until the bike.  We get going and my gears won't shift.  I have what is considered a "super bike" with electronic shifting.  I know that mine goes to sleep and you have to hold a button down to activate it but when I did that it still didn't work.  We did the short ride anyway, with me in my one gear and only rode about 15 minutes because the wind was absolutely howling and blowing us all over the place (foreshadowing of what was to come).
And this is where things WENT wrong.  My in house mechanic and husband threw the bike up on the stand while I showered and packed and as we are ready to load the car, he says "I don't know what's wrong with it, I can't get it to work.  It's dead."  What to do???  Not go?  Ride my other bike?  He suggested calling the bike shop and seeing if they had an E-Tap derailleur in stock.  I called Handlebar and holy crap, they had one!!  Loaded my bike and headed over.  All the time thinking, "Is this going to work? Are they going to even be able to fix it today?"  We get there and Derek, the hero of the day, says "I can put that part on for you right now".  Please know that I recognize this is the ultimate of first world problems.  "Wah, wah, my fancy bike is broken!"  I get it and I know people have actual real problems.  My point is it was still stressful.
We were supposed to be leaving, we had a 2 pm check in for the race, and I was responsible to get Maribeth to the race even if I wasn't going to be able to do it.  Thus began the mantra of "It's fine".  I held my breath while the mechanic tried to get the new system to pair and I think I did a little cheer when I saw those gears shift. But then a whole litany of things began to happen.  "Do you know you have the wrong speed cassette on here?"  (Me, yes, I did, but it works so . . . )  "Do you ever use this small gear?" Me, "well, yes sometimes"….(as it turns out I could have really used it the next day).  "Hey, I think your headset is loose, want me to adjust it?" "Hey your rear wheel is wobbling, want me to adjust the hub?"  2.5 hours later we were finally out of there, I spent enough fixing that bike that I could have bought a new bike, and we were on our way.  I cannot stand even being 5 minutes late for anything so be several hours late?! My anxiety was in high gear.
To summarize the rest of the day it was traffic, more traffic, and even more traffic.  Barely making our check in time.  Getting to the hotel to find out they have no USB plug ins (Seriously?!?) and having to go to Walmart, in Galveston, on a Saturday night to buy something to charge all my crap (which I had forgotten to do Friday night, see previous statement about things being hectic and wine).  By Saturday night I was totally exhausted and  honestly, I was looking forward to Sunday and a nice relaxing day of only swim/bike/run.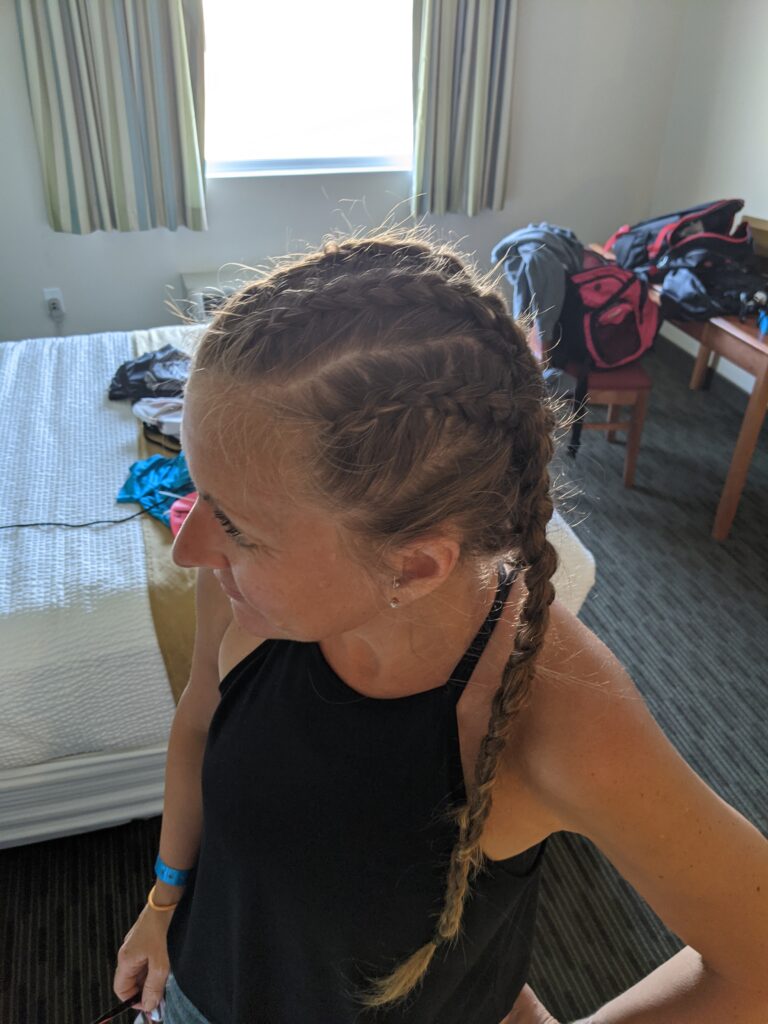 Sunday morning!  Race Day!  We are up at 4 a.m., ready to roll into transition by 5 a.m., and we load the car, pull into the street and are immediately directed into the parking lot next door by a traffic volunteer.  We drove maybe 200 meters to park.  It was seriously hilarious.  Long walk to transition but plenty of time to get set up.
My first observation when I went outside that morning was it sure was windy . . . I decided at the last minute to throw my sweatpants on over my kit and I was really glad I did that.  It was CHILLY!  We were lining up for the swim waves by 6:30, which with this being the first year they were doing a rolling start I had no idea how that was all going to go.  I also could not believe how many people were getting into transition after 6 am.  Yikes!  I ended up standing in the swim line for close to an hour before actually starting.  And it was pretty cold.  Some bright guy next to me made the comment "You're shivering"  Duh.  That also gave an hour to watch the waves and the chop.  And my first thought of the quitting that day began.  Like, I could just not even get in the water, just go get some coffee and hang out and spectate . . . But then I figured the water was probably warmer than outside and at least I would be moving and that would warm me up.
Finally my turn and I jump in.  They had 3 people jump off the dock every 5 seconds.  The water did feel very nice and warm. My goggles fill with water so I roll onto my back to fix them and the waves start splashing and rolling over me.  I try to swim but I am gasping for air and trying to get a breath without a mouthful of water.  Ok, breathe left maybe it will be better . . . it was not better.  Swim with my head out of the water just trying to get some air.  Take in more water.  Start to cough and choke.  Don't panic, don't panic . . . Somehow I make it to the first red turn buoy, it was probably 100 meters from the start?  I stop and hang onto it and have a come to Jesus moment.  I could just quit now, call over a volunteer for help and get out of this.  But then I won't get to ride my new bike, I haven't got to race it yet . . . and seriously if I made it out of the swim of New Orleans 2016 then I can make it out of this one too.  Calm down.  Breathe.  Just swim.  Get to the turn around and it'll be better.
So I begin to swim.  And I begin to count.  Count to sixty and there's the next buoy.  Start over.  Count to 60.  Again and again.  I kept feeling stuff in the water, I thought it was maybe seaweed.  Turns out it was jellyfish?!?  In these swims the buoys change color halfway.  I swear it was hour to make it to the halfway.  But again count to 60, over and over.  I was so tired, and berating myself for not swim training.  Finally get to the last turn and then it was into the washing machine.  Side wind and crowded.  That last 300 or whatever it is feels an eternity.  Finally the exit!!  I get out and hit my watch and it says 45!  I honestly couldn't believe it.  I thought I was swimming an hour.  As always, even when I AM practicing my swim, I am SO relieved when that part is over.
Run into transition, have to take off my own wetsuit (For more about the Covid protocols and the return to racing with safety measures see Coach Maribeth's blog post)  Get my bike and it's go time!  The bike is always my favorite.  On Sunday there was a 20 mph NE wind, so it was tailwind alllllll the way to the turn around.  I was flying.   For some reason my bike computer did not connect to my power meter so I did not have that to use for reference so I went by heart rate instead, keeping it between 145-150.   It would have been a total blast EXCEPT there was tons of road construction and the road surface was absolute crap!!  It went from new asphalt to old concrete to torn up concrete continuously.  There was orange spray paint and signs everywhere warning about uneven roads and there was a minefield of bottles and junk all over the road.
At about mile 10 I hit the 100th bump and I saw my torpedo bottle go loose and just as I went to grab it it flew into the air and was gone.  About 30 seconds later another bump and my rear cage bottles launched into the air.  Awesome, there goes all my nutrition.   Right before the San Luis Pass my caffeine shot bottle flew out of my bento box.  Great.  I have no drinks and no caffeine.  My whole nutrition strategy is shot.  In the last few miles before the turn around I was holding over 30 mph with almost no effort, topping out at 34 MPH with no more gears to use.  (Could have used that small gear they took away)  It took me about 1:03 to get to the halfway point and my computer showed a 26.3 mph average.
I  noticed that the people coming back looked like they weren't really moving.  And my main thought was this is going to suuuuuuuuck.  Going into the turn I almost fell over as the crosswind hit.  And my speed went from 30+ to 15 just like that.  At first it was almost funny how bad it was.  I became one of the people not moving.  It took 1:37 to make the ride back into town.  It was an absolute mental struggle.  I saw Justin, The Bikeminded Guru, pulled over on the side at one point and I had my third serious thought of quitting that day, because I was pretty sure he would give me ride back.  But I didn't.  Kept grinding, like everyone else.  I caught Maribeth and had a chat.  We made a pact to keep pushing.  My lack of bike training really starting to come into play.  My back was absolutely killing me and I just couldn't stay in aero any more.  And I was tired.  I had grabbed a Gatorade at aid station number 2 but I was about 2 bottles behind for fluids.  Finally we were back in town.  The last couple miles were better as we weren't dead into the wind.  I was SO happy to be done.
Going into T2 I decided to hit the port-a-potty.  My stomach did not feel very good, likely from swallowing so much sea water. Several other people reported having the same issue.  Better to take a few minutes than have a miserable run. So that was a long T2.  If you have ever tried to get back into a sleeved one piece aero kit when you're all sweaty you know what I'm talking about!  My legs were dead from that ride back into town.  I was hoping they would come to life but the lack of brick running came back to haunt me.   I took a gel from my run nutrition pack right out of transition and then started hitting the Red Bull at every aid station.  I like to utilize caffeine in racing, it is hugely effective, and I hadn't had any yet for this race, other than the terrible hotel coffee when I woke up.   I find it makes a difference mostly in how I feel mentally.
It was a beautiful hot, full sun day in Galveston.  Great for the beach, not the best for running.  However, the saving grace was low humidity!!  I dumped ice in my kit and water on my head at every aid station.  This run course always gets a lot of flack for being all crazy with a million turns but I actually kind of like it.  You're never going in one direction for long, there are NO super long stretches to suck your soul and because it's 3 loops you see tons of people.  I like to occupy my time by looking for people I know.  I caught up to Chad and had a little jog with him and found out how his race was going, and I saw a bunch of people I knew and gave them a cheer.  At one point at lady who was running close to me said "we have a good pace going" and I thought, yeah, we do, I'll just hang with you for a while.  I ran behind her for quite a while, and then lost her at an aid station.  It was water, Red Bull, ice and water, with a gel every 3 miles and I just ran.  Didn't really think about pace, didn't look at my watch, just wanted to keep going and be done.  Oddly, this was probably one of the least miserable 70.3 runs I have done.  I didn't really hurt much, I guess because I wasn't trying to push it and I felt like it went by quickly.
Then it was over.  And this was probably the oddest part.  The whole start/finish and transition was a spectator free zone so there wasn't anyone at the finish line.  I got some drinks and sat down and waited for my friends.  My phone was in my car so I just watched people finish and hung out in the sunshine.  It was great.  Great to be done.  Great that finished it! Great to be back into what felt like normal life.  There's something to be said too for having a lack of expectations.  Like I said, I never wing it.  I always plan, analyze, data crunch, have goals for every split, and this time I literally just wanted to finish.  So in crossing the finish line I didn't have any disappointments about not hitting my goals because there weren't any.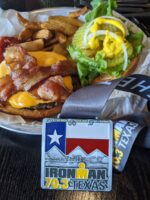 In the days since I've had lots of time to think about what I shoulda, coulda, woulda.  But the biggest takeaway from the whole experience (other than you should really train appropriately for these things!!) is that I love the sport.  I had seriously been thinking about retiring or taking a long hiatus from triathlon but this race reignited the spark.  This is FUN!  Yes,  it's incredibly hard and challenging, but that's the point.  If it was easy everyone would do it.  So I'm not done with tri and I'll see you soon at another race.  (And yes, I'm going to swim this time!!!).