Coach Laura's take on her experience last month (January 2023) at Endurance Exchange in Austin, Texas. 
This January, I had the amazing opportunity to join seven Sonic Endurance coaches in Austin, Texas for the USA Triathlon Endurance Exchange.  This event is aimed at providing educational information relevant to coaching, marketing, race directing, the state of the sport or triathlon, and MUCH more!  During the course of the event, I not only learned a lot that will be useful in my coaching career but also in my career in healthcare, and in life.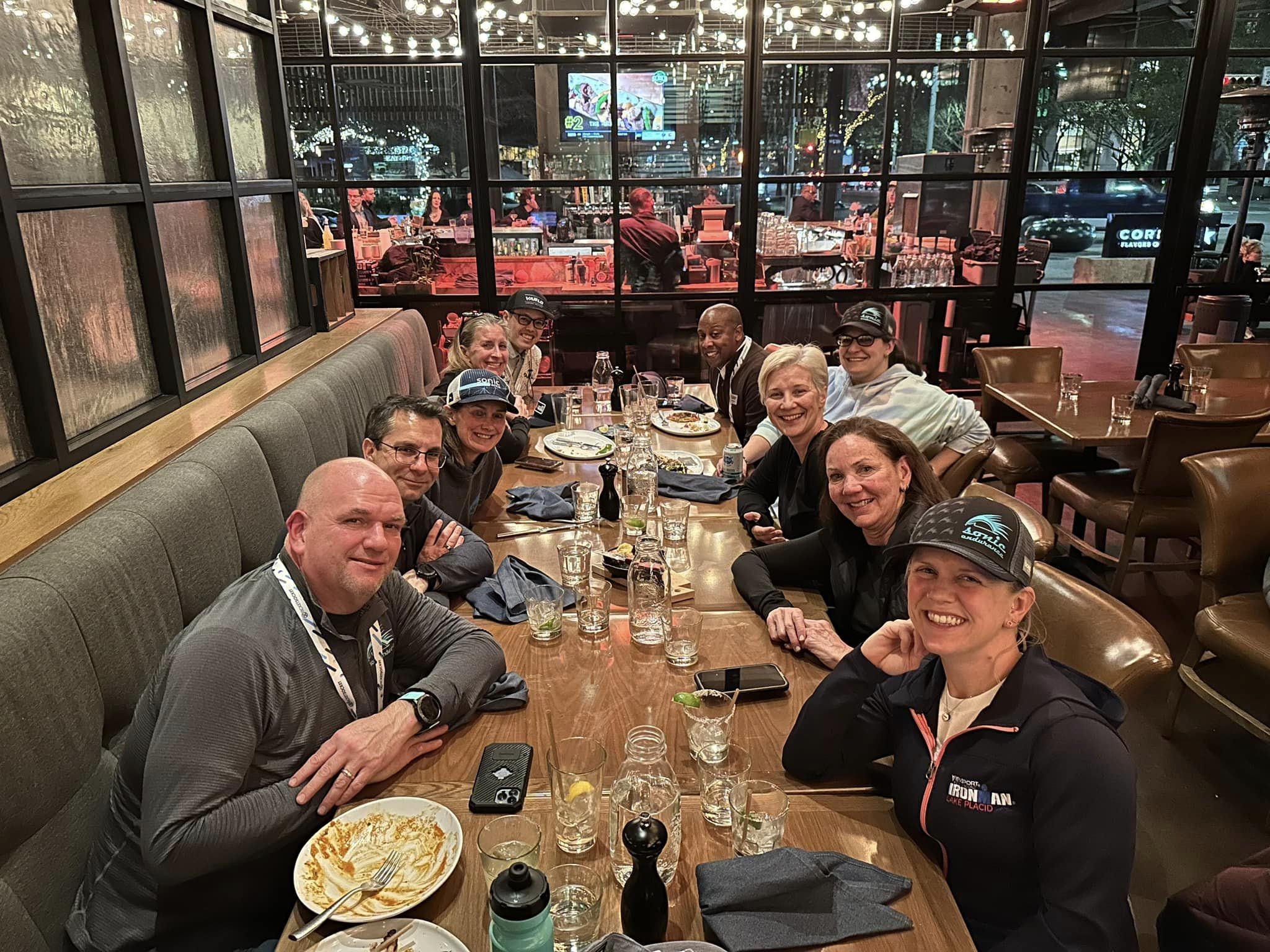 I'm just an introvert girl living in an extrovert world!  99.9% of the endurance events or races I attend I travel or stay solo.  It's never been anything personal, I just enjoy the liberty of coming and going as I please.  At the endurance exchange, I had the pleasure of bunking with coaches Stacey, Maribeth, and Rene while Coaches Mike and Rob were right down the hall.  We had great conversations and post-conference debriefs.  I learned so much about these amazing individuals and it has made me that much more grateful to be a part of Sonic Endurance!  At the event and meals Coach Jen and Jess joined in and enhanced the experience that much more.  I look forward to the next time we can get the group together and hopefully be joined by ALL of the Sonic coaching team.  There is a tremendous amount of knowledge, experience, and heart in this group.
As an athlete, it is easy to look at the cost of an event and shake your head.  However, seeing things from the race director's side gives a WHOLE new perspective.  I have known for a while that the cost of putting on an event was high, but with inflation, the costs are only continuing to go up.  Coach Kelly has shared in previous blogs the cost of putting on an event and it takes more than you think.  There are permits, on-course support (police), aid station supplies, bibs, medals, food, event swag, and MUCH more.  USAT conducted a survey that was sent out to any past or present members to gather feedback on a number of various topics including racing expenses and what is important to the athletes. Ready for some shocking numbers?  NOT INCLUDING THE COST OF BIKES athletes that are championship hopefuls spend $9,523 a year on average.  Yeah, my mouth dropped too!  The average spent amongst all athletes polled was $4,865.  When asked about what athletes would be willing to forgo to lessen the cost of racing, post-race food, and swag were among the items that racers felt were not essential.  While that may be the case for the athlete with 17 race t-shirt blankets, the swag is something that newbie athletes find important and I can see race directors struggling to part with it.  It is after all free promotion for your event next year!
Social media increases athlete awareness
Frequent posting = Increased exposure.  This was a reoccurring theme throughout the exchange when it came to marketing.  Best of all, a lot of it can be free!  I used to be much better about posting on social media but confess to having dropped off during the pandemic.  Every post does not need to be perfect.  Just post.  In my early coaching career, social media is how I acquired all of my athletes.  Since I have decreased posting I have noticed a shift in my athlete inquiries from direct to coming through referrals to Sonic inquiries.  Coach Kelly is awesome about keeping the Sonic Endurance social media pages alive and engaging and that has most definitely played a role in Sonic's success.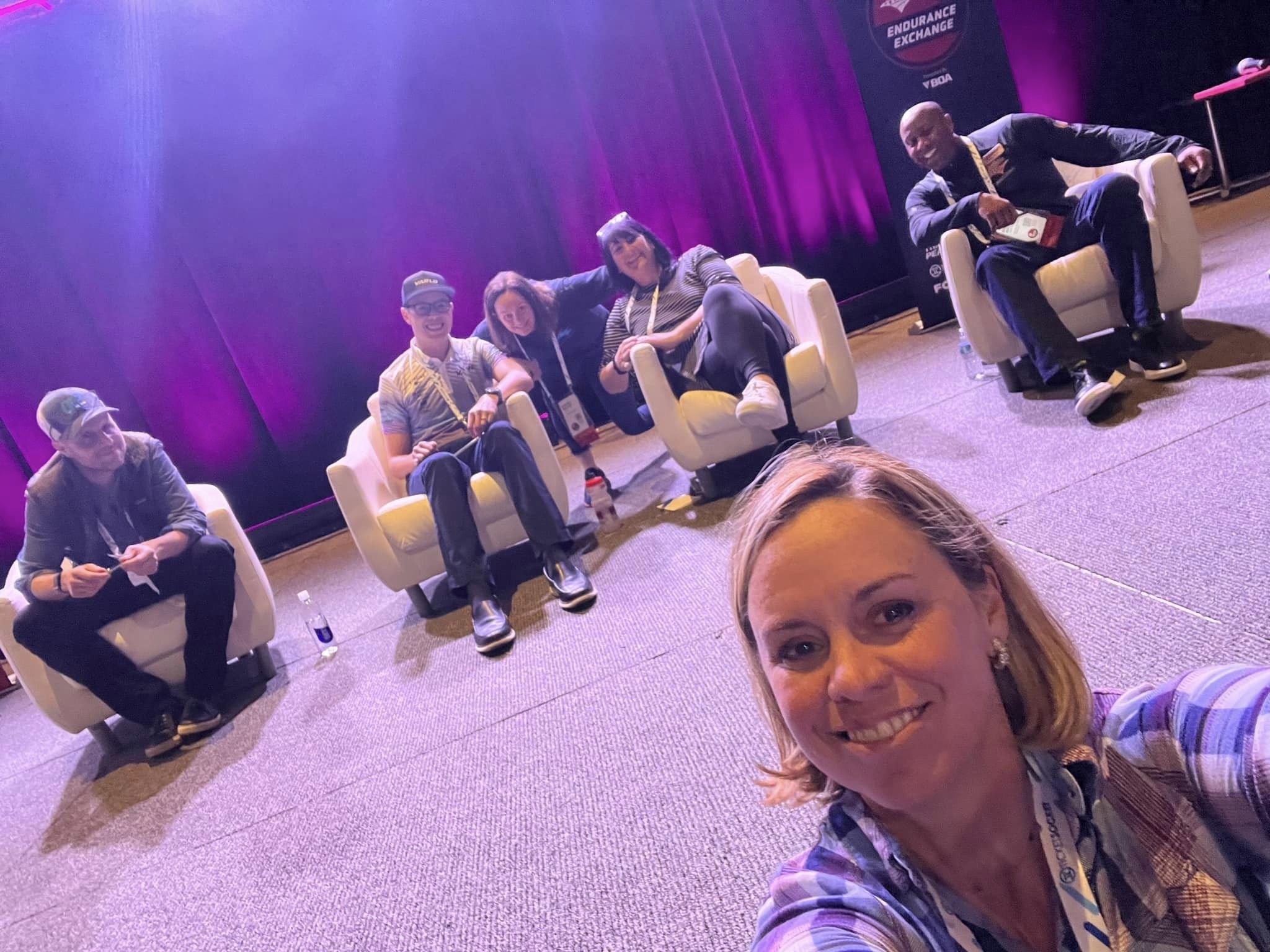 Just like races, the Endurance Exchange used sponsors to help with the cost of the event.  Let me say, the science and technology in the endurance world are advancing QUICKLY.  From goggles that project your swim workout to aerosolized sodium, there was something for everyone!  Normally I pass by an window shop, but during this exchange, I took the time to stop and have conversations with each of them.  I had specific athlete needs in mind and made sure to learn as much as I could about the products.  In an effort to avoid any Sonic sponsor conflicts, I won't go into product detail but will share a teaser that there may be a new Sonic team partner coming soon…
Moral of the story: Step out of your comfort zone.  It sounds cheesy to say that you grow by being uncomfortable but there is so much truth to it.  It was an amazing chapter in my journey and there are so many cool things on the horizon.