ROAD TRIP!
Who doesn't like a good road trip? (keyword – 'good').
When the road trip is because of a race. There is a whole another level packing and prepping that probably could fill a book or hour long How To on You Tube. But for today's post, I'm going to zero in on three lessons learned from my recent trip to Arizona for The Black Canyon 60K Trail Race.
Lesson #1 – Don't schedule your flight home less than 24 hours after your race.
This isn't the first time I scheduled a flight home the very next day. You think I would have learned. The first time I did this, was just about one the stupidest things I've done. Allow me replay my stupidity. In 2012 I was fortunate enough to have run Grand Canyon RIM 2 RIM 2 RIM with my good friends. We all finished roughly from 7PM to about Midnight. Around mid-night we somehow to convinced the only restaurant at the Grand Canyon to stay open past mid-night for us, which they kindly did. So now it's about 1 AM, and my flight was leaving Phoenix in about 8 hours. That meant a 4 hour drive to the airport, after running for 15 plus hours and not sleeping for over 24 hours. I'll spare you the details of the drive to the airport, but somehow made it, and treated everyone at the gate to my incredible snoring abilities.
Actual picture of me sleeping (snoring) post R2R2R run at the Phoenix Airport – October 8, 2012.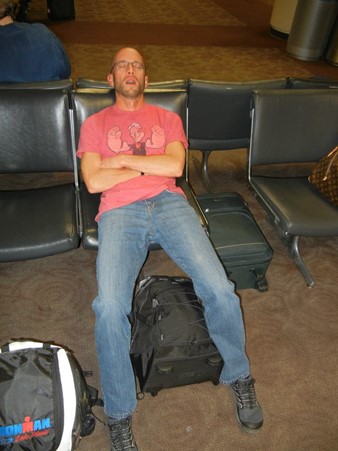 But I digress. Though this next day travel was not near as stupid as my Grand Canyon trip home, none the less it was one I regretted on many levels. As many of you know, recovery is key post endurance events, and the opposite of recovery after running for 8 plus hours in the desert sun is NOT to sit on a plane and airports for 8 hours. Especially now that most jobs, like mine can be done remotely from anywhere, I should have had the forethought and ability to remember what happened in 2021 and book a day later. And just not for recovery reasons. Many times these races are in states, towns that we just asking to be toured, and experienced (i.e. active recovery) Needless to say, next time I fly, I shall not be booking a flight home the very next day!  (plus why was I in a rush to get back to sub-freezing day temperatures?)
Lesson #2 – Believe the race director.
The Black Canyon Ultra's are run by Aravaipa Running. An absolutely top-notch race company. From communications, to organization, I felt like I was in some professional trail running league.  The email from the race director a few days out with final instructions, reminders, etc. included very specific wording on how cold it will be at the start of the race. So what's this have to do with travel? Well, this east coast boy who has been training in sub-freezing temperatures all winter, laughed when the race director said the starting temperature would be low 40's. My thought packing was – "Ah…this 1 long sleeve shirt should be good enough for the start." Luckily while packing I did come to my senses to a degree (pun intended), to pack a light pair of gloves and thin hat….'just in case'. And 'case' did happen. What I learned is that a lack of humidity in deserts, the air cannot hold the heat radiated by the sand, which gets heated during the sunny daytime hours. This causes the temperature of deserts to fall rapidly at night. And I mean rapidly. How in the hell could it be 80 plus degree's just a few hours ago, and now it was actually 40 degrees with a wind chill near freezing at the start of the race.  I huddled against a building wall hoping to allude any unnecessary wind, waiting for the very last minute to head to the starting line.  Traveling to other states where climates affect weather drastically different than they do at 'home' and believing the race director when they tell you to layer up for the start was a big lesson learned. I hate to admit this because you all are going to think my longer-term memory is shot, which it very well might be, but an almost similar 'dress appropriately for start of race', happened in Hopkinton while waiting to run my first Boston Marathon. Let's just say again, I failed to layer properly!
All smiles just before the start of The Black Canyon 60K, thankfully you can't see the cold shivers!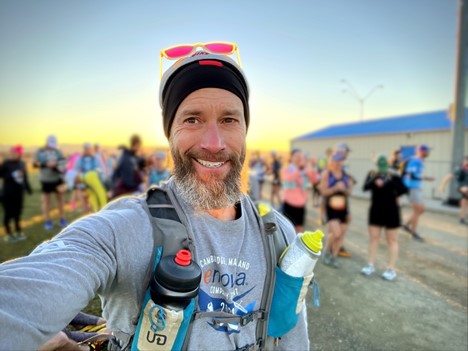 Lesson – Shop at a thrift store for larger than normal, but warm sweat pants, shirt, etc.…that can be worn and discarded just before the start of a race, even if it's in the desert! (and yes, this race actually did have a 'warm up bag' that you could have (and I should have) thrown clothes in, which they would take to the finish line for you.)
Lesson #3 Think Through Everything Including Post Finish Line.
I'm a pretty typical Type A Endurance Athlete. Lists, upon lists. Looking over the course (trail), thinking through distance and time between aid stations. Packing for the many "what if's", something for an upset stomach, Band-Aids and that heads up penny for good luck. But I think my ADHD got the best of me as I was thinking through this trip/race. I would mentally play through everything from the time of the flight leaving, arriving to what I'll need for the day before the race, and during the race. My list and my thoughts would always start at the beginning and then as soon as I remembered something I would write it down or pack it. And then start over again from the beginning to make sure I didn't miss anything. The problem(ish) was I never through to the after finishing.  I don't know about you all, but personally I always look forward to my post-race chocolate or vanilla protein shake. Maybe it's the fact as a child, milk shakes were seen a treat, something that was deserved. And for me, after running an ultra, having that shake is not only proper start of recovery, it's just something I look forward to.  So, as I crossed the finished line and rambled on about stories from my 8-hour day to my good friends cheering me on at the finish, it hit me. I have nothing. I mean yes, they had water there, Gatorade, etc.… but that's the last thing I want after having that all day. I had nothing in my rental car. No water, nothing. Luckily my good friends had cold bottled water there, which was better than nothing! Nothing! How could I have forgotten about that? I blame my ADHD. Packing for local races, the start to finish is a bit easier, as you are in your home kitchen and everything in site will remind of you what you need and do daily. So packing is much easier. But when you are in a hotel, or even a friend's house as I was, my thoughts didn't get past the "must have coffee" and "hope I have enough gels?".
Lesson – Think everything through to the very end. And yes, I did write most down, but next time on my sheet, I will be sure to create a template that include "POST FINISH" list….
Till next time. Enjoy your Travel Races and check your packing list 2 or 3 times!