As endurance athletes, many of us are familiar with power – training with it – producing it – and for some of us, even knowing our current power training zones like the back of our hand. However, when it comes to improving your power aka getting faster, are you making the connection that strength training is the key?
Let me give you a background on how I discovered it for myself:
At age 19, I was competing on the Penn State Club Swim Team when I fell in love with running and indoor cycling. I enrolled in Penn State's Fitness Instructor Training Program, and quickly, became an employee of the program. This new opportunity required teaching 5-7 group exercise classes per week. Right from the get-go, adding in a variety led to a well-rounded, well balanced lifestyle for myself, which I truly believe lead me to the sport of triathlon.
The first time I realized the impact strength and cross-training had on my body came while training for my first marathon (Marine Corps Marathon in Washington D.C.). I was a senior in college and survived all 26.2 miles without putting in nearly enough training miles. The recovery was not nearly as bad as expected and I attribute it to my group exercise experience. Post-college, things escalated pretty quickly for me. I went from 5K to Broad Street Run, Philadelphia Half Marathon to triathlon and haven't looked back. Fast forward to over a decade of marathons, triathlon and IRONMAN races, I still attribute my longevity in the endurance world to Strength Training. At my core, I am a hybrid athlete, capable of putting in equal focus on endurance movements as I do resistance training. By 2015 I was CrossFit Level 1, CrossFit Endurance, CrossFit Mobility and AAAI PT certified and personal training clients part-time.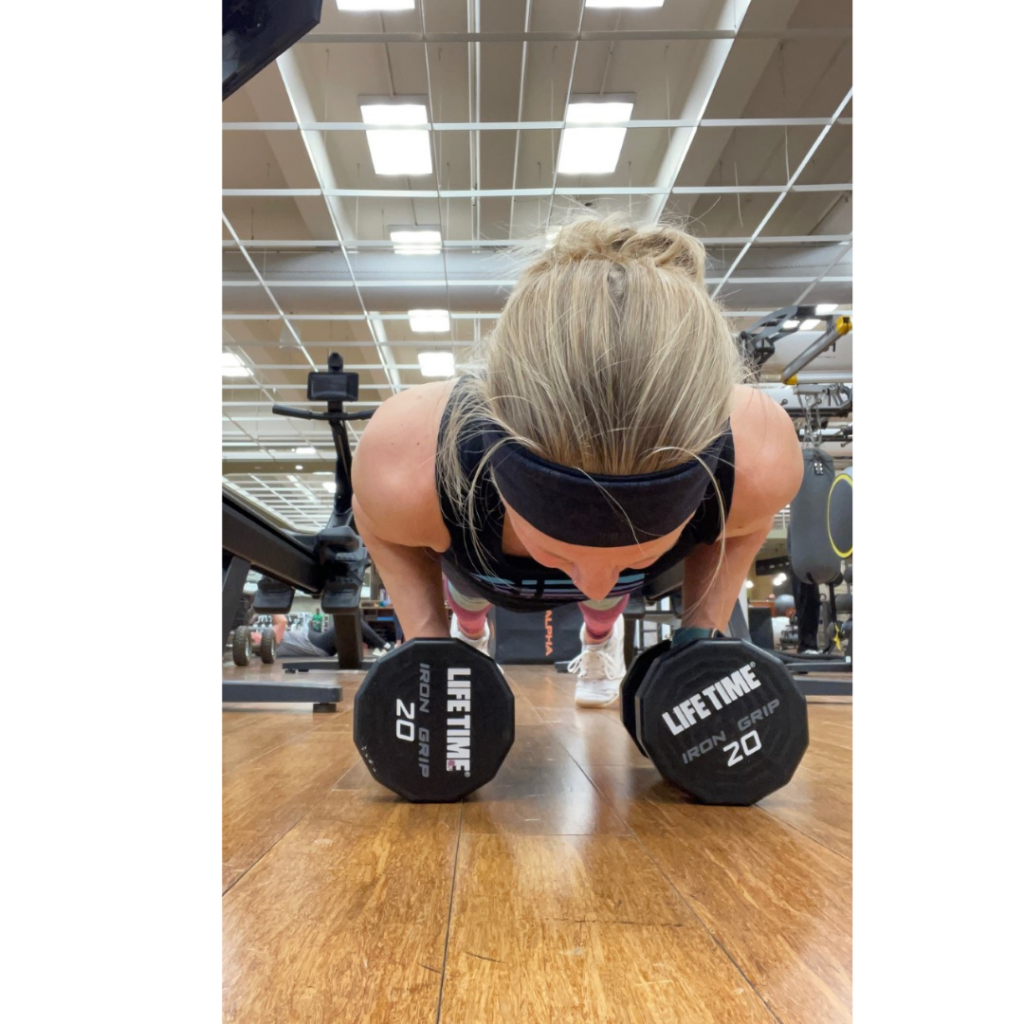 In 2016 I was registered to compete in my first IRONMAN (Kentucky), and shooting for a second Boston Qualification ("BQ"). That May while running the entire race with the BQ Women's Pace Group in the New Jersey Marathon, I felt a tear in my hip – just before mile 26. I ended up with a hairline fracture, which halted my Ironman training and all running. As I began preparing to ramp up training for the Ironman, most of my focus came through hours of Strength Training, CrossFit, Swimming, Biking. Playing it safe, I had one measly 10-mile run. Less than six months later, I was able to make it across the finish line of my first 140.6 pain and injury free. I was so impressed with how my body adapted to the routine strength training, building what felt like armor around my joints to carry me through the grueling 12 hours race.
In 2021 I completed my 7th IRONMAN 70.3, and 4th Full IRONMAN, and crossed 5 finish lines as a new mom! I love to explore the marriage between endurance sports and cross-training, especially as I experienced postpartum training, and continue to climb the ranks of Age Groups (aka, get older!). The benefits of resistance training on our bodies go beyond training and racing, it helps secure a long and strong future for your body.
Now that you know why I believe strength training is so important for endurance athletes, Part 2 of this blog will go into exactly what strength movements can benefit endurance athletes.