My personal favorite this month are my Skida Alpine Headbands.  Soft, warm, and wicking these are perfect for winter running, snow shoeing, hiking or cross country skiing.  Plus them come in a bunch of super cute colors and patterns.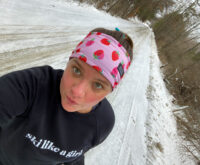 This month Coach Stacey loves the Finis Alignment Kickboard (especially when working with athletes outdoors this winter).  The kickboard is great for helping athletes with balance in the water and you can get 20% off the price of the kickboard using the code SONIC at checkout.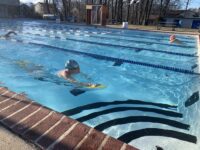 Coach Jen has been doing all the running the past few months and has found some new nutrition products that are working really well.  First up, Endurance Tap with Caffeine. Endurance Tap is basically just pure maple syrup, with a little salt and now caffeine. My husband absolutely loves Endurance Tap, like the true Canadian that he is, he bleeds maple syrup. I find it a bit sweet, but it's not thick and it's not a ton per packet, so it's easy to get down. I did not notice a big impact from the caffeine bit I'm a heavy caffeine user. I would use this product again.  The second one I tried was the new Gu Liquid. I definitely liked this a lot, especially over regular Gu. It's really thin (liquid, duh) and very easy to get down on the run. I had coffee flavor, again with caffeine, and I really liked it. Will definitely add this one to the rotation as well.
Coach Jen also realized when she was running my marathon earlier this month and carrying a bottle for 26.2 miles that she really needed to do something different for the upcoming 50k.  From Coach Jen:
There's a little bit of a running joke here about #teambackpack and how I am not on it. I'm #teamantibackpack. (Also "running" joke…get it…ha ha) But I got an Orange Mud double bottle hydration system to try. Took it out for 16 miles, which seems risky for something new but better than taking it for the first time for 31 in 2 weeks! First mile my thought was "I'm going to be throwing this in the Bayou" but by about mile 4 I had basically forgotten it was there. It has to be cinched really tight so it doesn't move is the trick. I also had to stop the first time to get the bottle in and out but the rest of the run I had no issue getting the right bottle out on the move, did have some issue on the left bottle but that's due to my own lack of mobility on my left side. I can't grab bottles on the bike on my left either. Now, my biggest concern was chafing! I am the chafing queen. I body glided all around my shoulders and had no issues BUT I was wearing a long sleeve shirt. So for a tank top it might be a different story. I do have some chafing on my back along my shoulder blades. I will make sure to spray that with tri slide next time. All told, I very much enjoyed not carrying anything in my hands, having some extra pocket space in the pack to carry nutrition and my phone and I can definitely see getting to love having a backpack.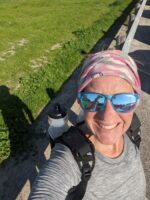 Finally from Coach Rene
I love my new Deboer Polar Hoodie. It fits perfectly under my wetsuit and adds an extra layer of warmth to my brisk OWS. Very thin and warm. This upgrade only costs 199.00 vs a thermal wetsuit.  Also loving my Blue Seventy Thermal Gloves and Booties. These additions have allowed me to continue to OWS exclusively through the winter here. Granted it's not the NE but it's still in the mid to high 50s water temps right now.