Welcome to the giving season!
As a die hard gifter (my love language is totally gift giving) I take December really seriously.  So when it comes to things we love for December I need to share my two favorite go-tos for long distance gift giving:  Zingerman's and White Flower Farm.  Zingermans has the BEST edible gifts including tons of specialty and hard to find items.  White Flower Farm has fantastic plants and decorations.  For the holiday season I love small, live trees and amaryllis (I also use White Flower Farm for all of my spring and summer gardening).  Best thing about both of these is that gifts are either edible or living so they don't accumulate into more "stuff" that we all probably have too much of.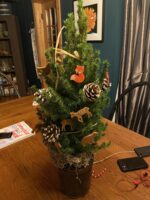 From Coach Laura this month, the H2O audio Interval+ Waterproof Swim Solution.  This is a shell for an iPod Shuffle (4th or 5th generation). Coach Laura breaks these bad boys out for the long duration swims, not so much drill sets. The system works really well and she had had no issues with leaking. Good quality sound, and there are ear bud attachments for any size.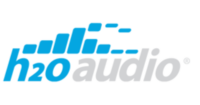 Two picks from Coach Jen this month.  First up the BOCO face gear masks. Coach Jen's favorite is an adorable little dumpster fire that makes her laugh and makes others smile, or at least she thinks they're smiling.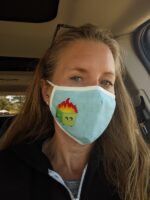 Second from Coach Jen, the Carbon X Series from Hoka One One. Coach Jen is a believer in the shoe magic and thinks these shoes give you a performance boost from the carbon plate. But secondly, the biggest thing she notices from these shoes is how much fresher her legs feel the following day.  They have recently been marked down to sale pricing, and are available locally in the Katy, TX area at Good Times Running Co.  These also come in an almost Sonic blue color.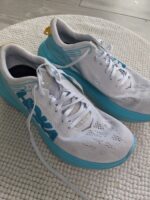 From Coach Stacey, the NR2 Google from Blue Seventy in the mirrored white.  This google has a low-profile design perfect for racing and training. The googles have a dynamic fit that is soft and secure. All around a great google.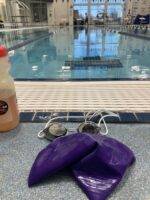 Finally from Coach Maribeth, the Smashfest Queen Performance V Neck.  Coach Maribeth is normally not a fan of short-sleeved shirts, but this shirt fits perfectly, is light and airy, and is a dream to run in (plus it looks great in Sonic blue)!