Our Ultra 520K Canada Adventure
(An UltraBlog)
(No, seriously, it's long. Grab a cup of coffee)
To start, for anyone who does not know, an Ultraman distance race is a 3 day triathlon. Day one is a 6.2 mile swim and a 93 mile bike ride. Day two is a 171 mile bike ride. Day three is a double marathon, or 52.4 mile run. (This one was in metric which makes it sound even longer)
I wanted to write a bit about the experience from the perspective of a crew member. Jenny has included some thoughts about her experience as well.
Our journey to the Ultraman started last fall when Liz asked if Jenny and I would be her crew for the race. She was considering Florida but it takes place in February. The Canada event was in the summer while our kids would be out of school, this made traveling for a week more doable. We agreed to be the crew. She registered for the Ultra520kCanada. I appointed myself as crew chief. Some people like to call me bossy, I prefer "assertive and organized."
In the months leading up to the race the crew started to research. We read all the manuals provided. Read every word on their website. Searched for race reports online from others who had done the race. I have been to the Okanagan Valley before having grown up next door in Alberta, and so I knew it was going to be very hot and very hilly. I mapped all the routes on Strava to get a good sense of where we were going and the elevation. (The race does provide maps and elevation charts but their elevation is NOT accurate).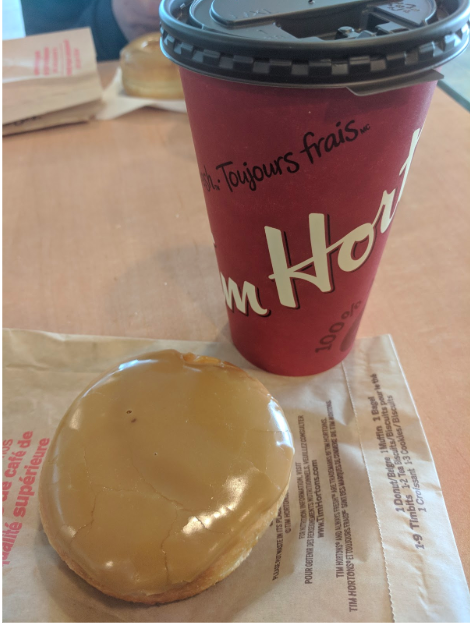 We arrived in Penticton after 3 flights and a 3 am wake up out of Houston. Liz and her sister picked us up at the adorable airport in Penticton (so tiny!) and we got our rental minivan, which was to be command central for the race. (Thank you Sarah and Mark for the minivan!!!) An Ultraman distance race is completely self supported. Your vehicle is a traveling aid station and your crew is all your volunteer help. Pro tip: a minivan is the best vehicle to have. You can fold down the back seats and lay everything out. We were also able to fit a bike, a kayak, and all our gear and three people into it.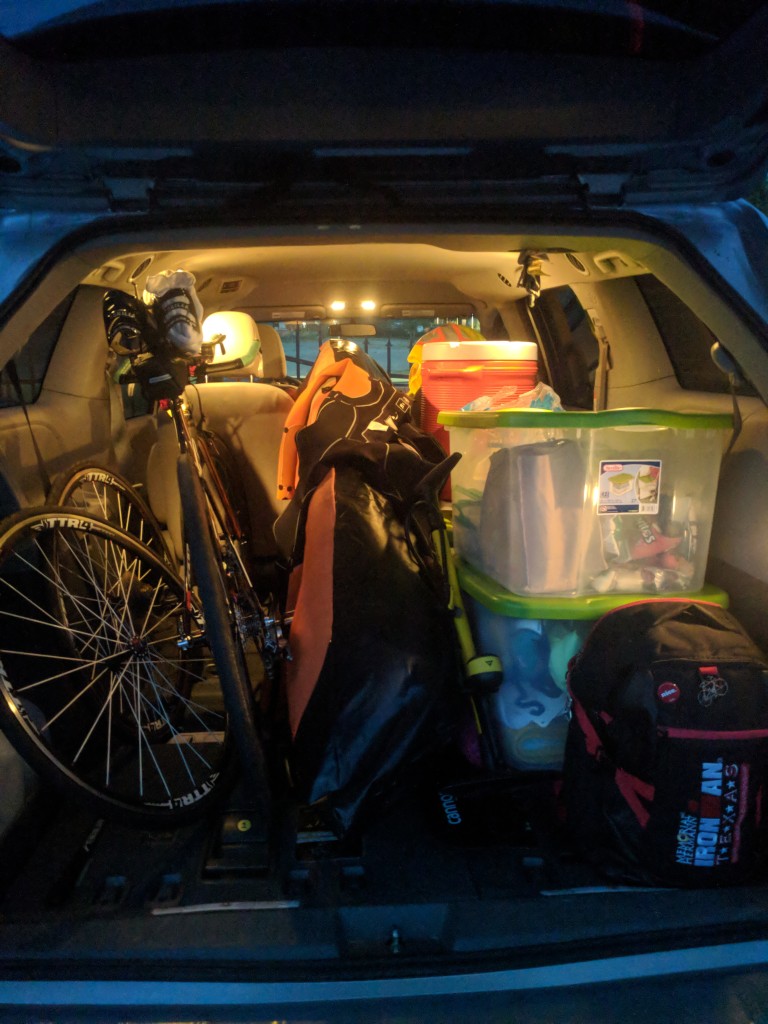 In the few days leading up we checked in for the race, organized all our gear and attended the welcome reception where we met some of the other athletes. (There were only 32). There were race briefings and kayak practice. The instructions for kayaking are "sight between two cracks in the mountains". Seriously. There are no buoys until 5 miles in.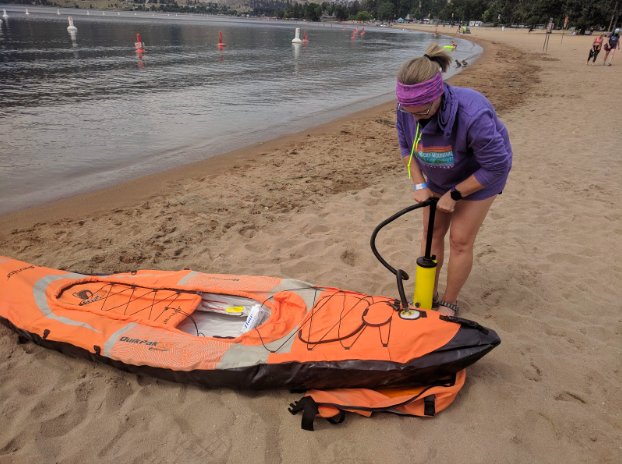 Talking to one of the other athletes and her crew at the welcome reception, Liz said, "Jen is more nervous than I am." I said, "I'm not nervous. I just have a healthy appreciation for what is about to happen."
By the end of the first day of racing I think everyone had an appreciation.
Race Day One: The Swim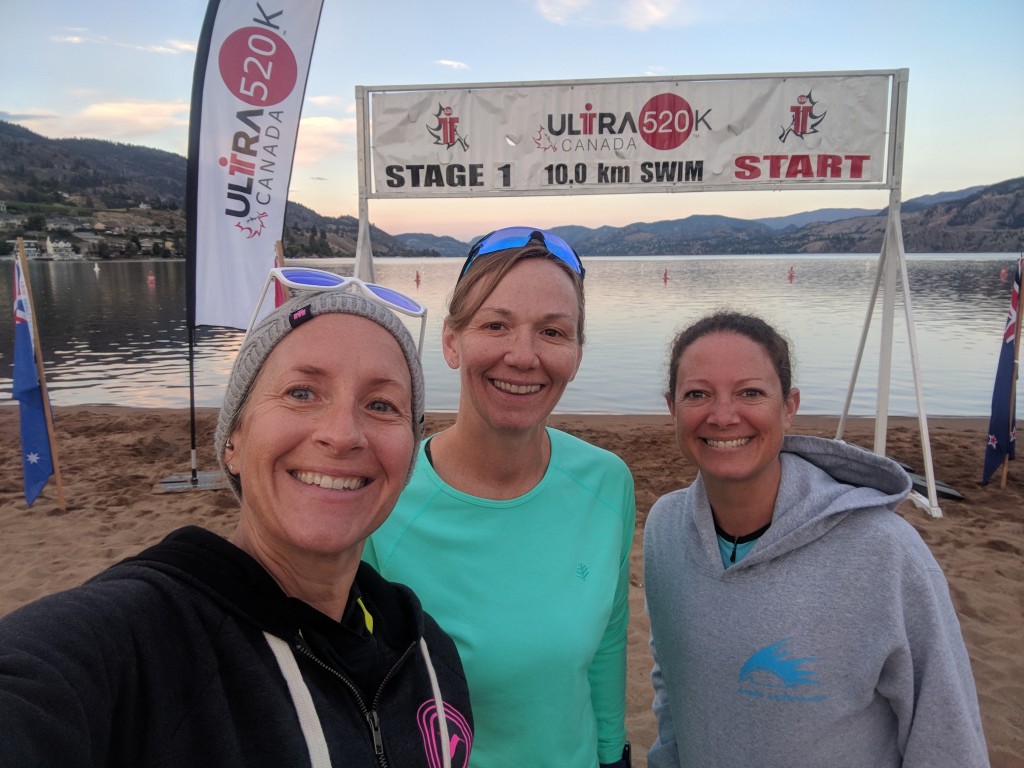 4 AM wake up to eat breakfast and get ready. We headed down to the beach for the swim start. Steve, the race director, spoke briefly and we had a dedication from a local member of the First Nations. The athletes stood in a circle on the beach surrounded by a bigger circle of the crews. The Canadian national anthem was sung and it was time to start. Jenny was in the kayak as support for Liz to guide down the lake and carry her nutrition.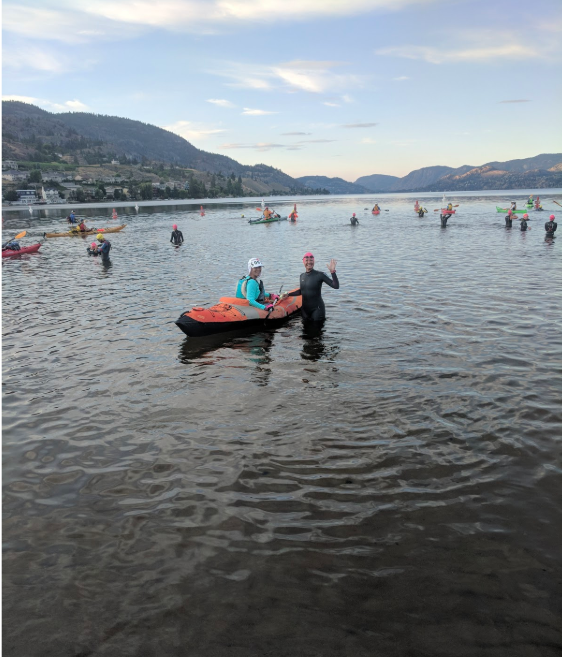 When they got started I had about 4 hours to get to swim exit, and get transition set up. I was talking to one of the other crew members (Hi Brian!!) and we went and grabbed a coffee at Tim Hortons and had a nice chat. Then I went to buy ice (one of the tips we got was to buy more ice than you think you will need). First gas station, no ice. Second gas station, no ice. Third store, closed. Finally went to Walmart and they had ice. I loaded up and drove to the exit. The transition area was tiny and kind of in a residential area. I had to park super far away and then make multiple trips to bring down her bike, gear, and nutrition.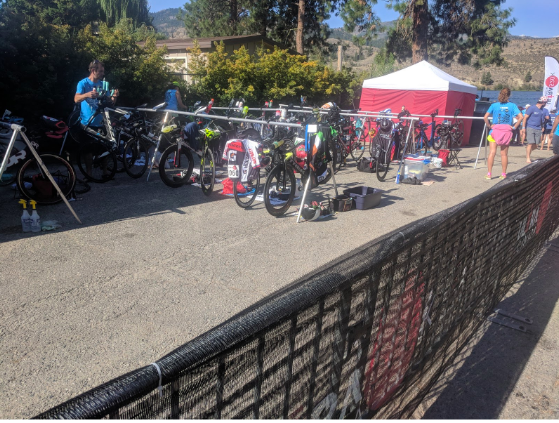 I got to see all the swimmers come in while I waited which was really cool. A new record was set for the fastest female swim. (Go Suzy!) And a new record for the fastest transition time, 45 seconds!! (Arnaud! Superstar!) I saw some people taking off their shoes and getting in the water to pull their athlete out, I decided I would do that since Liz would likely be wobbly after such a long swim. After 4 hours 22 minutes our swimmer and kayak were in! I helped Liz up, gave her a hug and got her to her bike. We got her wetsuit off, bike gear on while she ate a sandwich. Our transition time was 8 and a half minutes. Pretty good I think!!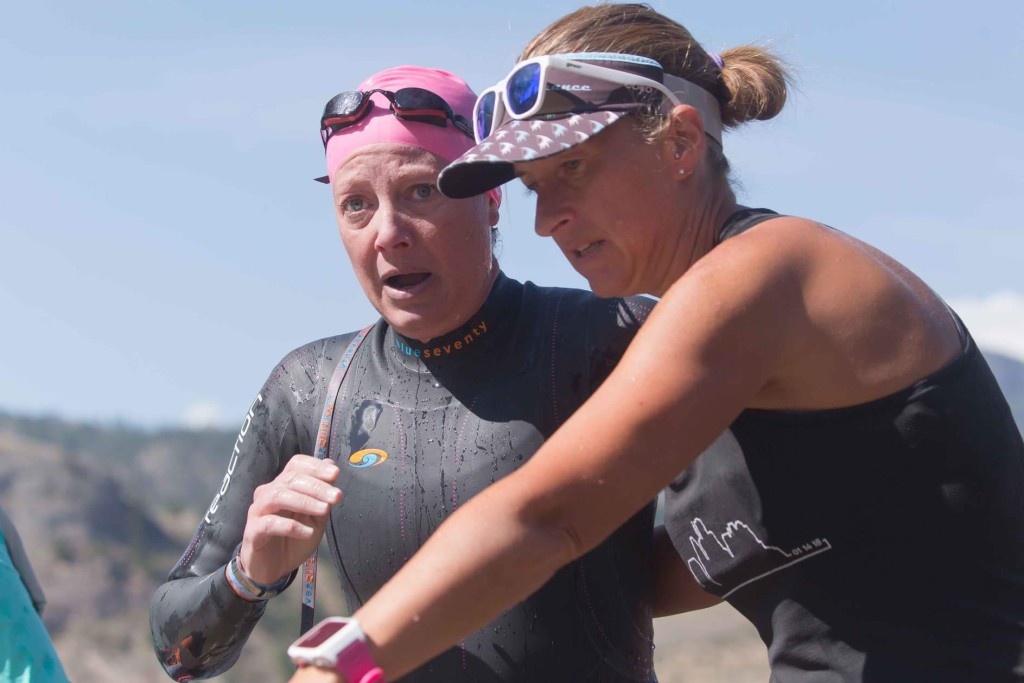 What It Was Like In the Boat – Thoughts From Jenny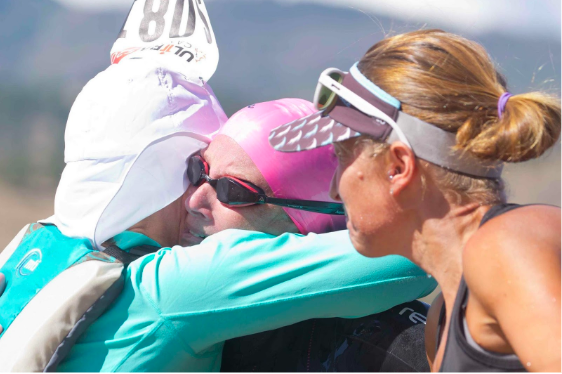 When Liz asked me to be her kayak guide I was all in, but the closer to the race the more nervous I was. We had one practice together in the water a month before the race. Other than recreational kayaking and stand up paddle boarding I have zero experience on the water. Also after reading multiple race reports I learned that during the entire 10k swim there were only 2 buoys, the first one at 8k the second a turn buoy before the finish. I read that you should sight off a crack in a mountain, this gave me a huge amount of anxiety going into this. A few weeks prior to race I even asked Liz if she would rather hire a local guide to get her through the swim, she said no that she'd rather me guide her up the lake.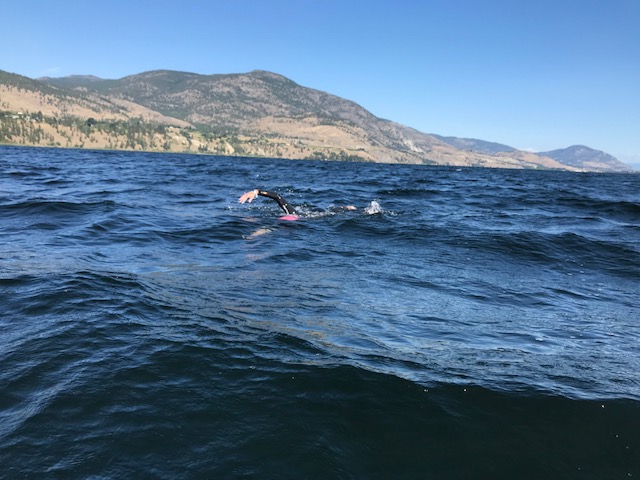 The day before the race we got to do a practice in Skaha Lake, the water was like glass, so nice & clear. Liz had a little panic moment when we first started because of all the grass she could see close to shore but once we got through that she was fine. We were both glad to get that panic moment out of the way before race day. The morning of the swim I was super nervous, I didn't sleep most of the night. It's a lot of pressure knowing you can make or break someone's day by screwing up when they're dependent on you. We got to the lake early so I could get the kayak ready. I taped Liz's 8oz bottles to the inside of the kayak by my legs so they would be easily accessible. We got started about 5 secs after the initial start to let the faster swimmers get ahead of us. Liz had no panic moments as we got started as she did the day before!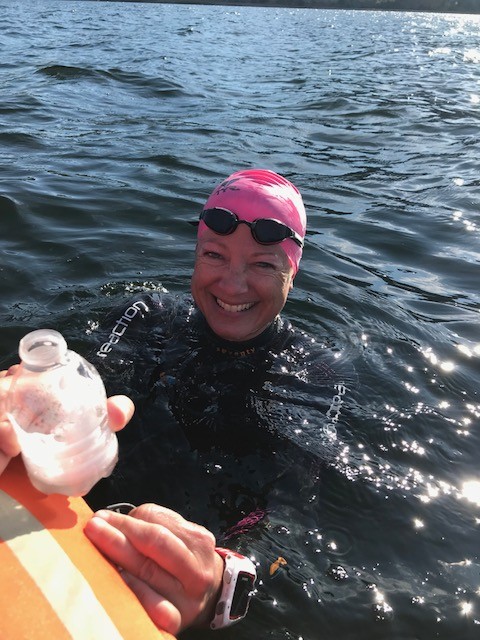 We both set our watches for every 45 mins to alert us it was time for her to take in some nutrition. I would also call Jen every break to let her know how far out we were so she would know when to expect us. We did great, I would take one stroke with my paddle probably every 3 strokes Liz would take. She had a hard time seeing me as I stayed on her left side which meant the sun was directly in her eyes. She would fall behind or I would get ahead and I would try to adjust as quickly as possible to get us back on course. It started getting windy but it was a tailwind so it was actually helpful and not too rough. At one of our stops for nutrition we were both in tears celebrating how far she had gone and that we were over half way there. I knew the 8k buoy was close to a tree line down to the water and I knew we were getting closer. I had binoculars and was so happy to finally see the buoy in sight! The closer we got to the point the water got super choppy. At one point I could've easily gone over and Liz took in a good bit of water.
We finally maneuvered past the buoy to find the water very calm. It was very weird. It didn't last long, when we got to the turn buoy to head to the finish we had a strong crosswind and current. We thought we were angled correctly but Jen called me to tell me to angle more north (which way is north?) so we don't drift and miss swim finish. We adjusted but it felt like we were going nowhere. I was in tears the closer we got, and felt a huge sense of accomplishment for both Liz and myself. After looking at my stats on Strava I had a pretty straight line!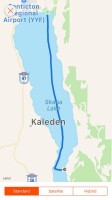 Onto The Bike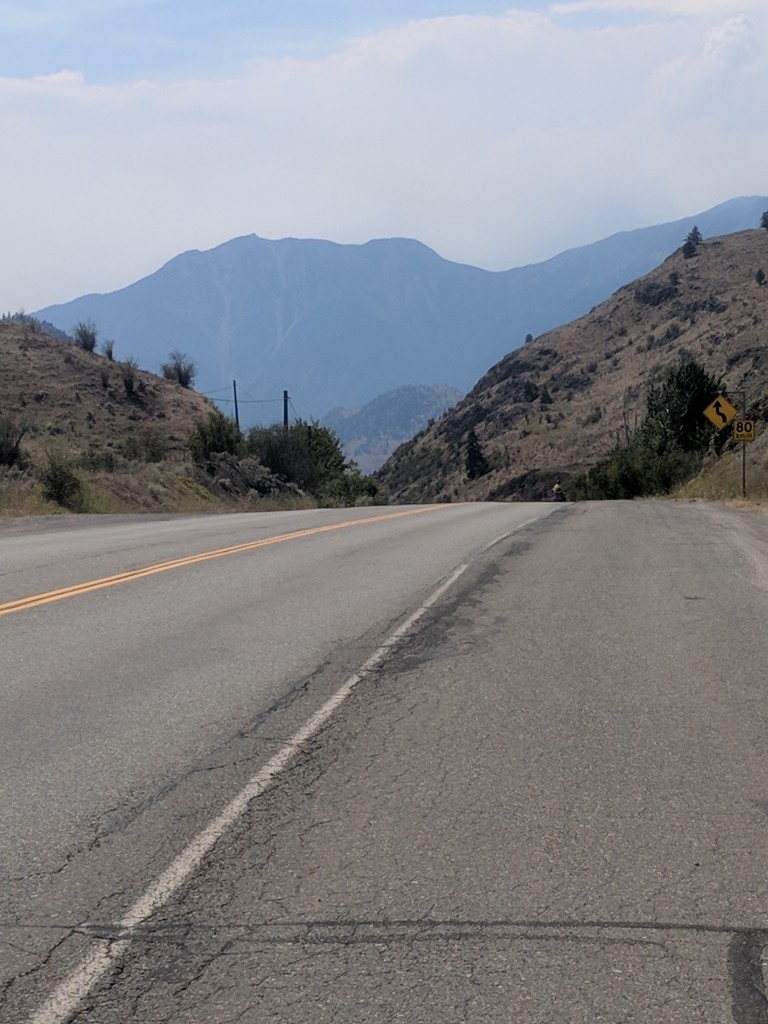 Liz headed out on the bike and Jenny and I packed up the kayak and all the swim gear and then set out after her about 25 minutes later.
The system used for support is the leap frog. You let your athlete get ahead and then come up behind, pass them and find a safe spot to pull over and you wait, ready with hydration and nutrition.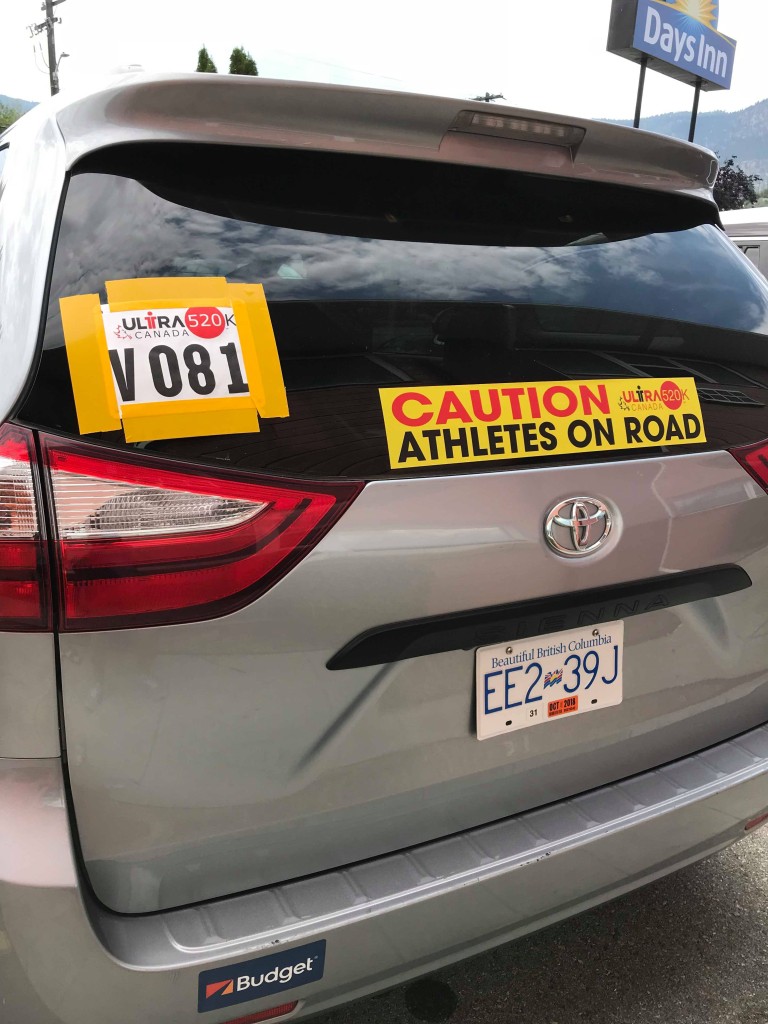 There is a lot of guesswork, trial and error and math involved. Calculate how fast they are going, how much time you have, and try and anticipate their needs. They can shout to you what they want, or say "next stop I want xyz" so you have it ready. We definitely had a few kinks to work out the first day. One of the race officials on a motorcycle, who we got to know real well that day, told us at the top of the first pass that we had let too much space between us and her. If she got into trouble we wouldn't be there. And in fact it was at the top of that first pass that I think the "healthy appreciation" began for our athlete. She had blown up her heart rate and was not feeling good. She got off her bike and sat on the back of the van for quite a while to get her heart rate to recover so she could carry on.
It was at this point that I started to get worried about the day one cut off. Each day has 12 hours. Day one has 6 hours for the swim and then the remainder of the time to complete the 93 mile bike. I had not been concerned at all about day one until she started to struggle. She was stopping very frequently and that eats up time like crazy. I had an awesome spreadsheet (thank you Kenneth!) to track time, pace and distance as well as nutrition and the spreadsheet was telling me her over all time was dropping significantly. We just kept encouraging her to keep moving.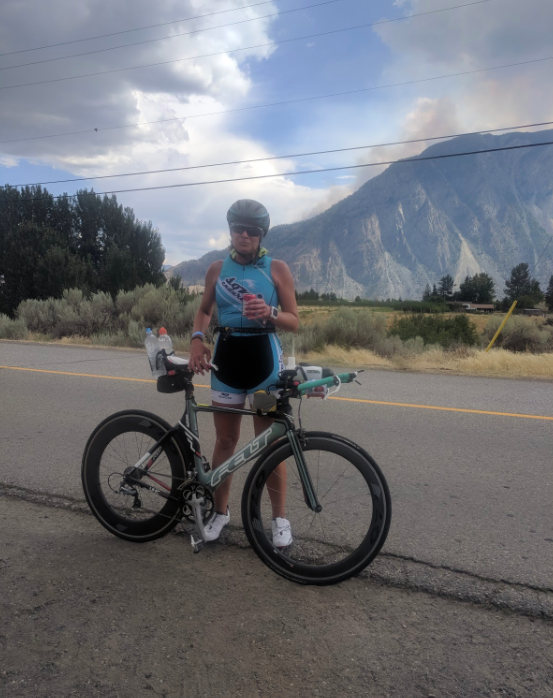 On the climb to Yellow Lake we came up from behind and she was pushing her bike up the hill. She said her quads were cramping. She did get back on and started to ride again but soon we saw her pushing her bike again. It was around this time that the race official came to talk to us and ask if we were aware of the cut offs and if our athlete was aware. We let him know that we all were and that we were confident she was going to make the cut off. After that last climb it was basically downhill. We got into Okanagan Falls with 53 minutes to spare, the final team of the day. Bike time: 6:45:04 Total time for day one: 11:07:56
Hit the finish line so the day is over, right? Not so much. Liz had to check in with medical, as they get weighed and vital signs taken every morning and night. She had dropped 15 pounds from the morning (to be fair it was probably more like 10 since the morning weigh in she had shoes, a wetsuit and a hoodie on) but that was still a lot. Her nutrition had not been on point. So a lot of work to do to rehydrate and refeed before the morning. She got in line for a massage which is provided for each athlete at the end of their day and Jenny and I packed up her bike and then went to get gas and buy more ice and water.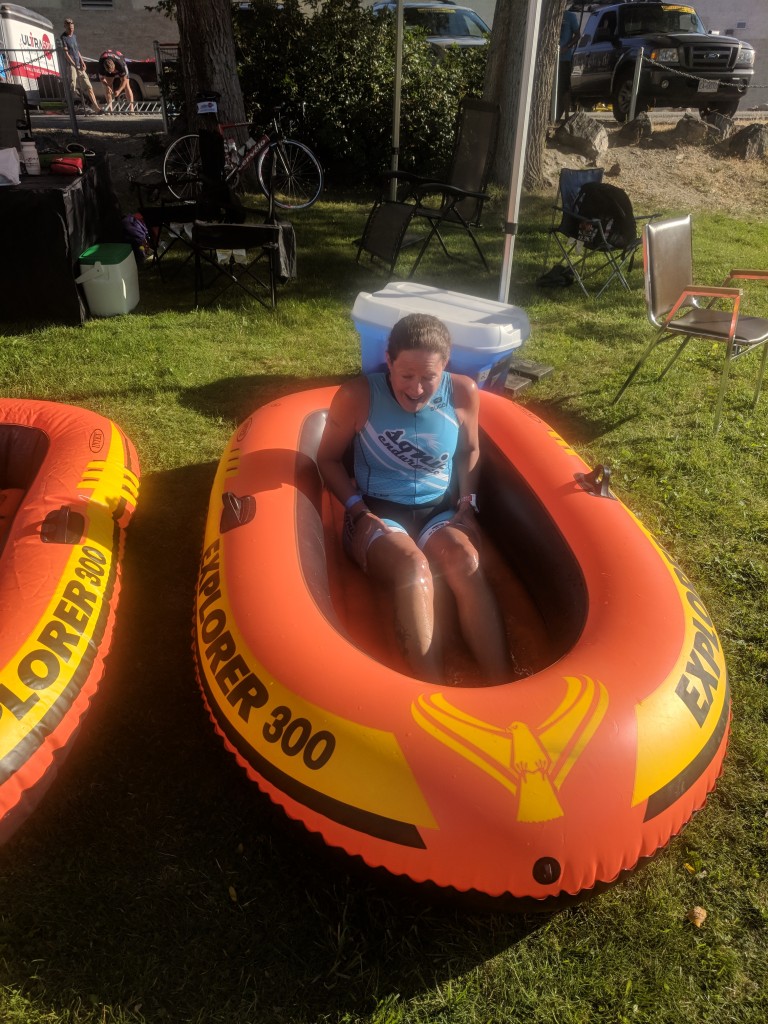 We collected Liz and headed to a restaurant, shout out to Craft Corner Cafe in Penticton, which was a super awesome and unique place. Apple poutine? Sounds weird but it was fantastic. However, Liz was still feeling unwell and couldn't eat much. I tried to "encourage" her to eat as much as possible but it wasn't happening. We got back to the hotel and I made her a sandwich and served it with some chips and Gatorade and she did eat some of that. It was an early bedtime for all.
Day 2. The Long Bike. 171 Miles.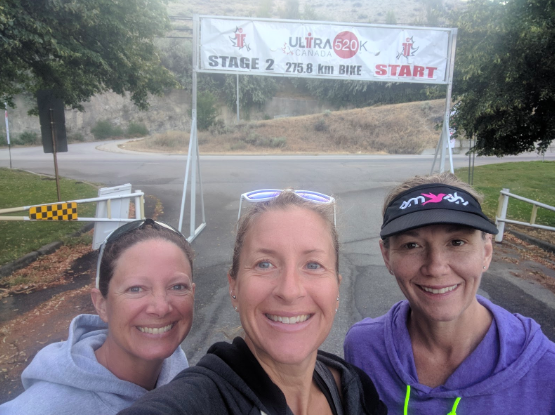 Day two was our latest sleep in day, we were up at 5. We bought our breakfast at Timmies on the way to the bike start. Set up her bike, she checked in with medical and then the crews had to set out.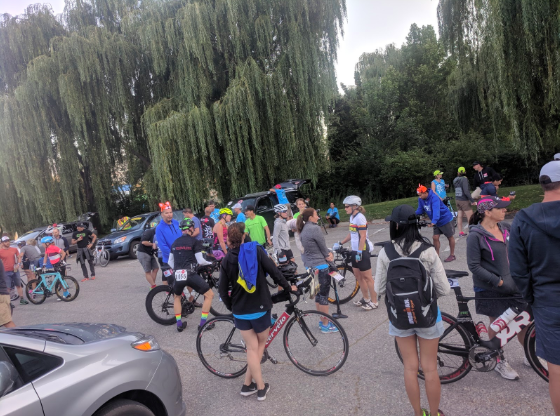 While I am a coach, I'm not Liz's coach, but I had to put on my coach hat and told her she had to ride by heart rate today and not perceived effort or speed or she wouldn't  make it. (She doesn't have power) Her heart rate needed to stay low so she would be able to take in her nutrition. She agreed to this strategy.
Bikes started in pairs based on the first day bike times. Liz was in the second to last group. We didn't know exactly when they started, if it was staggered or not, but seeing the video later they rolled them all out continuously so she started at 7. (This was critical information for the spreadsheet!) The first 18 km were a no feed zone so we drove ahead and then pulled over with some other crews to let the bikes go by. We cheered the riders on as they passed.
One of the very best parts of the weekend was interacting with the other crews and talking to them at stops. If your athletes were around the same speed you would end up seeing the same people over and over again. We would cheer for each other's athletes, chit chat and then move along to the next stop.
Day 2 we had the system mastered. We saw Liz about every five miles and she was taking hand ups or making her stops like a Nascar pit stop when she needed something. We all knew we were on the clock that day. Her nutrition was going perfect, one bottle of Infinit an hour and some food here and there. She took a short break before the No Feed Zone going up "The Wall" a super steep section of climbing. She had a snack, got loaded up and set out.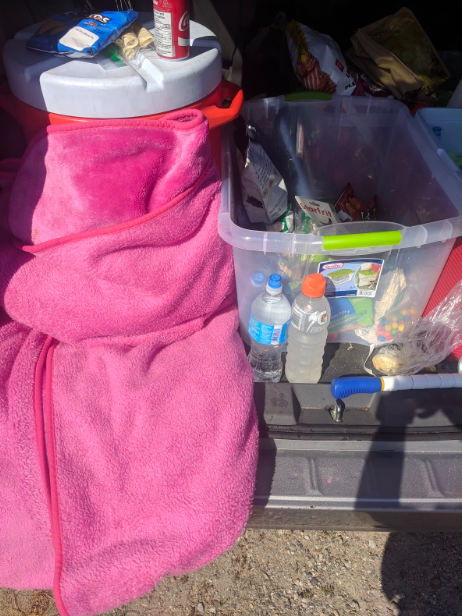 That was the opportunity for Jenny and I to grab some food and supplies for the rest of the day. We bought a ton of Gatorade since the Infinit was running low as well as ice and some snacks. If you are crewing for a race like this snacks are vital!!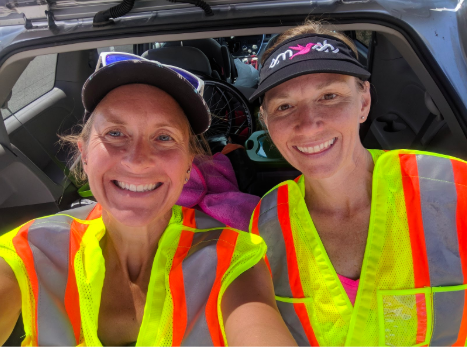 Liz made it up The Wall and the day went on. The course is exceptionally beautiful. There are unfortunately several wildfires burning out of control, thankfully the smoke haze was not at all bad on the 3 race days but it was bad beforehand and got REALLY bad after the race.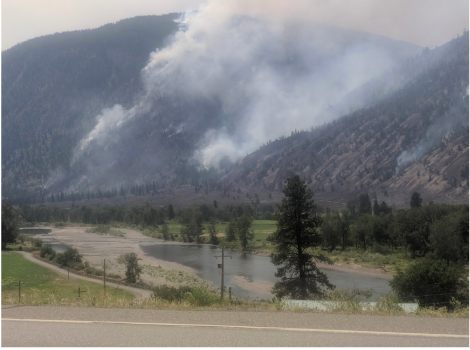 There were many ups and downs (pun totally intended) throughout the day. We never knew which Liz we we're going to get, happy, sad, frustrated, mad….but as a crew you just have to stay positive, keep encouraging them forward, and keep going. The very last part of the route that day was an out and back section which was really nice because we got to see a lot of people. The longer the day went the more the racers get spread out and less interaction you have. So seeing all the riders at the end was great.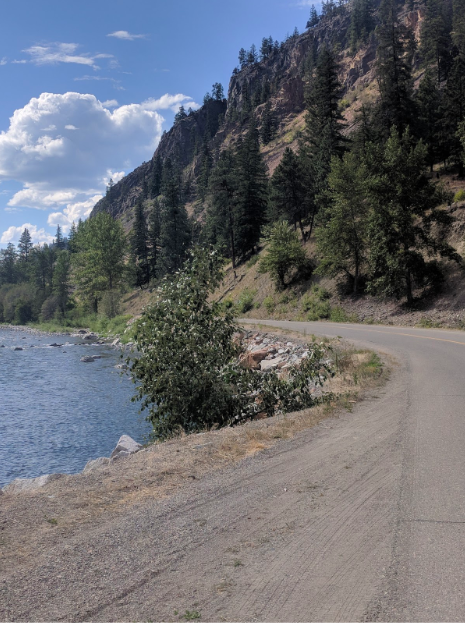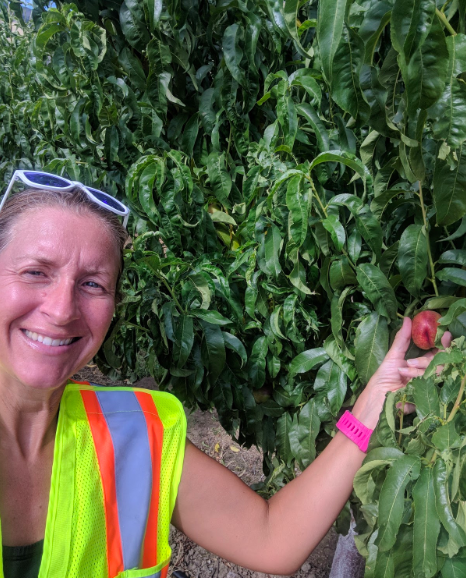 And with almost an hour to spare we rolled into the finish line in Princeton. Day two bike time: 11:09:55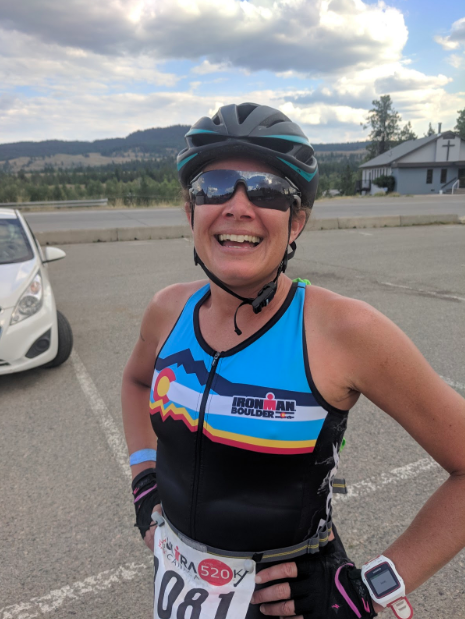 Liz checked into medical and Jenny and I loaded up the bike. She decided to skip the massage and we got her to the hotel ASAP. While she showered Jenny and I ordered pizza, filled up with gas, cleaned out the car, got ice, hit up the beer store and swung back to pick up the pizza. Best part was all these places were literally next door to each other. It was perfect. Liz managed to eat, which was fantastic and we got to bed by 8:30. (FYI you can never go wrong with pizza in a small Canadian town.  It's always awesome.)
We later heard a horror story from another crew who waited 2.5 hours for their food before being told it wasn't coming. The husband of the athlete went back into the kitchen and stood over the chef until he made his wife a meal. That's love.
Day 3. The Run. 52.4 Miles.
(It was actually 52.8 but who's counting).
Oh lordy. Day 3. 4:30 am wake call to make it to a buffet breakfast being provided for the race. (Ironically from the restaurant mentioned above that didn't serve anyone dinner the night before) The food was really good, and we all ate well. But man, by day 3 we are tired. Our athlete was exhausted, the crew was exhausted and we had another 12 hour day of racing ahead.
The start of the run is literally a random spot on the side of the road in the middle of nowhere. The run goes from Princeton to Summerland on a mix of paved and gravel roads.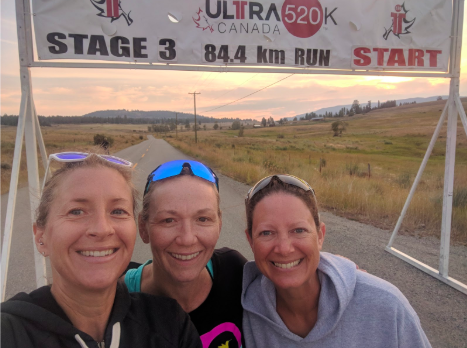 It was quite chilly, low 50's at the start. And a breeze. The great part is your car is right there and you can stay in until 5 minutes before the start. We talked again about strategy for the day, run by heart rate. I told her to keep it under 140 for the first few hours while it was cool and then later not over 150 when it started to heat up.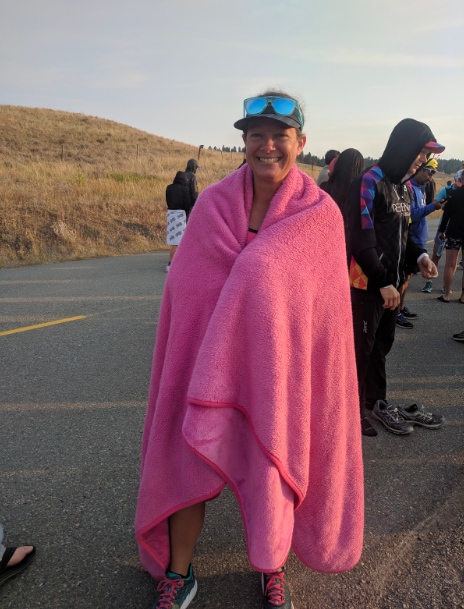 The runners set out and Jenny and I walked the quarter mile to the porta potties before starting out on the chase. The pace was obviously going to be a lot slower today, very short hops ahead, and you can also see them coming and make hand ups very easily to a runner versus a biker. Liz started out running with a couple other girls and we were hopeful that would continue.
The first several miles went ok. She was running about 11 minute miles and walking the uphills, drinking her Gatorade. Jenny and I were in the meantime lamenting about our lack of coffee and snacks. When I say middle of nowhere I mean middle of nowhere. We quickly were out of cell service and wouldn't get it back for 8 or 9 hours. There were zero stores, gas stations or any form of civilization on the run course  We decided to be the party van and try and give the athletes a boost. We played up beat music really loud, cheered really loud for anyone who passed, I danced like an idiot, and we just tried to have fun.
The run course has 2 hard cut offs, 6 hours at the marathon mark and 9 hours at the ¾ mark.  Liz was breaking it up mentally as 4 half marathons with 3 hours for each, but she wanted to bank time and get to half by 5 hours.
We got to the 13.1 and I was pretty excited, Steve King (the Voice of Ultraman) was there, calling out stats and info for each runner as they passed.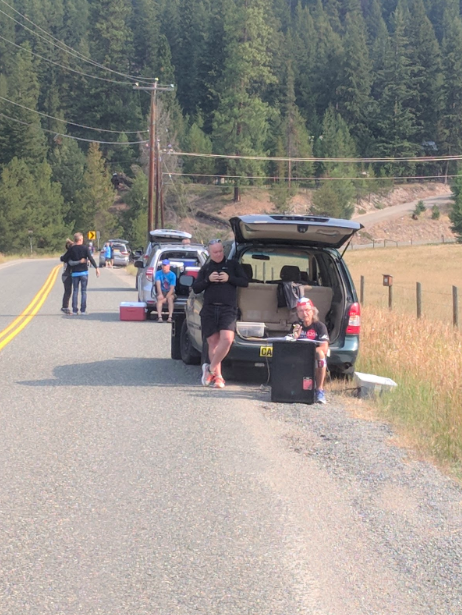 We saw Liz come and I thought she would be excited about this too but it was the opposite. She was almost crying. Her legs hurt, her stomach hurt, and I think the self doubt was high. She was sweating profusely and wanted a different shirt.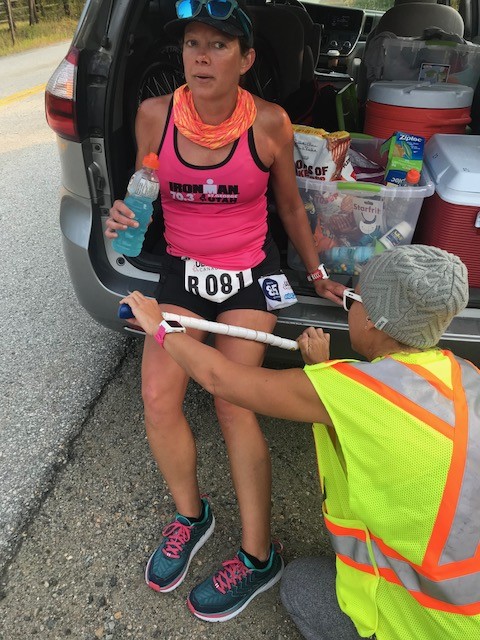 We had a selection of shirts for her at the next stop but she just kept running and said she would suck it up. I told her to just take the shirt off and run with no shirt. She didn't want to. (17 miles later she took her shirt off….and said this is so much better I should have done it when you told me to.)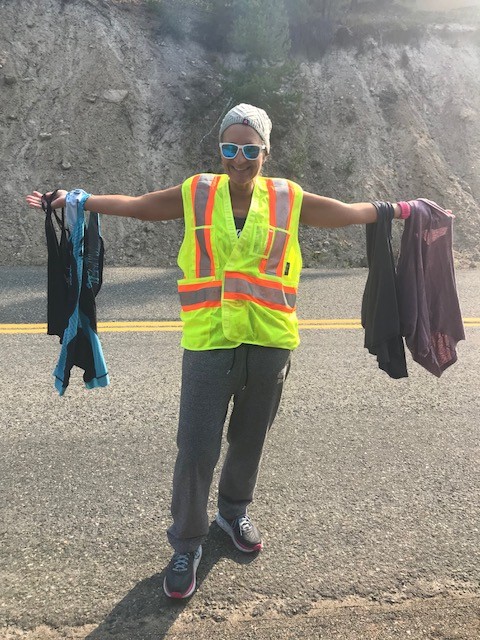 Jenny and I decided at this point that I needed to run with her for a while.
Now let me say here. I had agreed to be a run Pacer for this event. I was prepared to run at least 20 miles, maybe a marathon if needed. I've run 8 marathons, I knew I could do that. But that is the farthest I have ever run, and longest in time was 4:05.
So we ran. Walked up the hills, ran 11-12 minute miles the rest of the time. I would run ahead when I saw the car and tell Jenny what she needed or grab it and then run to catch up to her and hand it off so she could just keep going. At some point the pavement ended and the gravel started, for the next 36 km. (That's well over 20 miles for anyone not fluent in metric) If you look at an elevation map for this race the first half is a net uphill and the second half is a net descent. This is incredibly deceiving though. The third quarter of this course is insane. There are massive climbs that are numerous and endless. (and before anyone decides to throw in the "you're from Houston, it's probably flat") every single person I talked to who ran it, whether they were local Canadians or from Colorado or the mountains in France, said how hard the run course was.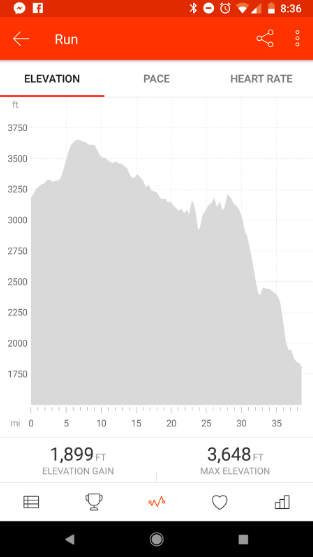 We made it to the half in 5:30. We were expecting a sign, or some people since that was a cut off but there was nothing there. This was mentally very hard because we didn't know exactly where their marker was and how long or short the course was going to be.
To say this run was a struggle for our athlete would be an understatement. She said multiple times she wanted to puke. Her stomach was hurting and she didn't want to eat or drink. But then she would be dizzy and lightheaded and know she needed calories. We knew from reading other race reports how important it was to have a selection of food and drinks and we did. But nothing sounded good. Finally she said she wanted coke. Great!  Crap …we were out of coke. We had gone through the six cans we had. Thankfully another crew was close by, overheard, and they had tons of coke. He gave us 3 cans. (Thank you Will Rogers!)
We kept running. 13 miles passed (for me) and I noticed I was finally starting to sweat. (it's a dry heat up there. Eyeroll). I was drinking massive amounts of water, but I wasn't sweating and didn't feel hot, it was just so dry. (I think it was hot, over 90 that afternoon, but we thankfully had periods of shade, cloud cover and the occasional breeze)
I tried to be entertaining without being annoying, to tell a few stories here and there but not be so chatty that it would bother her. And to just keep encouraging.  Stay positive. Tell her she could do it, that she was doing it! Just keep moving forward. When I hit 20 miles I looked at my time on my Garmin, hey! that was my longest run by 15 minutes. Then it was 26.6 miles…longest in distance…I started coming up with stupid Strava titles to try and make Liz laugh.  Then it was 31 miles. She said to me 2 times if you need to take a break you can, and I said no, I'm fine. And I was. I felt at this point a personal responsibility to see it through to the very end. The last 20km (12 miles) of this race were so hard. The gravel road was awful, so dusty and rocky and endlessly hilly. I was walking ahead of Liz and said "Do you want the good news or the bad news?"
She says "Is there another hill?"
 I said "yes".
She says "Well, what's the good news?"
I said "There isn't any good news."
We wanted to see the pavement so badly. Every time we thought we were to the top we would go around the corner and there would be another hill.
My legs started to hurt quite a bit around 30 miles but I knew if I was hurting she was in agony. She said to me at one point "if you weren't running with me I would have quit or just have walked until they pulled me" and I said "I know. That's why I'm still here". There was no way I was leaving her, I'd drag her carcass across the finish line if I had to.
Different things motivate different people. Knowing what motivates someone to dig deep is important. And so I said "if you don't finish, there are no kudos. You don't get the finisher gear, you don't get to say you did the race. Or you can say you did it BUT you forever have to add the disclaimer that you did not finish. You can't get the tattoo. You get nothing really. Except pity. People feeling sorry for you.  And that is the worst."
We FINALLY got to the pavement. Hallelujah. And then the descents started. And OMG. These are 7-14% grade descents. My quads felt like knives. But the deal was we run down all the hills. So we did. And started to make some better time for a couple of miles. Now it's under 6 miles to go. Liz is suffering. She would try to run but get dizzy and have to walk. I kept the walk pace quick, we were going to make the cutoff but only if we kept going and didn't slow our pace any more. There were a lot of tears. We passed the "Crew Phone Finish Line" sign and I screamed with joy. I thought it was close but it was still another 5km. Under 2 km from the finish there were more tears, I said "You cannot break down 2 km from the end."
She said "I just hurt so bad".
We keep walking, then we can hear the finish!  Cheers and Steve King's voice, we go down a hill and around a corner and see Jenny. And the flags. And the three of us cross that final line together. Official finisher almost 20 minutes to spare!
Run time: 11:40:46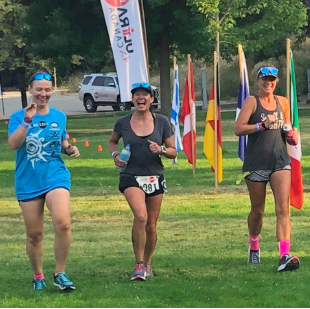 DAY 3 CREWING FROM THE VAN. (AKA THE DAY OF NO SNACKS). THOUGHTS FROM JENNY.
The day started off fun with Jen in the party van. After the first half marathon we knew Liz was going in a dark place so we agreed it was time for Jen to start running with her. As the miles went on athletes were more strung out in distance which meant I was only leapfrogging with a few athletes and crews. Every time I saw someone I would encourage them but at some point what else do you say? I'm sure they got tired of me saying "go____, or great job" I would've. I always made sure athletes were ok and would ask if they needed anything. I made stops every .50- .75 to check to see if Liz or Jen needed anything. I would meet them out away from the car then run back to get whatever Liz needed in an effort to keep her from stopping. I recorded my distance from the odometer at each stop to remember at what distance I stopped because as they day gets longer you can't math or remember anything other than you know your athlete is in front or behind you. I sang "She'll be coming around the mountain when she comes" a lot to myself. I was hoping at some point to be asked to run with Liz to give Jen a break and to break up the monotony of crewing from the car all day but I wasn't which made for a very long day with one playlist on my phone. While we had plenty of stuff for Liz in the car as far as snacks go we neglected to get anything for ourselves. I did have a slice of leftover pizza from dinner the night before, cold pizza tastes good when you have nothing in the middle of nowhere but I never want to see another ketchup chip or jalapeño cheddar popcorn ever again. I was disappointed when there was nobody at the first cutoff at 26.2 miles, I was hoping to see someone but nope. As the miles went on and closer to finish we got I started to get notifications on my Garmin which meant I had cell service!! I was thrilled and decided to make a couple of videos to let the world know how Liz was doing as I knew everyone was dying to hear from us since we were out of touch for so long. I was jumping up and down when I finally saw the sign to call the finish line to let them know Liz was coming in. I thought the finish was closer as I headed in but had to stop once again because it was longer than I thought. I drove in and met Liz and Jen at the finish to run in together, we were all so glad to be done!!!  (I will add here that Jenny made at least 67 stops through the day, we don't know the exact number)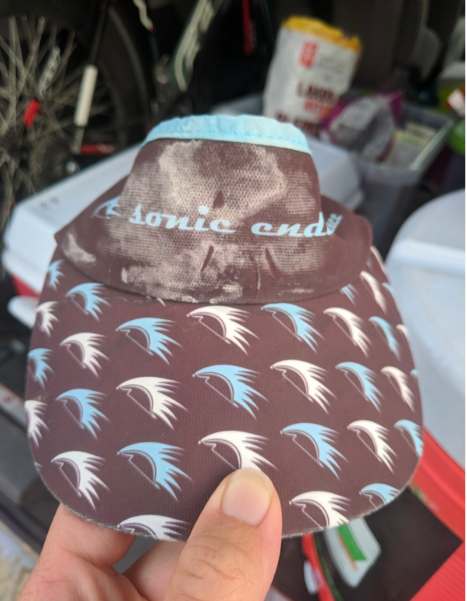 Day 4. The Celebration.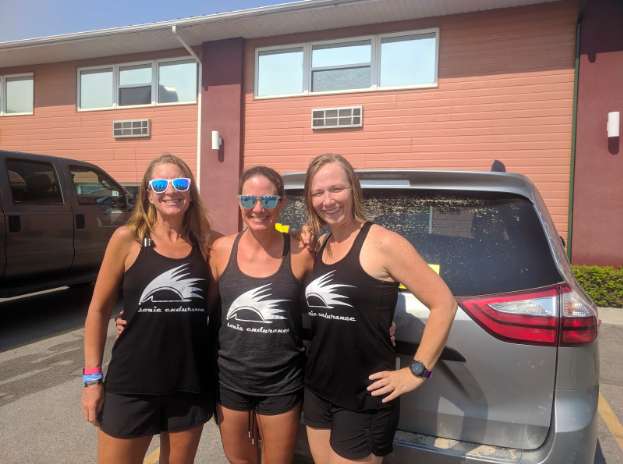 On day four there is a banquet for all the finishers and crew and race volunteers. At the welcome reception Steve, the race director, had talked about how this race was all about family. At that time it didn't mean much, I mean, I didn't know these people. By the end it had a whole new meaning. This race is a very small and very unique experience. Triathlon in general is small segment of the population, Ironman even smaller and Ultraman is tiny. Many of the athletes talked about what drew them to this race is the level of camaraderie and friendship. In Ironman you are just a number, here you are a person and a friend.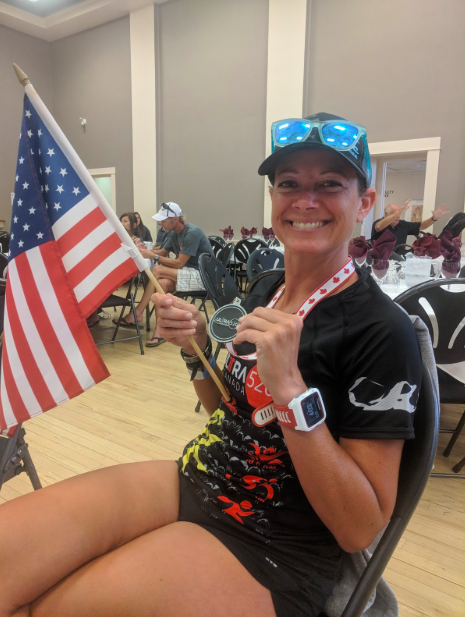 At the banquet each athlete is given a chance to talk about their race and given their award and finisher jacket  Our athlete gave a very moving speech that had most of the room in tears and me doing the ugly cry. (It's on Facebook if you want to watch it. Bring tissues) And we heard from every athlete, who thanked their crews for getting them to the finish line. (Except for one poor girl who talked about how her crew continuously got lost and she barely saw them. Thankfully other crews came to her rescue and gave her what she needed. Bless her heart.)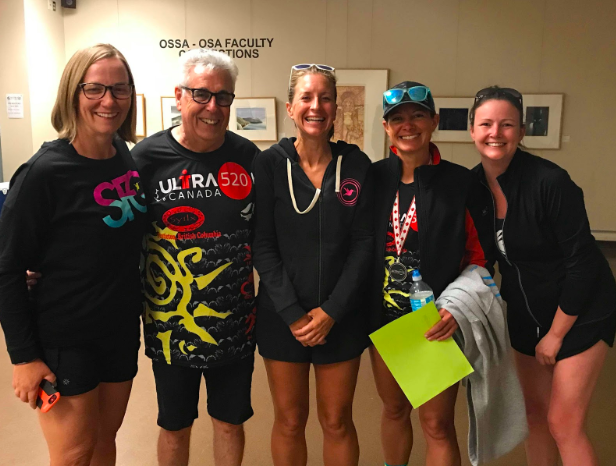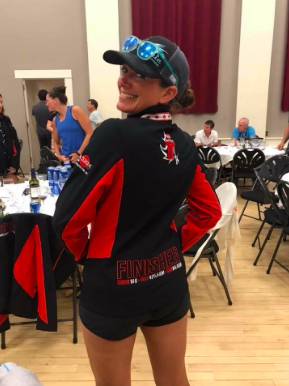 A quote from the race. "We come together as strangers. Compete as friends. And leave as family."
This was truly an unforgettable experience. I want to thank Elizabeth Smith for inviting me to be a part of her race and putting trust and faith in me to help her make her dream come true.
And just a word about my crew partner Jenny. I would not have done this if we had not been together. Jenny is always rock solid and dependable. She never complains or whines or tries to get out of doing anything. She works hard, is smart and has an awesome sense of humour. We spent almost every minute together from 3 am August 1st to 9 am August 9th (including a red eye flight as part of our 18 hour trip home) and we are still friends.
So if you are ever considering doing a race like this, first of all, don't. (kidding…sort of…) and second of all make sure you have a crew to back you that you can trust and depend on. (But not us. We are retired.)
Final Thoughts From Jenny on Crewing
When Liz initially asked me to crew of course I said yes, it was a trip to Canada with my friends, how hard could it be? After reading more and more race reports I was asking myself "Why am I an idiot?" and "why did I agree to go?" I knew this was going to be hard and questioned my kayak abilities and how we would pull this off. I have racing experience but not to this level. I do have experience being prepared and organized as a Mom and you have to be as a triathlete since there's so much involved. Fortunately my crew mate is also an experienced triathlete and Mom of four and one of my best friends, so I knew not only would we be ok once we got things prepared and organized but also have fun together. I've been asked after this experience multiple times if I would sign up for this race, HELL NO! Would I crew again? Yes, I would crew again if there were more than two people on the crew. Crewing is fun but it is hard work and exhausting. Your job is not over until your athlete is resting and you're prepared for the next day. Thank you Liz for this experience.  I'm so happy we made it to the finish line all in one piece. I really enjoyed our adventure together in Lake Skaha, and meeting the other athletes and their crews.