"It's supposed to be hard, the hard is what makes it great"
I've always loved that quote and it came to me again and again on Sunday (9/30)  as I biked/ran Ironman Chattanooga.  A quick rewind, as you may recall I had a DNF at Ironman Boulder in June.  After that race and some time to reflect I really felt like I needed to finish an Ironman this year.  I had to prove to myself that I could do it, that IMTX hadn't been just a fluke.  I signed up for Chattanooga and returned to training.  I kept it quiet that I was doing another race, I did put my workouts on Strava and I had a few people notice I was doing really long workouts, if they asked me about it I told them but I didn't go around advertising it.  I get terrible race anxiety and that's one of the reasons I don't race very much.  I can't sleep, I feel sick, I feel a ton of pressure to perform (probably mostly self imposed) but I just hate that everyone is watching me and either waiting for me to succeed (and I'm sure a few hoping I will fail)  I felt really good going into this race, I had almost no anxiety, only a handful of people knew I was there, and I had zero performance goals.  I literally just wanted to finish.
My training had gone pretty well I thought, I had rehabbed my leg injury from Boulder.  I had the gearing on my bike redone to be more suitable for climbing, I started riding with a really high cadence as I was told that was probably what contributed to the leg strain, pushing too hard.  Both legs felt good.  Then on one of my last long training rides I had my left leg start to hurt.  Exact same scenario as in Boulder.  60 or so miles in, random shooting pains out of my knee into my quad.  I cut that ride short and I think did the rest of my bikes on flat terrain.  I rested it as much as possible and hoped for the best.
As we were driving to Tennessee on Thursday I opened Facebook to see "Swim Cancelled".  What?!  It was only Thursday, how could it be cancelled?  They had received a ton of rain in the area that week, the river was both at a level and volume unsafe for swimming AND the bacteria levels were 20x higher than the acceptable limit for swimming.  It was a final decision.  I had mixed feelings about that.  On the one hand I don't like swimming so yay!  but on the other this is a fast downriver swim and would have been a huge PR.  So boo.  But it is what it is.
The day before the race I went to do my shake out ride and run and as I set out on my bike my brakes started to rub.  They had been acting up recently but I thought we had fixed them before I left.  I wiggled the cable to loosen them but it wasn't working.  I brought my bike into the tech repair and left it to be fixed while Jenny and I drove the bike course.  This course is very hilly, winding, and pretty.  Skinny country roads with thankfully next to no traffic.  It did look very intimidating for a flatlander.  I picked up my bike a couple hours later, took it for another spin and now something was clicking.  I tried to figure it out and a random man came up and asked if I needed help.  He pointed out that it was just the end of the cable hitting my pedal that was clicking, he bent it back out of the way and then looked at the brakes.  He said they were going to be ok, there wasn't much clearance but they were opening and if they stuck just to flick the brake a couple times.
Race morning.  Great weather, in the 60's going for a high of 83 and overcast.  It was a time trial start, we lined up by bib number and went 2 every 5 seconds.  I was on my way by 8:48.  I had done a trainer simulation ride of the first 30 miles of the course and it was a killer!!  So I was waiting for those brutal climbs.  They never came.  It was supposed to be net uphill for the first 30 but it truly did not feel like it.  I was averaging 20.7 mph through the first 30.    Around mile 30 though my left leg started to ache.  I tried to just spin, spin, spin up the hills, and get as much speed as I could on the descents. There is a sharp turn at the bottom of a hill and that was the first time I had to brake hard and yep, they stuck closed.  I did the quick flick thing and they released.  First loop of this bike was really good, i was averaging 20 going into the second loop.  My knee was holding up ok, not great but manageable. Going up one of the hills I dropped my chain.  Crap.  Get off, put it back on and then try to get going again up the hill.  That wasn't fun.  Hitting that steep descent again with the turn I braked hard and this time they didn't release.  The one side stayed closed.  I tried to get it to open and it wouldn't.  Whoosh, whoosh, whoosh, the sound of it rubbing the tire.  And this is really when things started to go downhill.  Pun not intended.  I'm putting in a lot more effort for less return, my knee is hurting more and more, and now I also feel like I'm sitting on knives.  I was so uncomfortable in my saddle.  I had to stay aero to keep the pressure off my knee but that caused  more pressure on the parts that hurt touching the saddle.  It's 80 miles, then 90, then 100, I'm getting more and more miserable.  The pain was awful.  Just get off this bike is all I could think.  I was still averaging 19.9 when I turned off the loops to head into town.  About 10 miles to go.  10 miles of torture.  Every bump in the road, and there were a million, I wanted to cry.  My speed dropped to 19.5 in that last 10 miles, it was all I could do to keep pedaling.  Just get off the bike and everything will be ok I told myself.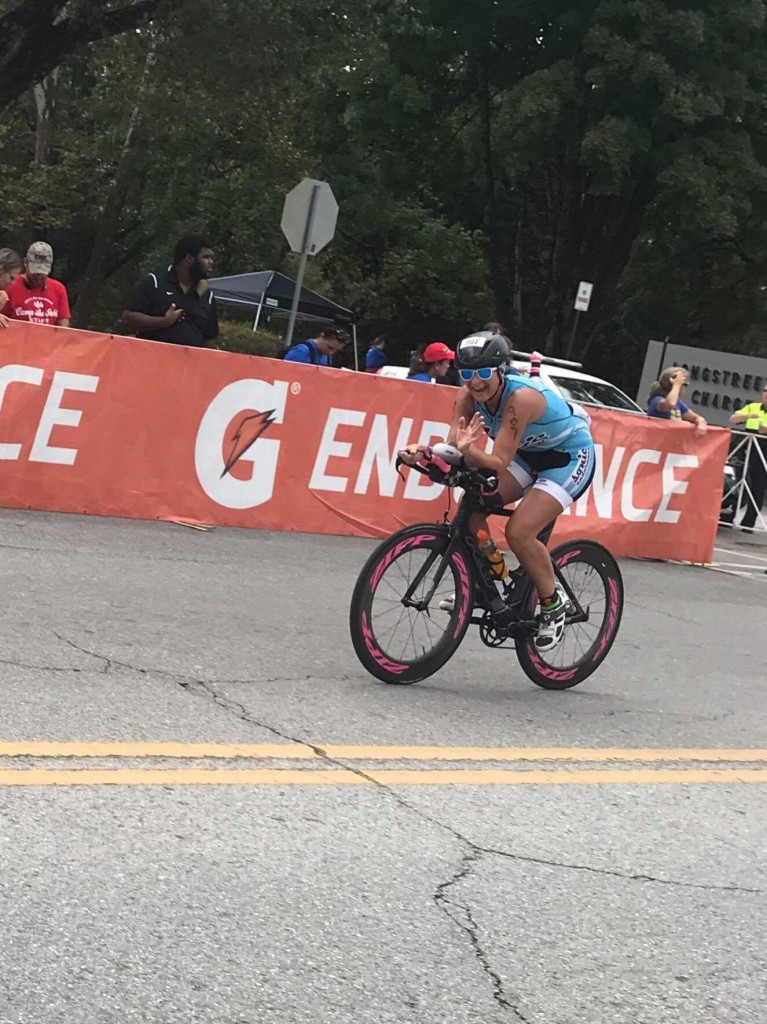 Finally!!  The end!  I see Stacy and Jenny at the bike dismount.  I told Jenny I was throwing my bike in the trash.  I hand off my bike and what's this?  My legs literally don't work, I am wobbling my way up to the change tent.  I planned to take my time in transition, I had a couple of amazing ladies help me, I hit the porta potty and was on my way.  I felt like I was in there forever but I saw after the race it was only 5 minutes.
I try to run.  My legs feel like bricks.  Right out of transition there is a big hill.  Great.  Ok, just get up the hill and then it's flatish.  First mile went by with what felt fast fast but it was 9:41.  Ok, no problem, there was a big hill.  Let's find our pace and settle in for the long haul.  I had planned to run around 8:45-9 on the flats, 10 up the hills and low 8's down the hills.  That "should" have been a very easy paced run.  I'm trying to drop into the low 9's and it just isn't happening.  My legs just will not respond to what I'm telling them to do.  They were so heavy and it was so much effort.  And it was hot. (We hit 87 for a high that day) The cloud cover had burned off and it was full sun, no shade.  And let's face it, the worst thing here was my attitude.  I was miserable after that bike ride, now my legs didn't work and I was grumpy.  The only way out is through.  I have to keep moving.  The first 8 miles of this run course is an out and back, the out being along a highway and the back being on a nice bike path.  After that 8 you cross the bridge and get to the hilly section.  Barton hill is legendary.  "How long is the hill?" everyone asks.  As one person put it, the first time you do it it's less that half a mile up.  The second time you do it it's 3 miles long.
Halfway up Barton there was an aid station.  I really felt like I had to use the porta potty so I stopped.  I did not have to go but it was here I realized most of the skin off my backside was missing.  That explained the horrible pain on the bike.  I came out of the potty and Jenny was there with her 200 pound city bike she had somehow managed to get up that hill.  I said something like "I want to die" and she said something encouraging like "You're doing awesome, keep going!!" and I kept going.  After the monster hill there is another long gradual climb followed by some rolling hills through a neighborhood.  Thankfully it was very shady back there.  Then it was time to go up and over Barton for the second time which was followed by a looooong downhill segment and over the pedestrian bridge.  My quads were not happy about that downhill and I thought if it hurts already at mile 12 miles 20+ are going to be bad.
Coming across that bridge before you head out either to second loop or finish line was the best part of the course.  There were tons of people, cheering loudly, calling my name.  Between that and knowing I had made it to halfway gave me a real mental boost.  I knew I was going to make it.  The only way out is through.  Keep moving.  I hit about every other aid station for a refill of gatorade and ice.  My run pace was about 9:30 but the stops added time.  Keep running.  On the second loop the sun went away.  I don't know where it went but it was no longer so hot.  After the out and back it was just 5 miles of hilly hell and then it would be over!  I tried to run/walk the big hill.  I would run to a power pole, then walk the next.  When I did the hill on the first loop I saw a few people running it.  Second loop not one single person was running.  Several hundred people all walking the hill.  Around the neighborhood again, I picked off a couple women with 40+ on their calves, that gave me another little boost to keep moving.  Back over the big hill, run/walk and then it was basically downhill the last 1.2 miles to the finish line.
I crossed the finish line in 10:23 and I've never been so happy to be done anything in my life.  Chattanooga was a thousand times more painful than Ironman Texas had been.  I swore then and there I was never doing another Ironman again in my life.  Going forward, I know I need to get my entire bike fit overhauled and all the mechanical issues sorted out.  There is no reason I should be having serious knee problems riding a bike and certainly no reason to experiencing that level of chafing.  Besides that, I thought the bike course was fantastic and the run course was hard as hell.  The city of Chattanooga is lovely, the volunteers were amazing and I totally enjoyed the whole race weekend experience.