On June 19, 2021 Sonic athlete Chad Swim raced the McDade Night Raid in McDade, Texas.  This is a 49 mile gravel race through the middle of the night.  As the race website states, the race travels "through the old stomping grounds of the 1860's 'Notch Cutter' outlaw gang, who cut a notch into their pistols for each of their victims. Then enjoy drinks and fun at the finish line!"  Below is Chad's race report from the experience.  
There were two options for this gravel race, 33 miles and 49 miles. I got shamed into doing the 49 and boy do I wish I just did the 33.  The race started at 7:30 PM Saturday. The Start/Finish was at Rising Sun Vineyard. It really was a nice place.
There were 116 riders that took off into the fast fading sun. I was with two of my friends and before the race started we decided that we would stick together (more on that later). They were in my sights for the first 10ish miles. Inside of that first 10 miles, my light snapped off my handlebars due to rough road conditions. Therefore, I turned around and attempted to find the light in the overgrown ditch. I was unsuccessful. I decided that I would just wing it.
Thinking that I could potentially keep up with someone who managed to keep their light on the bars. Or I would peel off and ride the 33 mile route. I quickly opted out of the 33 miler because I didn't want my friends waiting on me on the side of the road and potentially be worried about me. Luckily, I did not have to do that as my friends were on the side of the road waiting for me. I mounted his extra light and away we went. We still had full sun at this point, so it was hot as balls. It didn't take long to lose sight of them, but I figured they would pull over and wait. What I didn't know at the time was that I wouldn't see them for a very long time.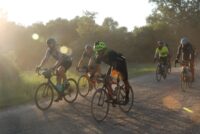 Fast forward to dusk:
My friends had long left me but I found a group to ride with so I was not completely alone. We rode together for several miles as the sun was setting. We got to a "T" in the road and my Wahoo said to turn left (this was a self-guided race) but the pack I was with turned right. I called out "hey! I think we are supposed to turn left!" I found out later that they were on the 33 mile route. Anyhoo, I turn left and was all alone.
I was close to the midpoint at this time and the sunlight was all but gone. I stopped and unclipped contemplating my next move. Should I keep going? Should I phone a friend? Should I just go straight back to the Vineyard? Should I sit here and cry? It was at that point that the sun was gone, the sound of the cicadas was deafening. Moreover, I was 100% by myself in the middle of literally nowhere. I did not want to call Stormi (she was in Cypress, Texas) because she would likely choke those boys out when she saw them again. So there I was somewhere between a full on mental breakdown and mad as hell. I decided to press on. I was thinking of the distances in kilometers instead of miles. I know it is the same distance but metric units sounded better in my head. And it gave me something to focus on beside the absolute nothingness that surrounded me.
It is now pitch black. I am scared, alone and pulled over again contemplating my options. I was ready to quit but figured out that I had no way to get home other than my bike. So I gathered myself up again and started riding. After a couple miles, I ran up on a couple of trucks parked in the middle of this gravel road with their lights on and truck running. Totally normal right? No, I quietly rode past them not looking in their direction at all and kept on pedaling. Shortly after that awkward exchange, one of the trucks blew past me kicking up all kinds of dust that I ate for the next quarter-mile or so. Not awesome.
Now my third stop. Again, still scared but now I am getting hungry and thirsty. I finished everything in my CamelBak; but I still had two bottles in my cages. It turned out to be a good news/bad news situation. Good news was I had something to drink. Bad news was I forgot that I made the bottles (water only) for a quick ride around the trails by my house. This revelation did not help my mental/physical state. But, at least I had some gels and I could get electrolytes from there. Crisis averted. Sort of. I am now looking for houses that may have people in them to have somewhere to wait while somebody came up from Cypress to pick me up. Admittedly, my options were limited and being shot or shot at was a legitimate concern. After all, I was in small town Texas, and for whatever reason, I turned back to see if anything was coming up the road.  I saw lights. Not car lights, bike lights. I was elated at the fact that someone else was out there with me! He saw that I was good and rode on past me saying nothing more than "Howdy." I had found a friend. His name was Tim, he was from College Station and he came along at the exact right time.
Tim and I had around 16 or so miles (hard to remember as I was in a bit of a daze) to go and we decided it would be better if we stayed together. Ok, full disclosure, I decided it was best for us to stay together. We are going along fine and Tim starts to cramp so we pull over. While we are pulled over Tim's GPS died and my light was dim. Dim as in it was almost out of juice. So now we had to stay together. I had the map, and he had the light. We kept grinding it out, counting down and talking about whatever we wanted to. Tim was going slower than I am capable of going and he told me to go ahead and go. I said absolutely not, we are in this together. So let's cross together.
Low and behold we hit the finish line together after one last little climb into the Vineyard. We both thought we were DFL but we actually beat 4-6 other people, so I am considering it a victory.
Once I crossed I was completely done. I was exhausted, hungry, tired and still a little sad/mad that I got dropped after they said they wouldn't. This race started out great, then went to total shit, then I was able to turn that around (with Tim's help) and managed to finish and not die or get lost.
It is highly unlikely that I will do another night race; but if I do, I will certainly be more prepared.