You don't have to live in the mountains to race IRONMAN Lake Placid. You've seen the pictures of IRONMAN Lake Placid and thought — Wow, that is an incredible course, I'd love to do that race, but I don't live in the mountains and have no idea how I would train for racing there.
I just returned from spending a week coaching and training with my Sonic Endurance team on the IRONMAN Lake Placid course. I've raced ten IRONMANs and many Half IRONMANs and prefer rolling or flatter course profiles. I live on the Texas Gulf Coast which is similar to the Galveston 70.3 course. While I don't have mountains, I do have a lot of wind, heat, and a power meter.
Yes, this is an IRONMAN course that you will need to work on your climbing and descending skills on the bike and run. Is it doable for a flatlander like myself? Absolutely with training plan focused on climbing.
The swim is in Mirror Lake which is one of the most beautiful lakes that I have ever swam in with crystal clear water and a view of the mountains.
For years I'd heard how scary the Keene descent on the Lake Placid course is (for those unfamiliar this is the descent from the Village of Lake Placid into the town of Keene located in a valley of the Adirondack Mountains). We rode the bike course and I'll admit that when we got to the top of the Keene descent, my fellow Sonic coaches had to give me a pep talk before the descent. They smiled and told me that they would be right behind me and stood there and stared/glared at me until I clipped in and rode down. I've had some extensive surgeries and recoveries as a result of bike wrecks and was nervous about descending as I am more cautious now than I was before the accidents.
I started riding and realized the Keene descent wasn't anything like I'd anticipated. Yes, you will need good descending skills and to ride within your limits. Was it as bad as I thought? No, it was not. The ride down was beautiful and exhilarating and my friends commented when we got to the bottom that I was smiling.
The run course also has elevation and you'll need to be proficient on the hills. If you live where it is flat you can train on the treadmill or travel to hillier places to run to train for the race. You'll also want to work on core strength.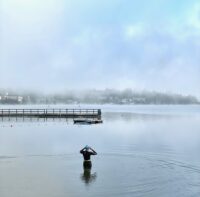 IRONMAN Lake Placid is one of the most beautiful courses on the U.S. Ironman circuit. It is also a great destination race for the following reasons.
1. Weather– Usually cooler with limited humidity (although this is upstate New York so there can be some warm and soupy days). Bring your hoodies and leggings you will need them.
2. Family Friendly– great place for the adults and kids
3. Fairly Easy to Get To – Once you get to Lake Placid (fly into Albany, New York and rent a car and drive 2.20 hours, you can also fly into Burlington, VT, Hartford, CT, and Montreal, Que.) depending on where you're staying you will only need your car to get groceries or sight seeing. You can walk anywhere you need to go if you stay close enough to Mirror Lake.
4. History of Ironman Lake Placid – this race started in 1999 and is currently the oldest IRONMAN race on the North American continent.
5. Spectators – The Ironman course is easy for spectators to see their athletes multiple times on the course
6. Finish in the Olympic Oval (and visit the Olympic center from the 1980 Olympic Games)
I can't wait to go back to Lake Placid next summer where I'll be coaching and training on the course during our Sonic Endurance Lake Placid Training Camp. We will also be back at IRONMAN  Lake Placid next year supporting our athletes.
Yes, you can race Ironman Lake Placid and don't have to live in the mountains. Will you fall in love with this race and town? Probably, I know I did. Can't wait to see you there next summer. Follow @renesmiles77 or @sonicendurance for more information regarding our camps and team activities.