The impact of athlete ambassadors really hit me when I was out on the run at Rev3 Quassy 2017.  This was also the first year that I raced as an ambassador on Team Maverick Multisport.  Our team had several other athletes that were racing and it was amazing seeing them out on the course.  Many of us had never met, but had one thing that bonded us…the team name Maverick across our chests.  It didn't matter if we did not know each other's names on course, hearing the simple "GO MAVERICK!" was all it took to reignite the fire.
It wasn't just my own team I noticed, but also the comradely of the other teams around me.  Shout out to @FxckCancer and @HEAT for always being so amazingly positive to watch and see interact with each other!
Long story short, in a sport that is primarily solo, ambassador teams make it a group event.
I am sure you are thinking, what's the catch?  It can't all just be fun and games, can it?
Well, yes and no.  Let me explain.
What IS an athlete ambassador?
Ambassadors are positive and motivated athletes that are supportive and encouraging of other people's goals and journey while positively promoting the brand they represent.
In a way, you are a swimming, biking, and running advertisement for the names on your kit.
As an ambassador, it is expected that you will uphold your brands values and beliefs.  If you go out on the course and draft off of another cyclist or curse on the run course, people are going to remember you just as much as the person who gave them a high five, but in a much different light.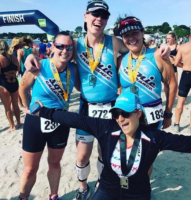 What are the benefits of being an ambassador?
First and foremost, the comradely of being on a team of like minded individuals.
Access to products before they are open to the general public. It is always nice to be able to have an inside connection on items you know will go quickly.
Discounts on products. For some, this is the main reason they want to be on a team.  Most ambassador programs have team partners with discounts as well.  For example, when I was on Maverick we had team partnerships with Bike Flights and Infinite Nutrition.  Now these are known partnerships and we wore them on our kits.  Some team partnerships are not made public and as an ambassador, you are expected to follow all the guidelines of those partnerships.
Early Registration to Ironman Events if you are listed as part of a club.
Group bike racking at some race events.
If you have a large number of athletes racing an Ironman event, you may earn additional free entries or VIP passes for the team to utilize.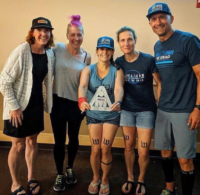 Can you be an ambassador for more than one brand at a time?
Yes and No, this is always a tricky one.
The way I look at it is simple.  As long as they are not competing companies, like Wattie Ink. and Zoot or Base and Gatorade, you are in the clear.
Each program has their own sets of guidelines that are particular to their brand.  Some require that they be the only brand you represent, where others are much more flexible.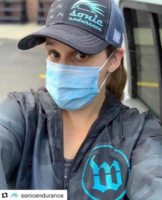 How can you represent your brand?
By wearing your ambassador kit and off course gear at races, you are bringing a visible presence.  Taking it a step further and engaging with folks on course cheering them on and off course answering questions they may have about your group are amazing ways to bring attention to your cause/brand.
But what about in a year of no racing?  Bring on the #Hashtags!! Most companies have a set of #hashtags to use on Social Media.  These hashtags link anyone who clicks on them directly to their other product posts.  Whenever you post content that involves your ambassadorship, you should be using these as well as tagging your team (and you should remember to follow FTC guidelines and disclose your partnerships).  There are also additional hashtags that you can use to increase viewership.  For example, if you are posting a photo of your new cycling kit on Instagram you can add #Bike.
If you are an ambassador for more than one company, make sure that they all are equally represented.  I Coach for Sonic Endurance as well as race for Wattie Ink Hit Squad so I am a face for both.  I always make sure to balance the number of posts for each, or involve both in the same post.  Since they are a coaching company and an endurance apparel company, there are no competing priorities (with the exception of visibility).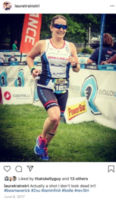 How do you become an Athlete Ambassador?
That all depends on who you want to represent!
Most "brand" ambassadorships require applications to join the team.  Which is reasonable, they want to make sure that they have the right people representing their company.  Most, but not all, of these teams have certain requirements for their ambassadors, like racing in their kit.
Another option is joining an endurance team, such as Sonic Endurance.  Most of these teams you are paying a yearly membership fee that gives you access to a variety items.  With a team like Sonic we have varying team levels.  Depending on the team you choose, you have access to Team Gear, discounts to camps, access to our training library, monthly Team Challenges, early entry into Ironman races and more.  There are also local endurance teams.  Similarly to a coaching team, there is typically a flat fee to join that gives you access to varying perks.
So that is a LOT of information on the ins and outs of being an Athlete Ambassador.  From my personal point of view, I cannot imagine being a successful athlete without it.  To me it is all about the comradely of the team.  The interactions, support and the learning moments have made me a better and more confident athlete.