As coaches we often get asked what we use for training and racing, where we love to train and race, and what products we recommend to our athletes.  We want to share some of our favorites with you on a weekly basis.  For August of 2020, this is what we love right now:
Endure: Mind, Body, and the Curiously Elastic Limits of Human Performance by Alex Hutchinson
From Coach Kelly — This is a fantastic (and fairly quick) read about the physical limiters to human performance such as pain, muscle, oxygen, heat, thirst, fuel and how the mind plays a role in each of those physical limitation.  Hutchinson makes the convincing that case that we are always able to push just a little bit more.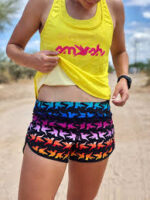 From Coach Stacey and Coach Maribeth– Short and airy, these shorts feel like nothing and stay in place all run long (even on long and super humid runs).  The Fast and Loud print pictured above is one of our all time favorites and they come in white too!  Only caveat is that these shorts do run a bit on the small side so you probably want to order up a size.
From Coach Jen — I've used body glide for years and it just is not working anymore.  Changed to this and I've had chafe free runs.  Definitely a must have for summer running.
From Coach Stacey — Looking to treat your feet after a long, hot run? These are absolutely perfect! Soft and spongy, but with just enough support in the arch. They come in a slide, flip flop, and clog. If you're a half size, look to size up versus down (so a 9 if you wear an 8.5).
From Coach Ryan — This is by far the best multisport watch I've ever used. From the incredibly long battery life to the ability to use it for navigation on both cycling and running, it's just an outstanding watch. It also comes in some great colors out of the box. Mine is neon yellow — can't miss it. That and it doesn't yell at you that you're detraining when on a recovery run.